Here is my updated travel guide for the ultimate girl's weekend in Nashville. Nashville is one of the hottest destinations for a girl's weekend. It is the top destination for bachelorette parties, birthday celebrations and more. I have visited multiple times and have a couple of other travel guides on my blog, but this itinerary is perfect for a weekend getaway with the girls. A friend and I took Bella and three of her friends  to celebrate her 17th birthday!! And, it was a blast. We did it all.
If you aren't driving to Nashville, I highly recommend to rent a car or you will have to Uber a lot. I have stayed both downtown and stayed in an airbnb in the Hillsboro + 12South area. I love both options.
Hotels that I suggest downtown are the Graduate, Moxy, Virgin Hotel, Noelle, or 506 Lofts.
.
Day 1:
.
We headed to 12 South which is my favorite area to spend the day.
We started off with picking up a few things for a late breakfast at Five Daughter's Bakery. Those sugar cookies were the best that we have ever tasted. The vanilla cream and chocolate brownie donut were a favorite too. Some of the girls got a coffee at Frothy Monkey which is across the street on 12South.
.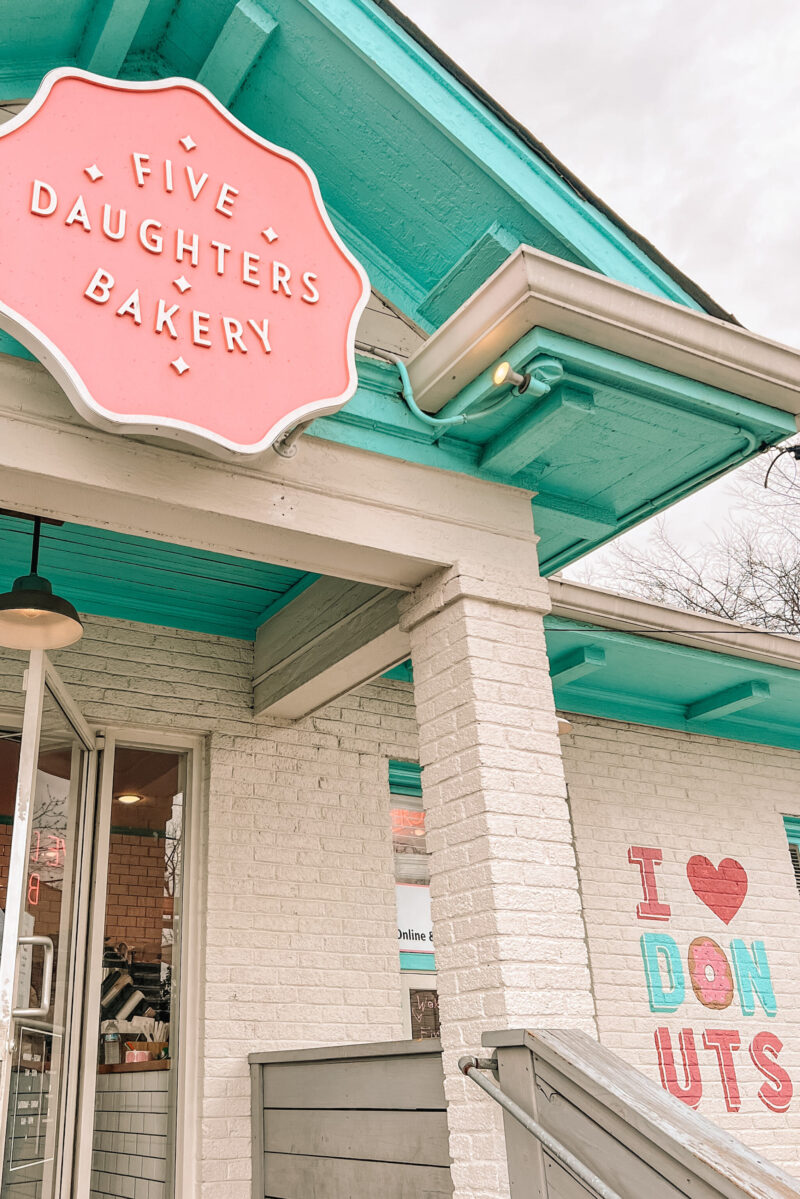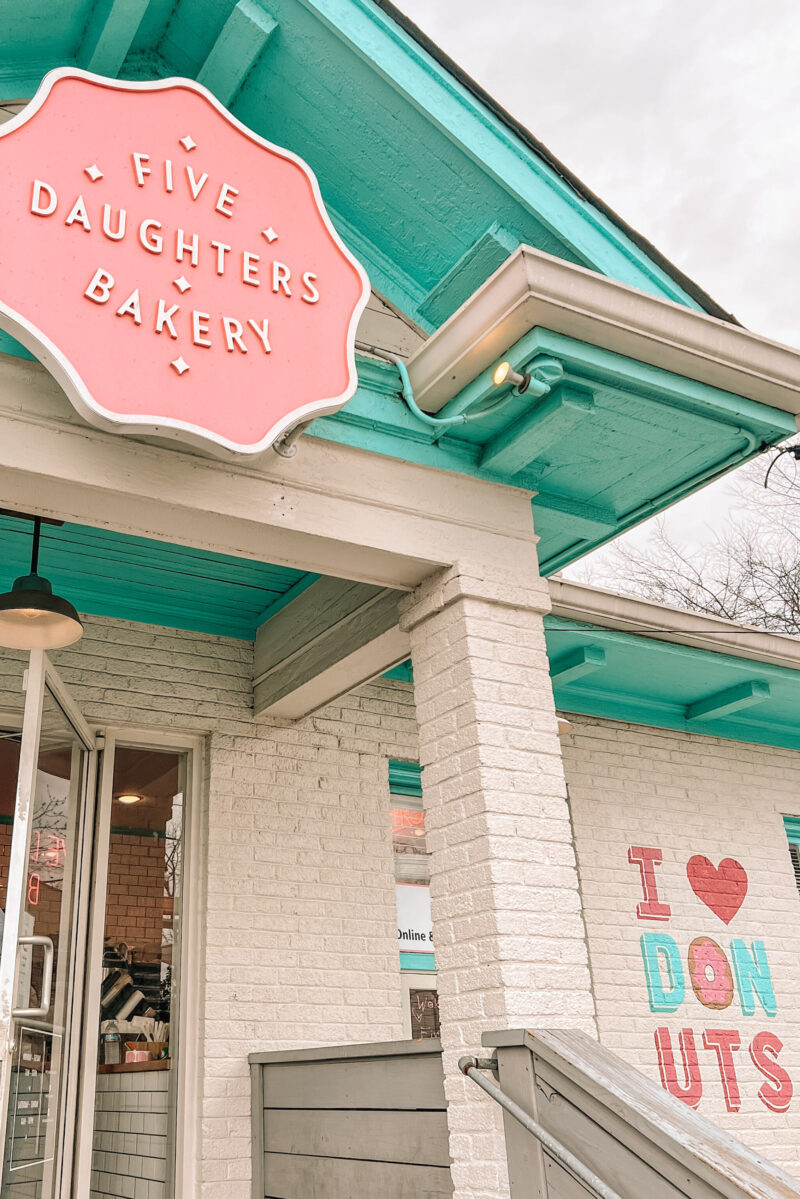 .
      1110 Caruthers Ave.,nashville, TN 37204
           2509 12th ave. south, nashville, tn 37204
Next up, we visited the
Amelia's Flower Truck
. They have three flower trucks. And, they post a weekly schedule online + updates are on their IG. The one parked on 12South is in front of Imogene + Willie.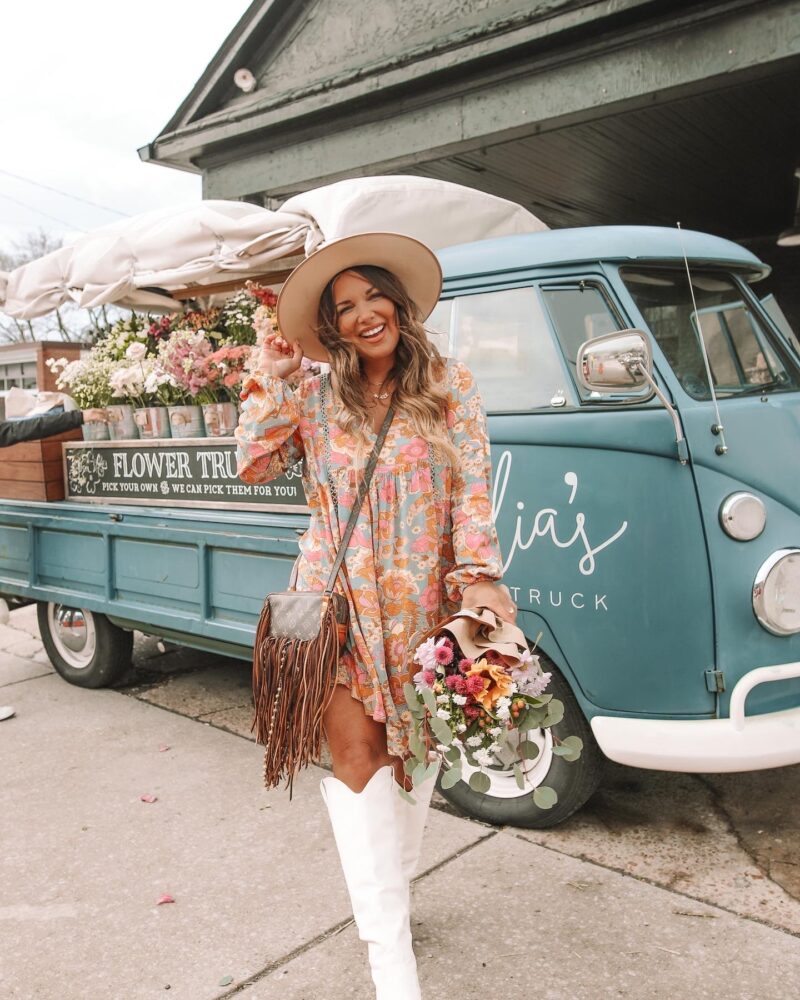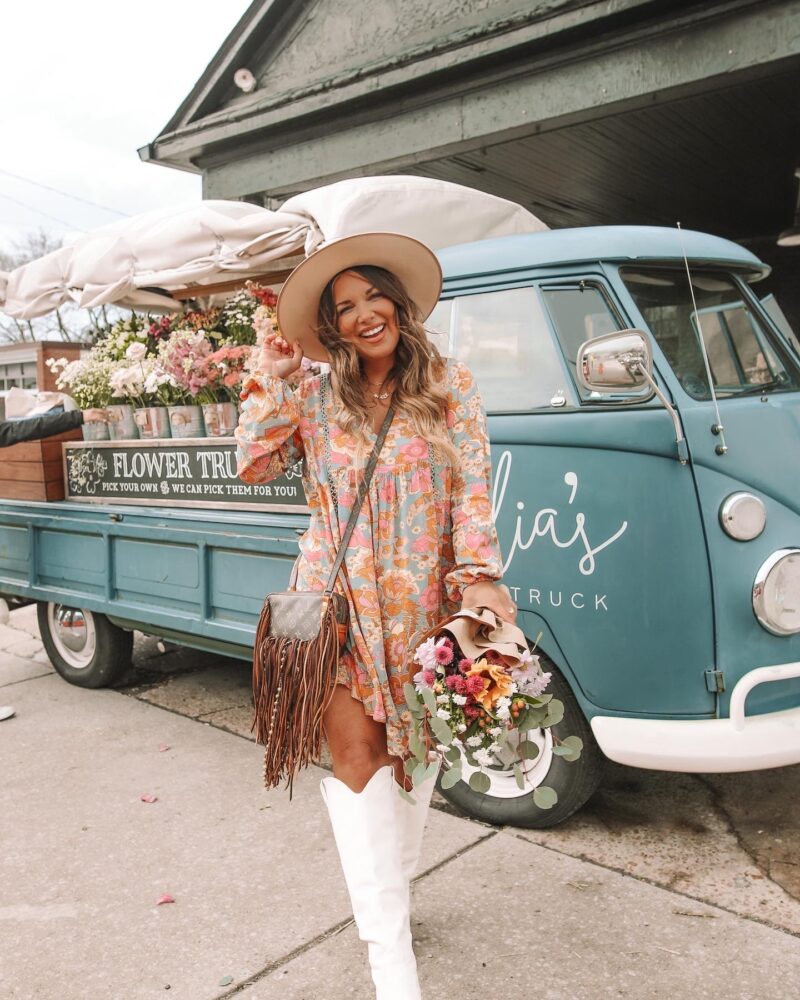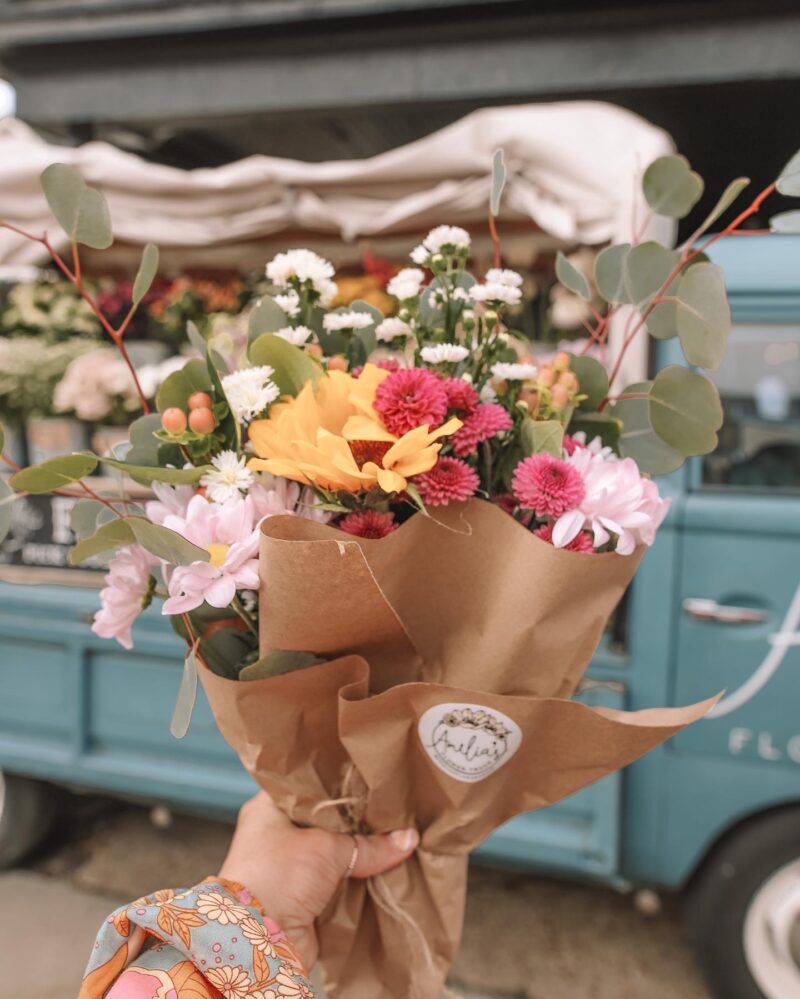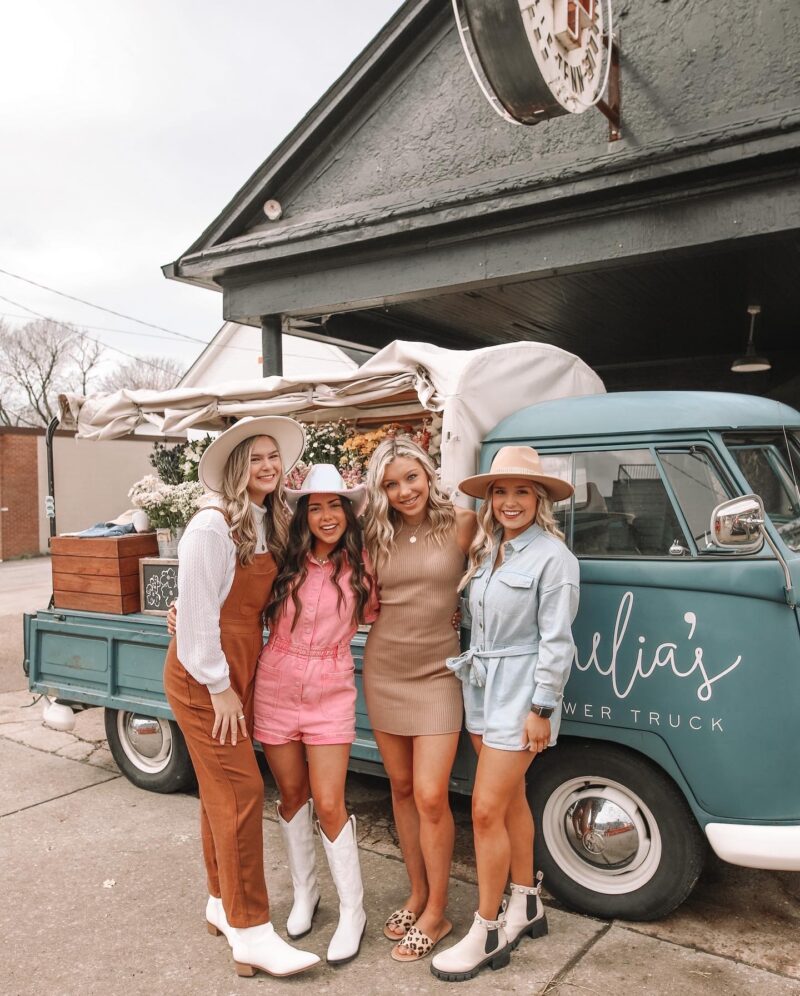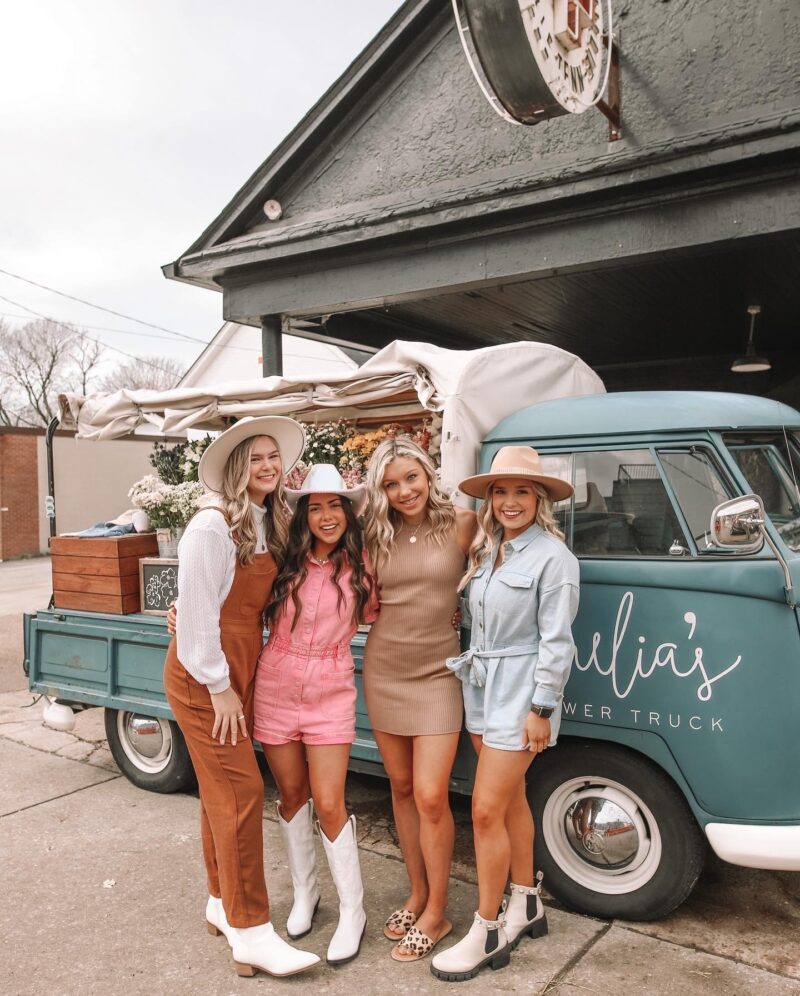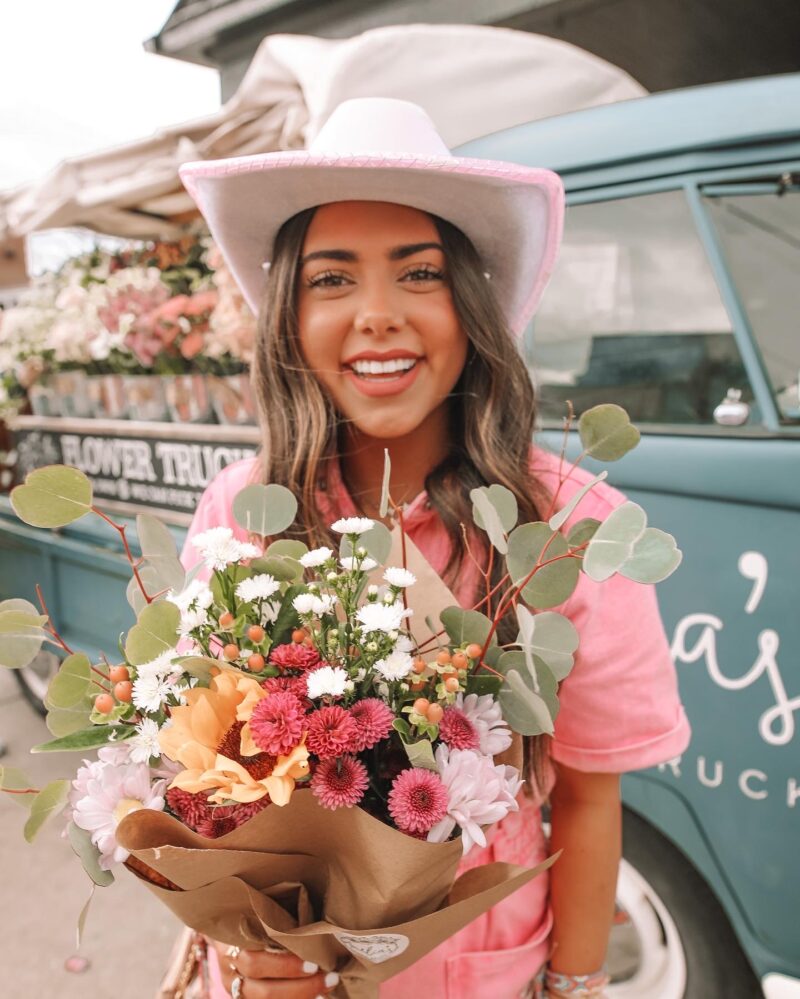 2601 12th Ave S, Nashville, TN 37204
Right around the corner, we visited the "I Believe in Nashville" mural. It's right next to Draper James.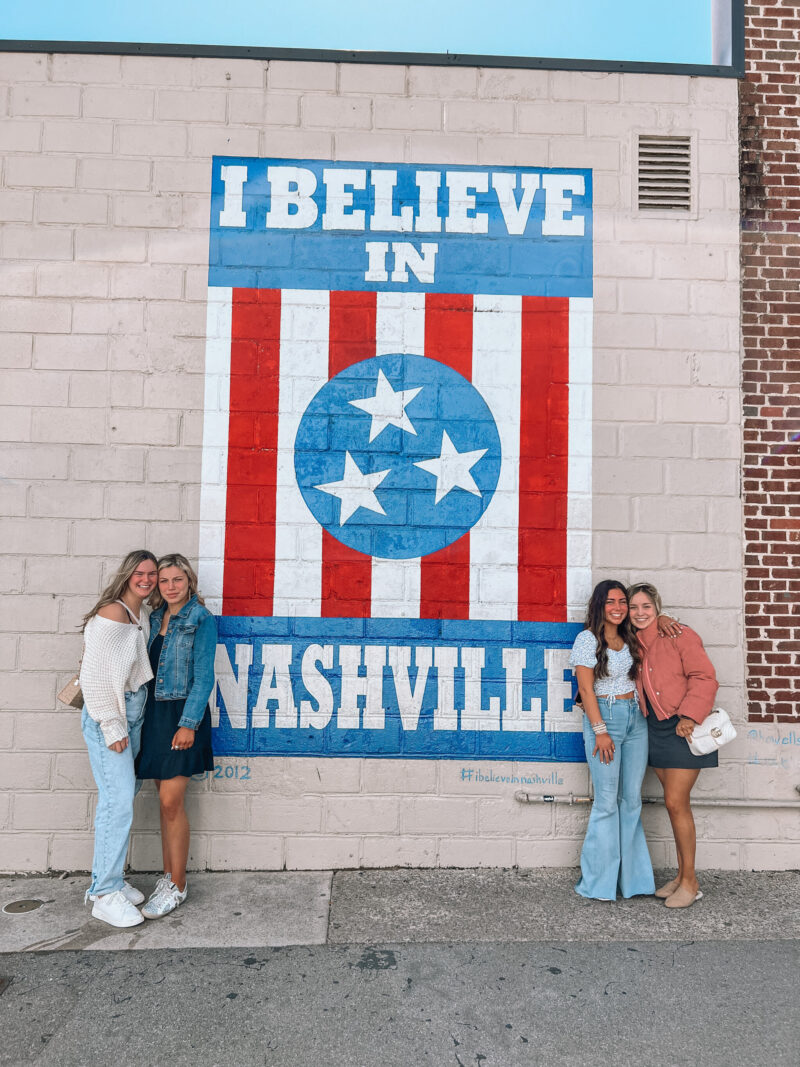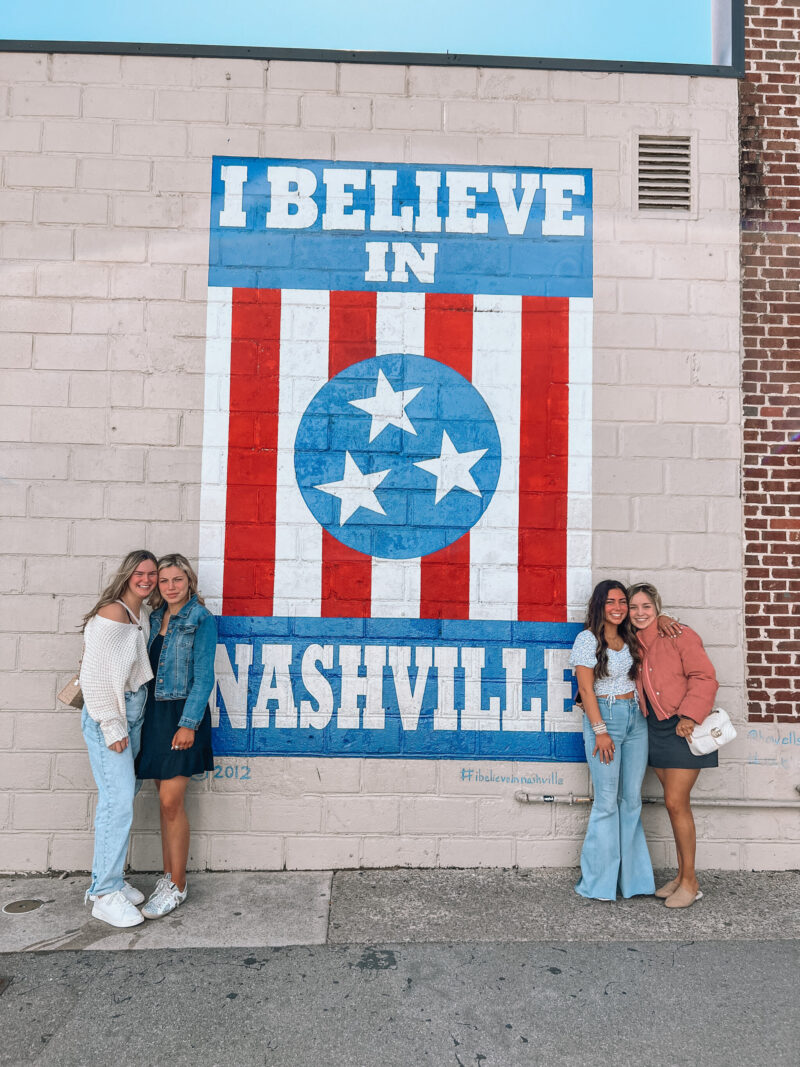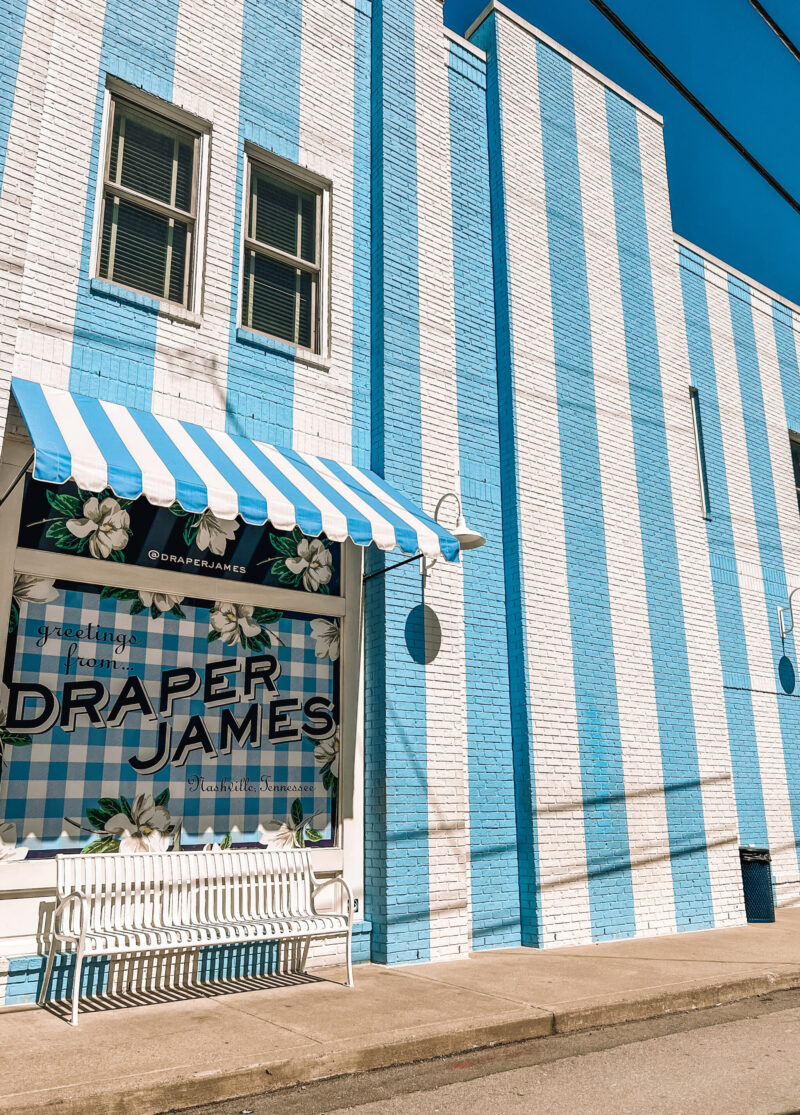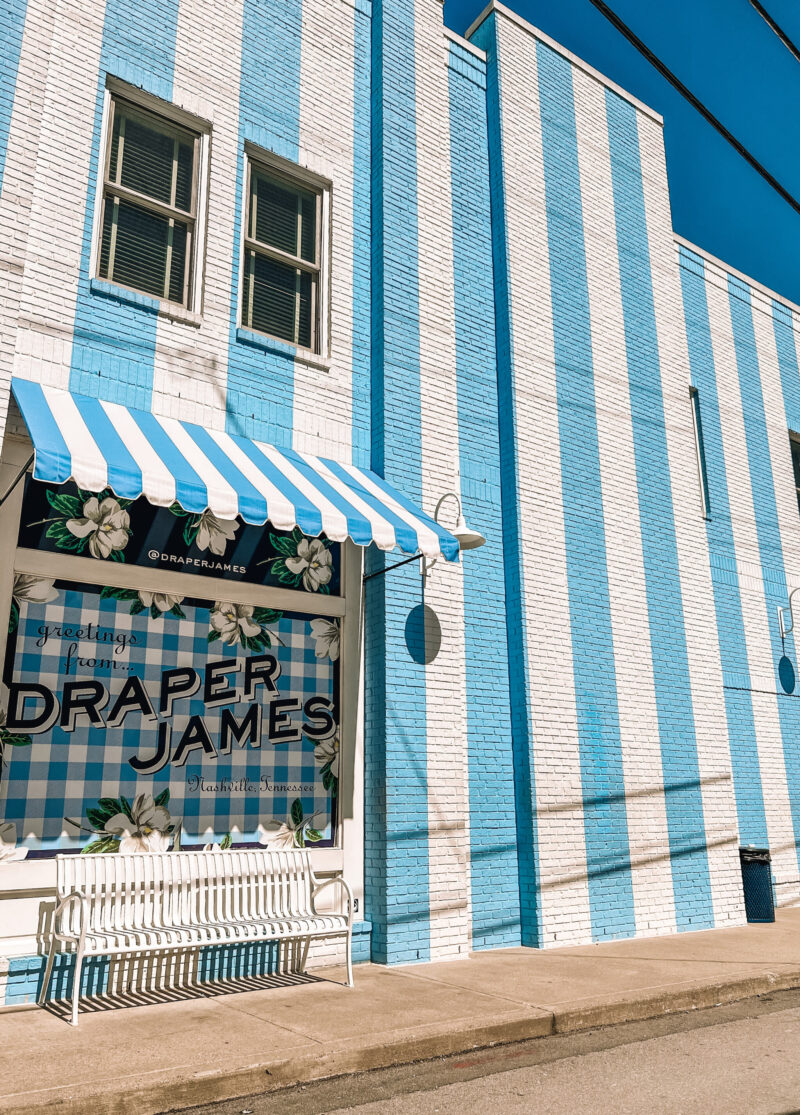 Next, we shopped. We actually shopped twice in 12South. We visited the Finnley's, Stoney Clover Lane, Draper Jame's, Madewell, and Imogene + Willie.
.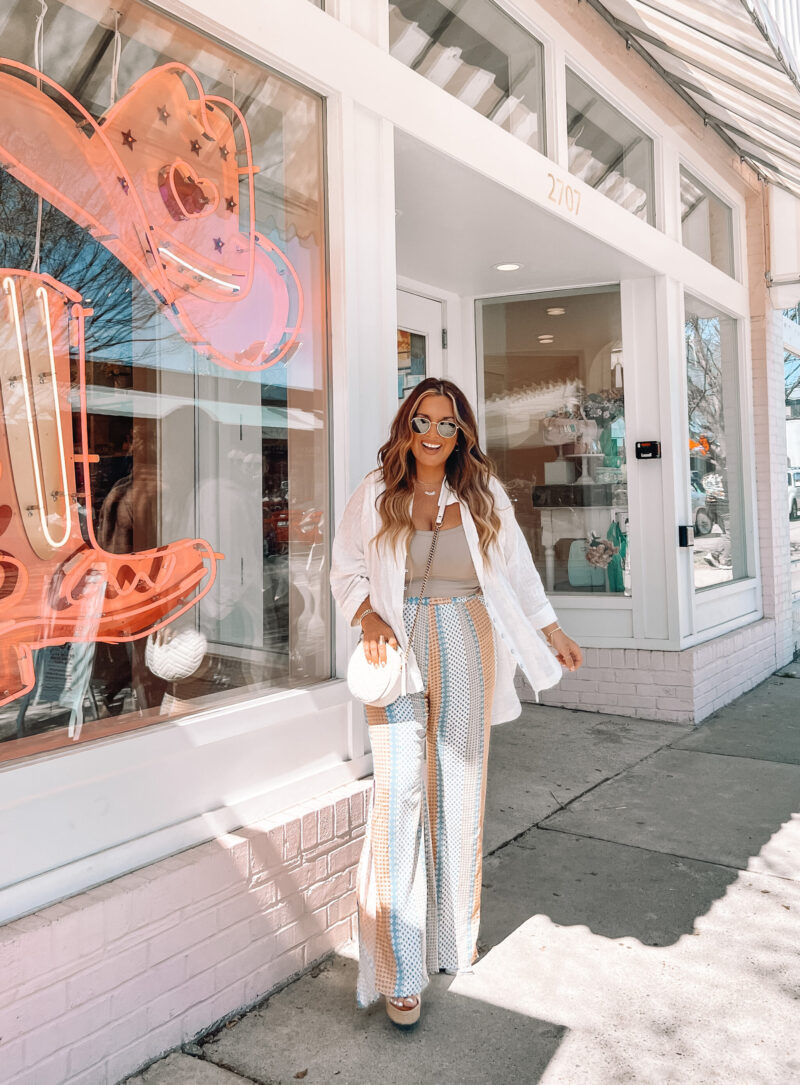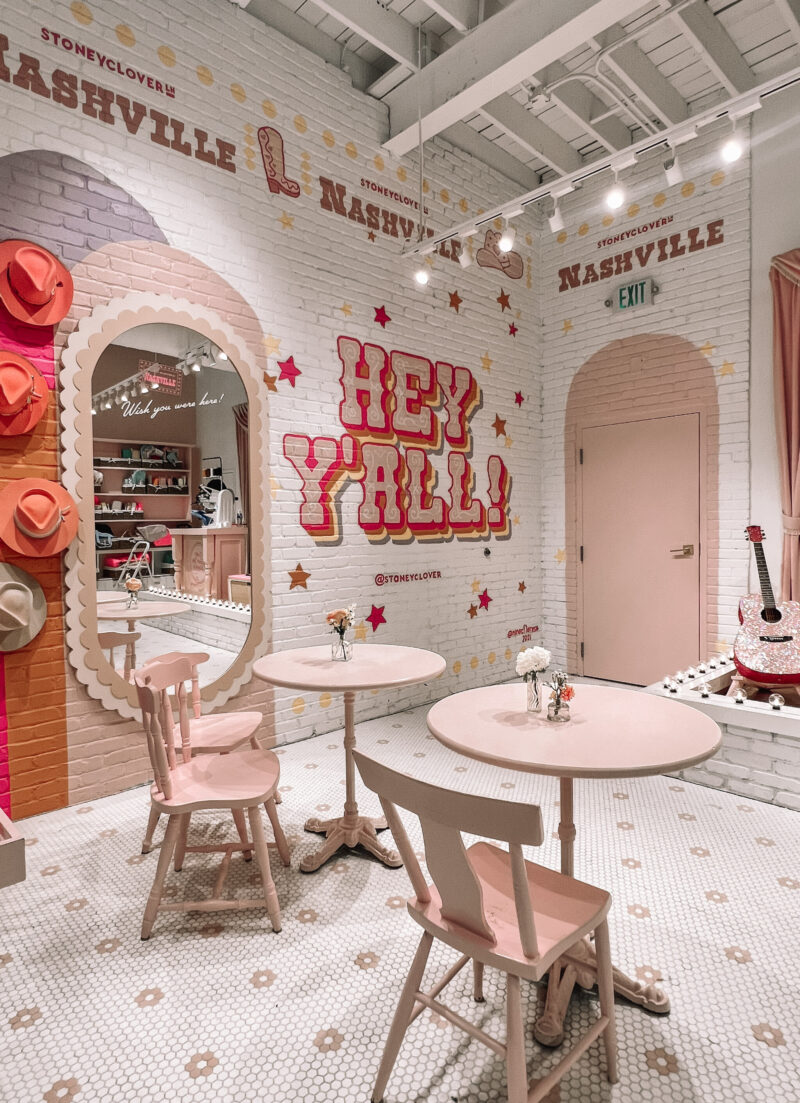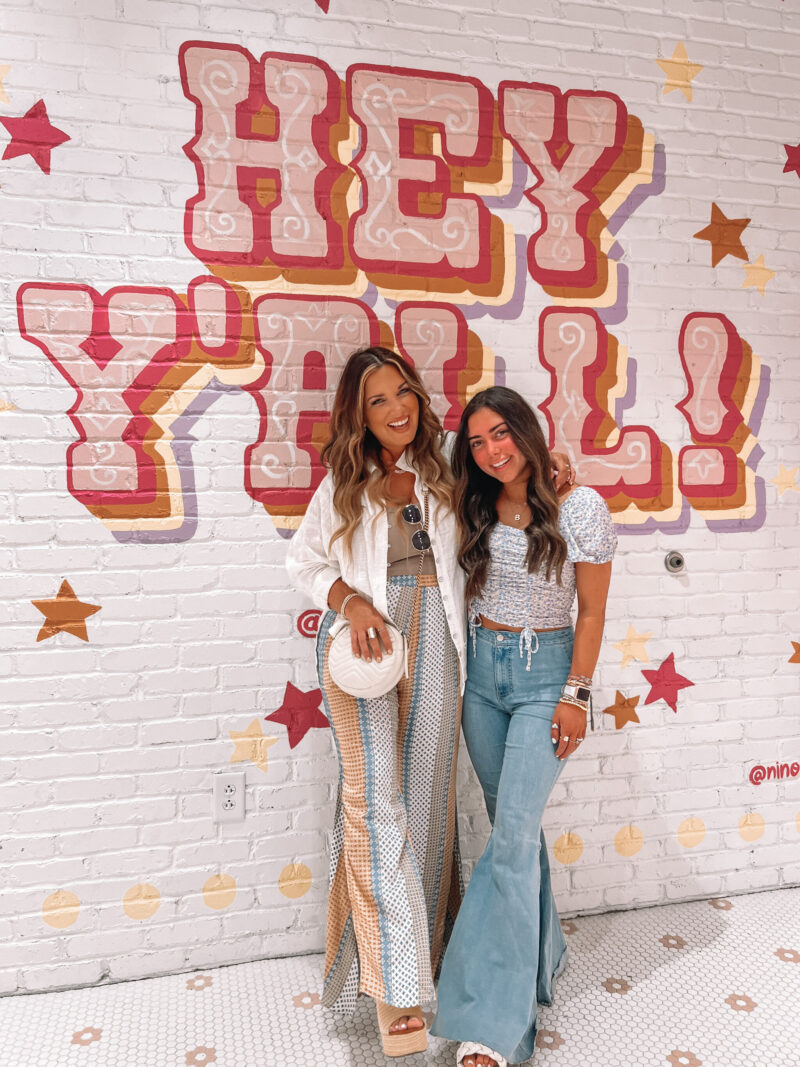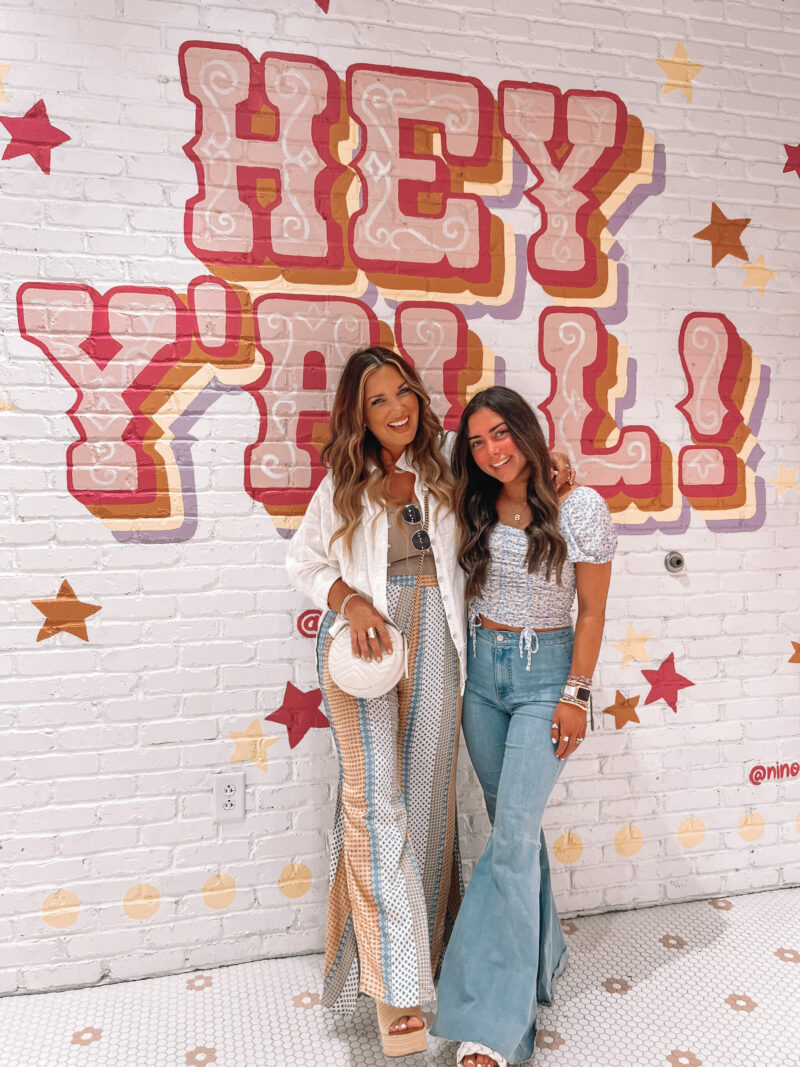 2516 12th Ave S, Nashville, TN 37204
    2707 12th Ave S, Nashville, TN 37204
Next, we went check out a few spots in Germantown. We stumbled upon the cutest boutique,
Abednego.
If we had more time, we would have totally went check out the
Farmer's Market
and a couple of other restaurants.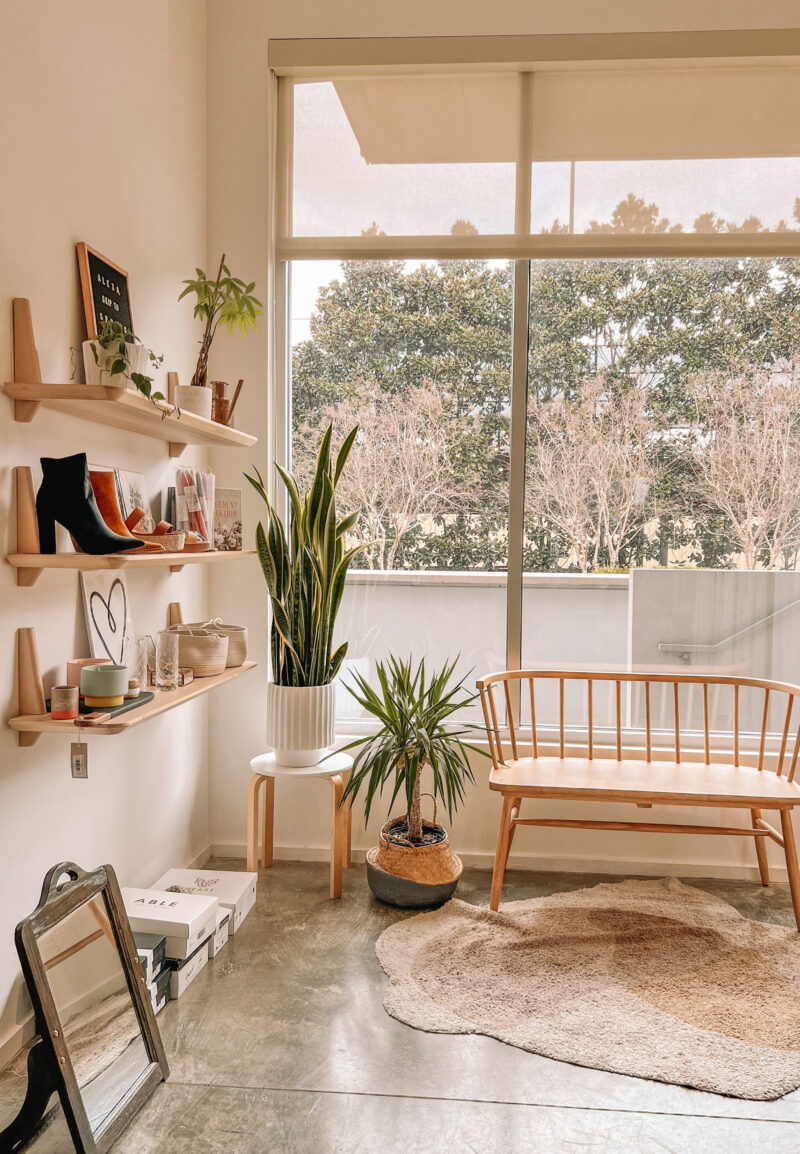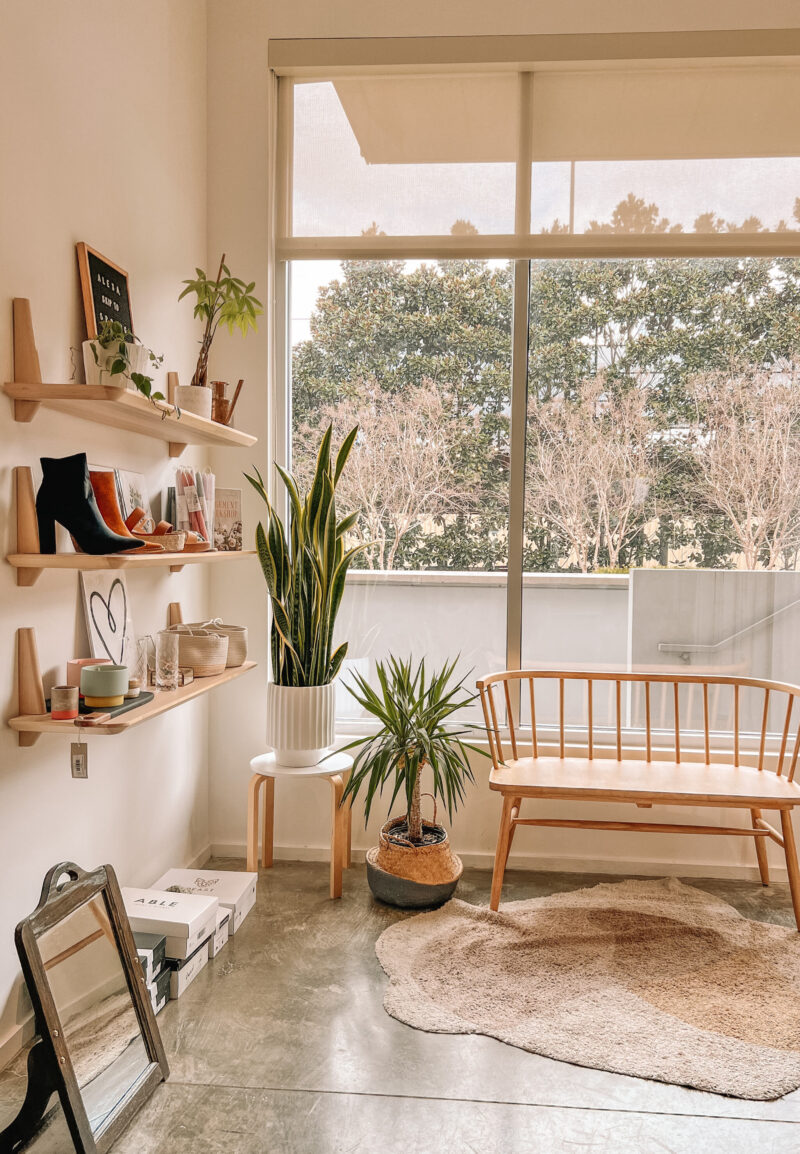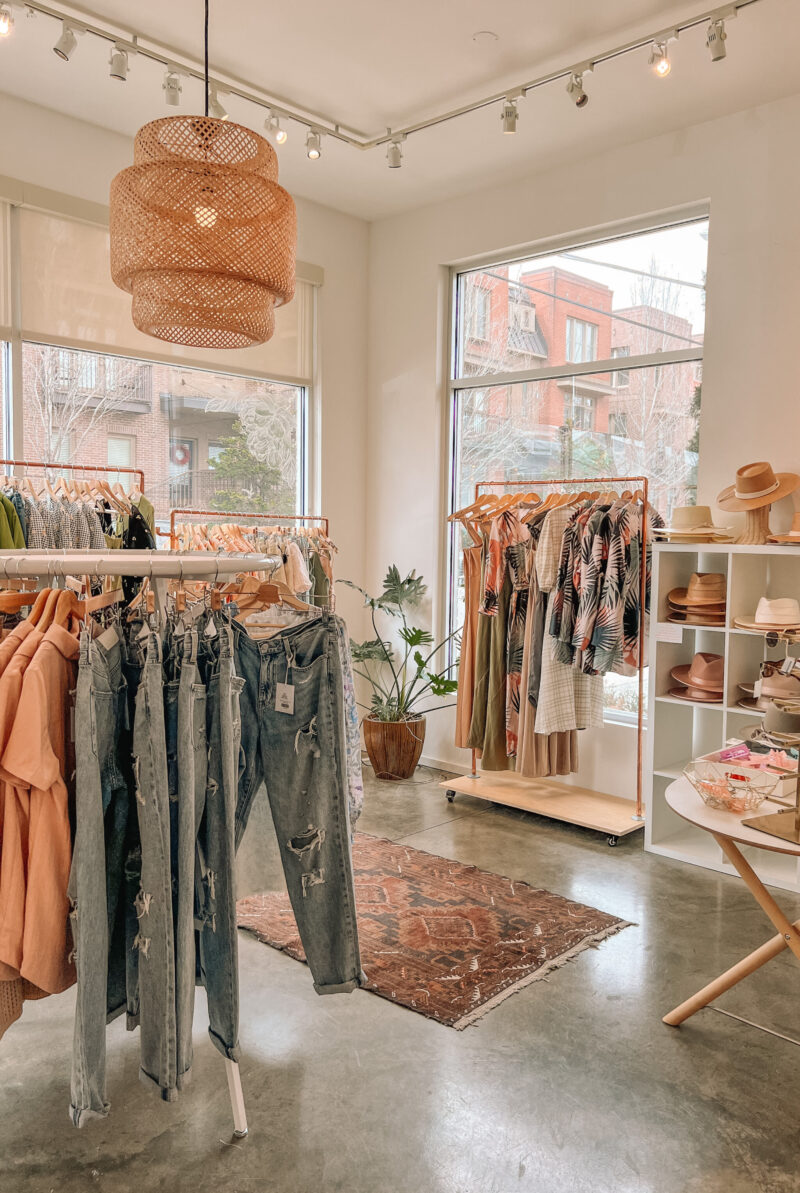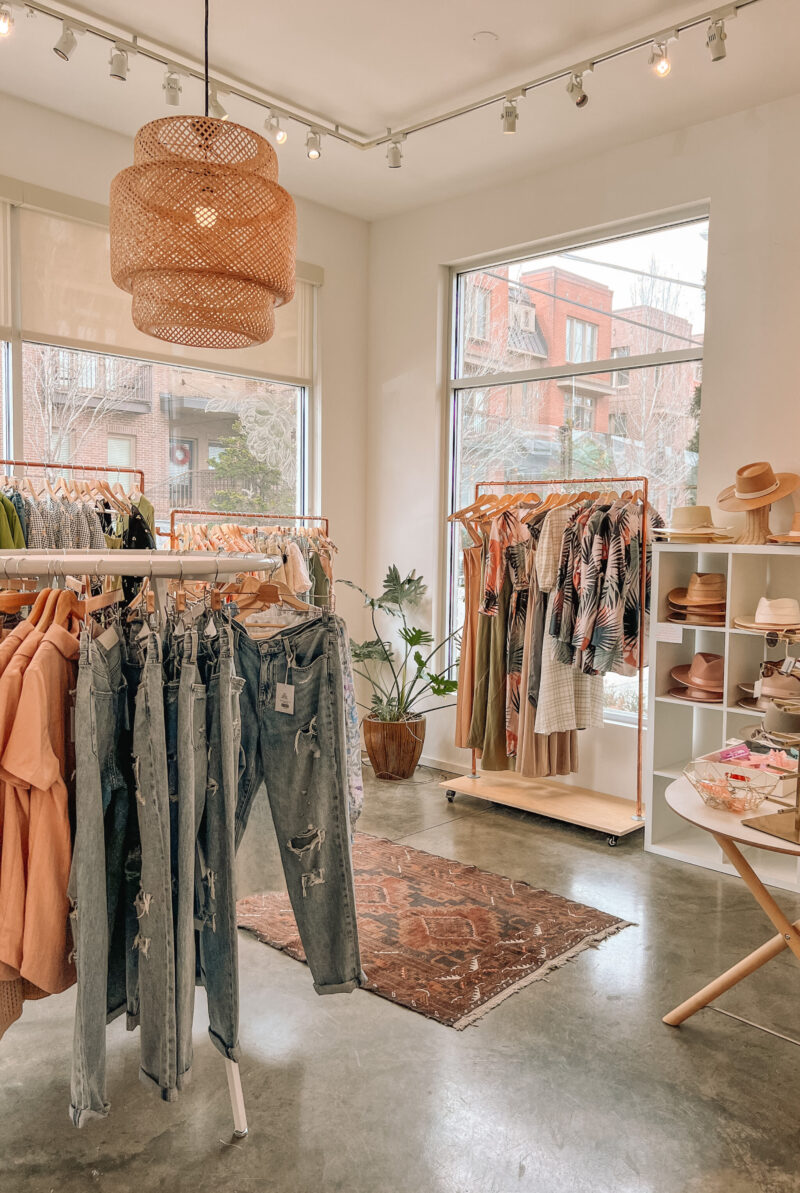 1212 4th Ave N, Nashville, TN 37208
     900 Rosa L Parks Blvd, Nashville, TN 37208
We headed to
Pinewood Social
for a late lunch. Highly recommend making reservations ~ this is such a cute spot to chill, eat, bowl or enjoy the outside activities!!!! It is Instagram worthy too!!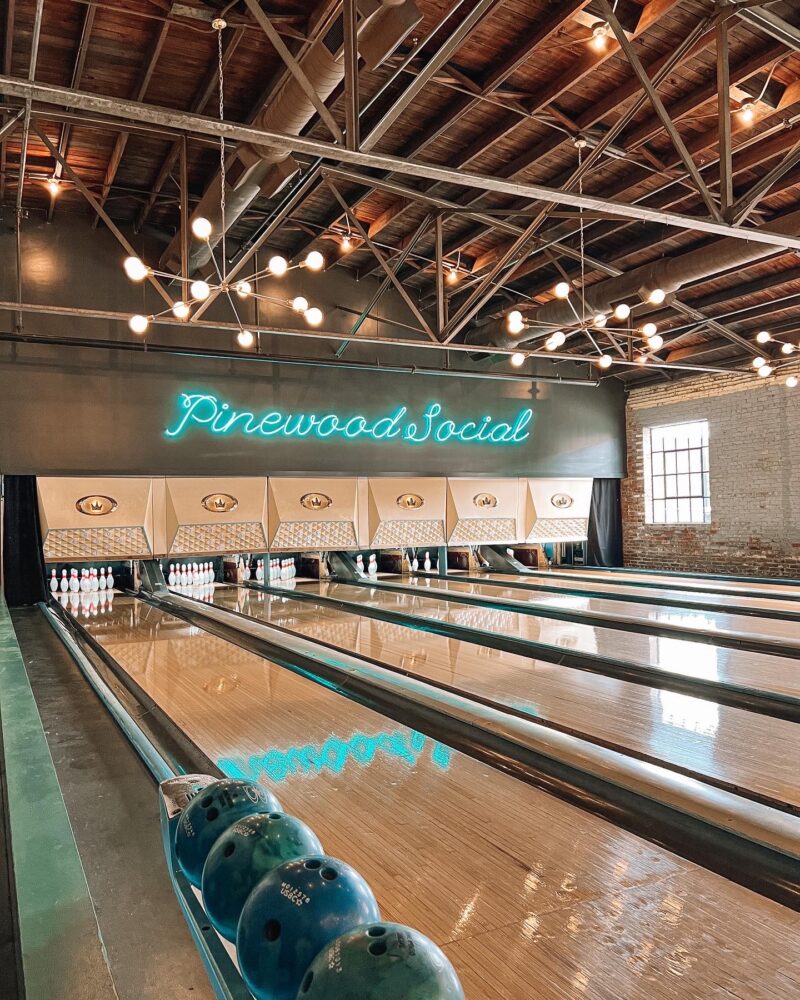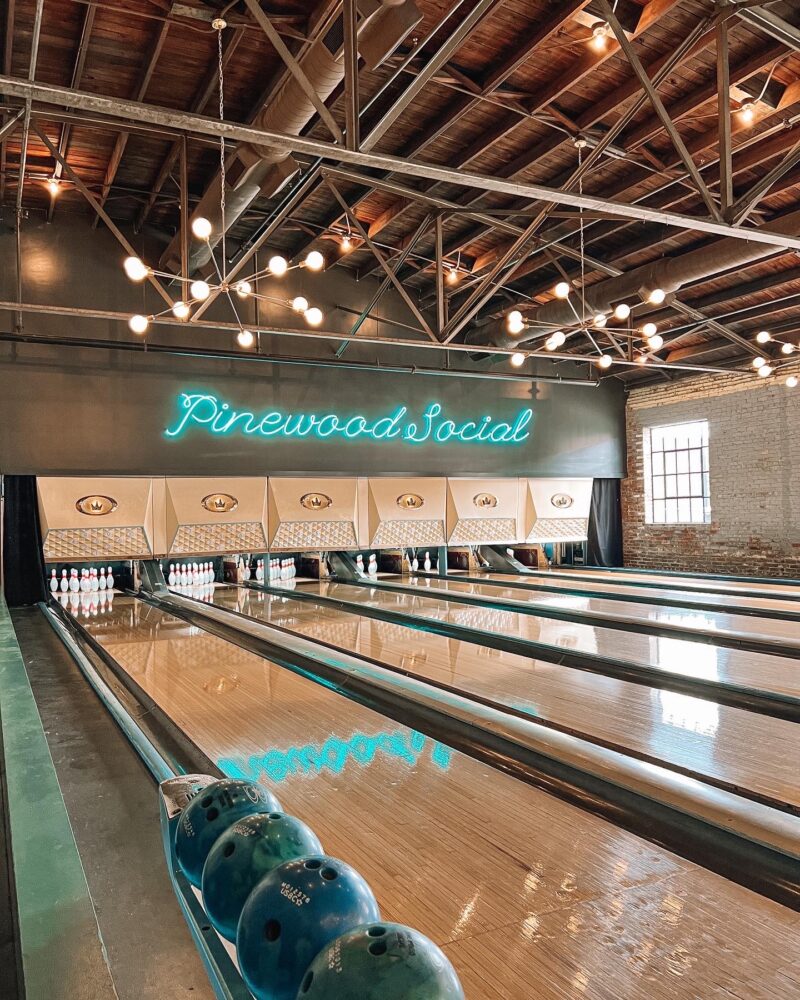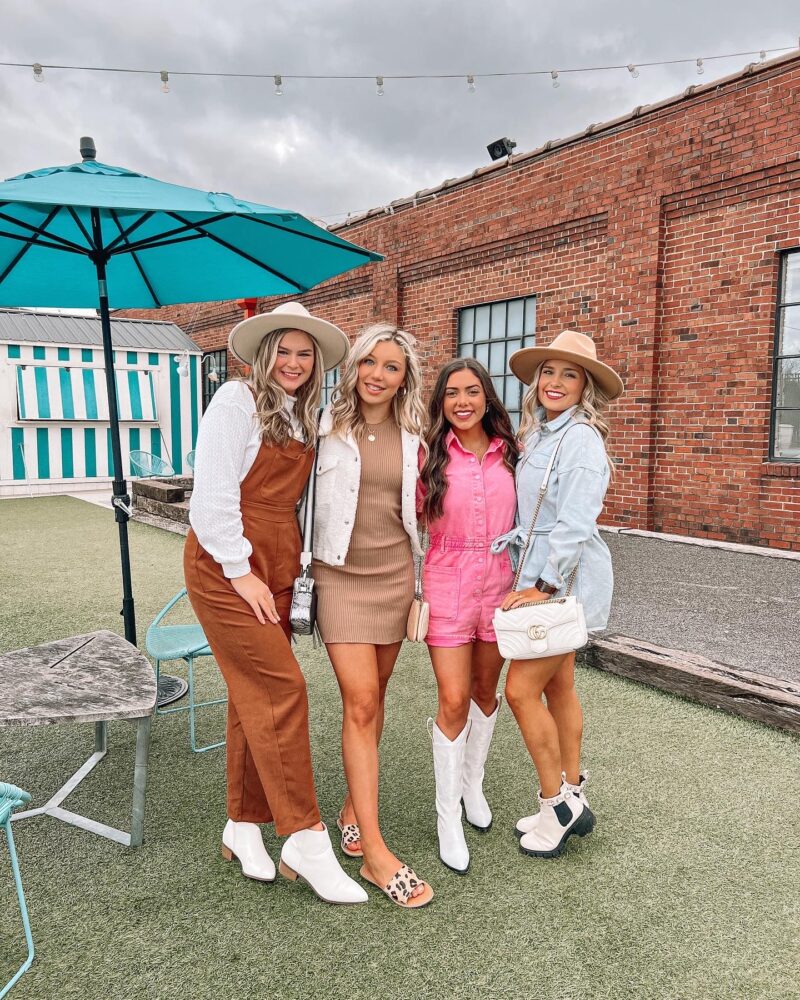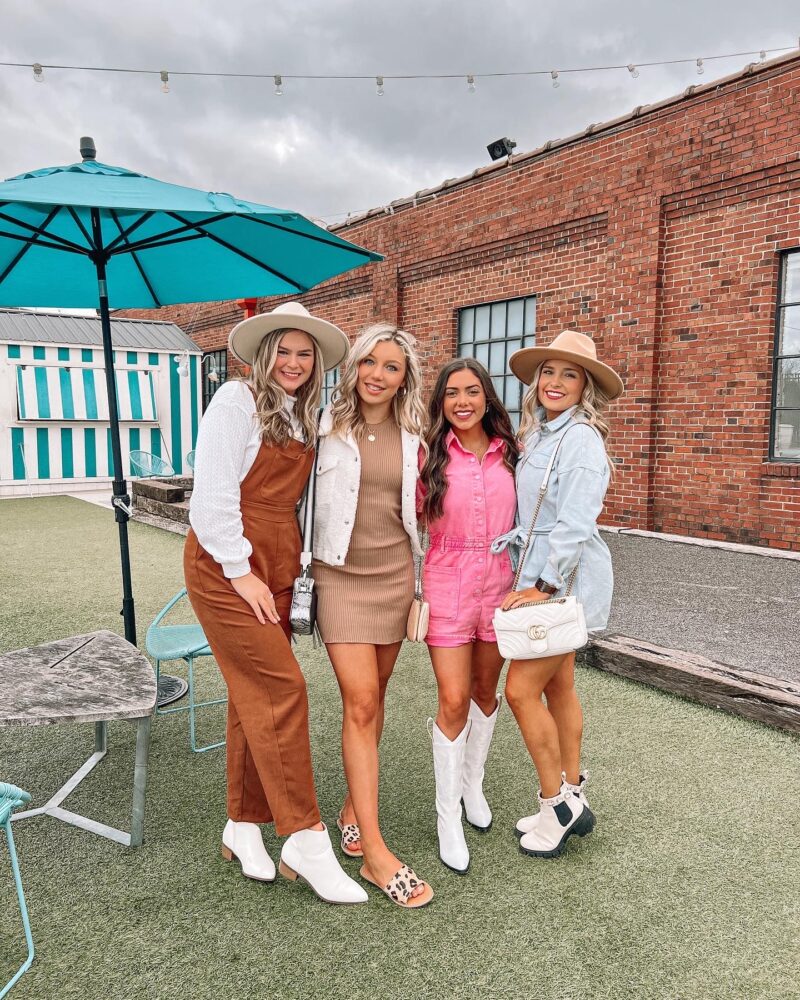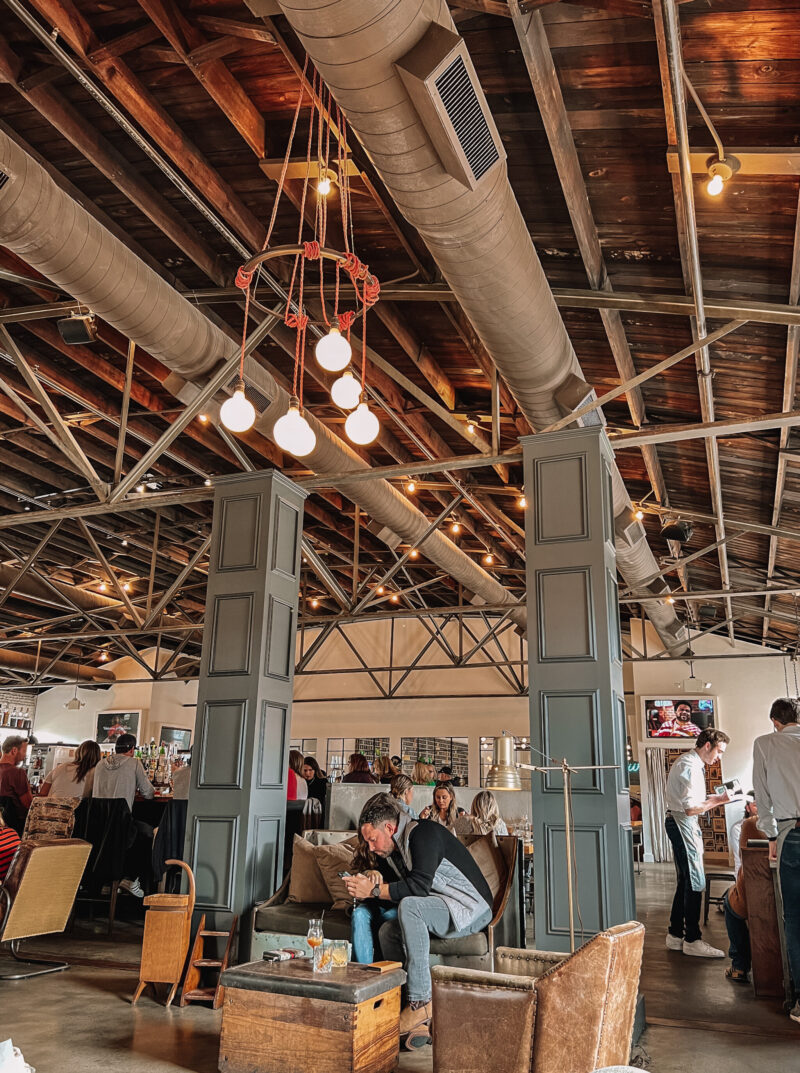 33 Peabody St, Nashville, TN 37210
   We went back to our airbnb and changed outfits for dinner.  And before dinner, we did a little more shopping. We headed to
Hillsboro Village
to shop at one of my favorite boutiques,
Dress Up
,
+ to check out a few murals too.
Drippy Lips Wall is on 1814 21st Avenue South, and across the street is the Molly Green mural.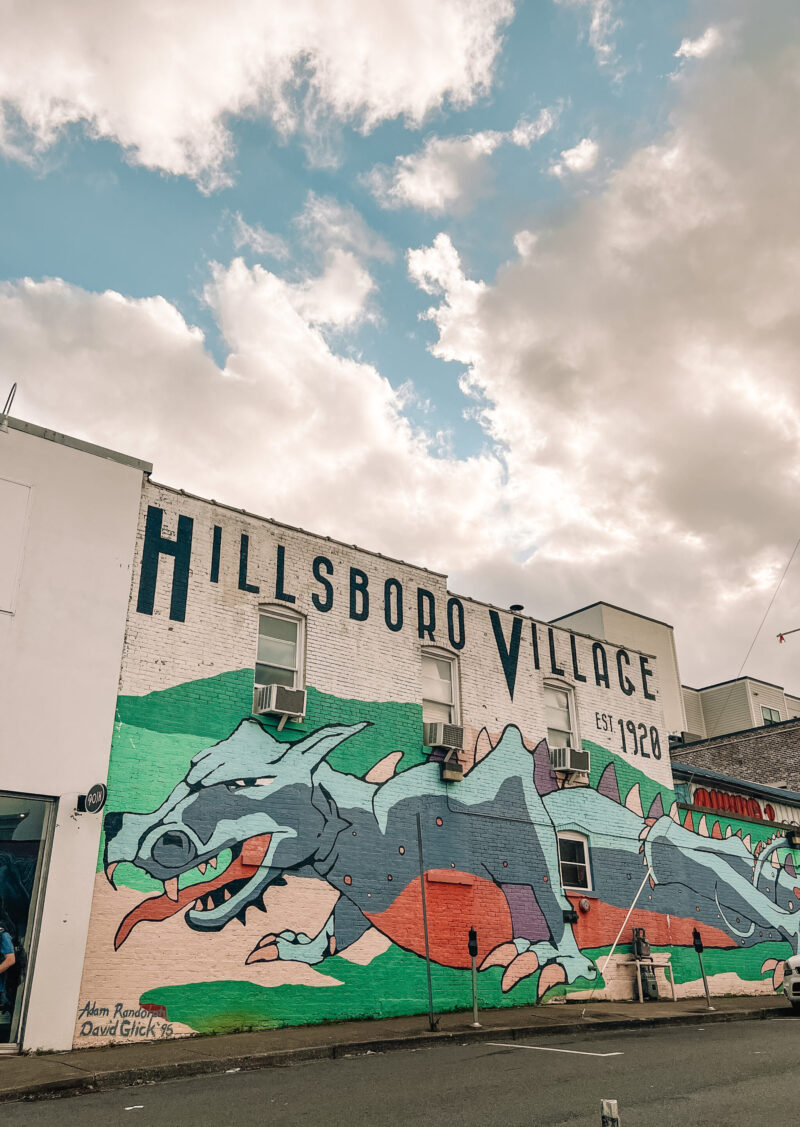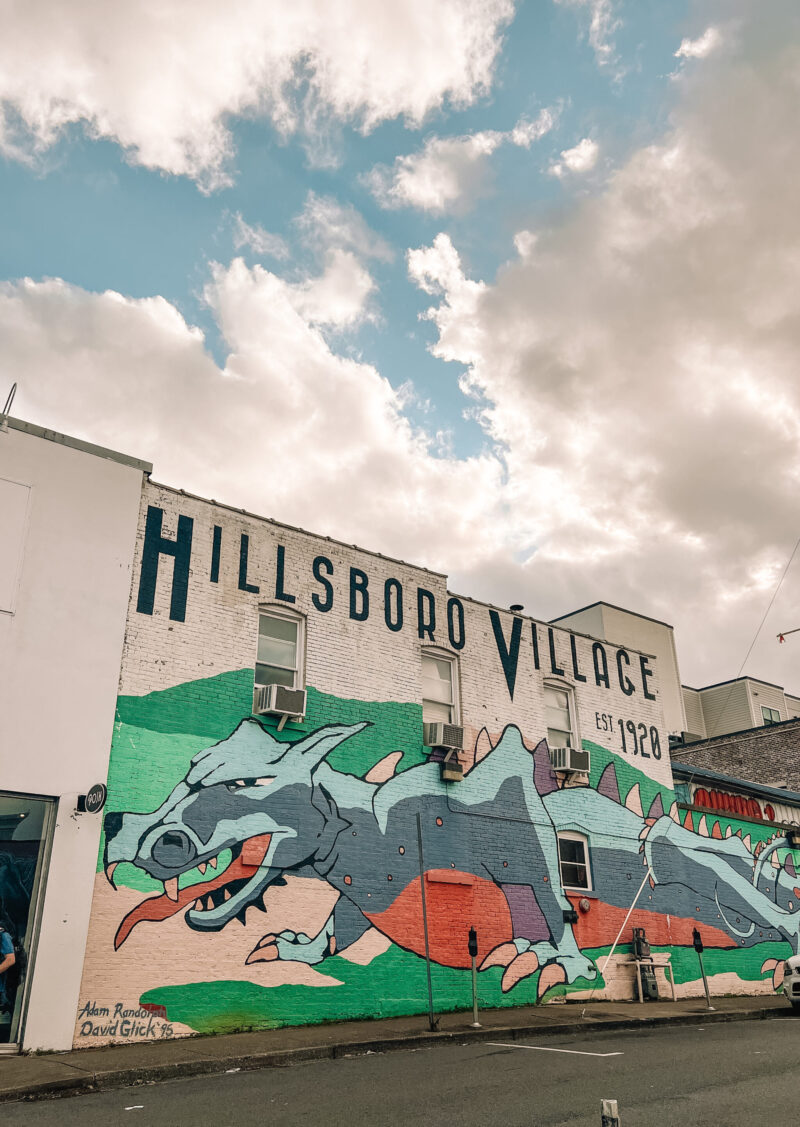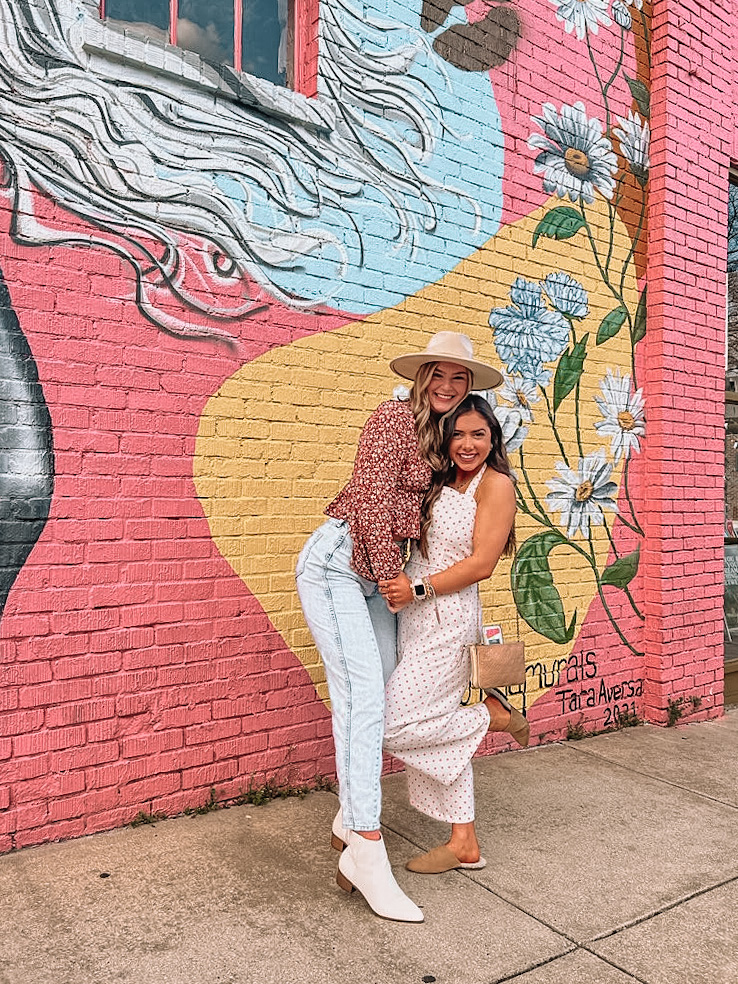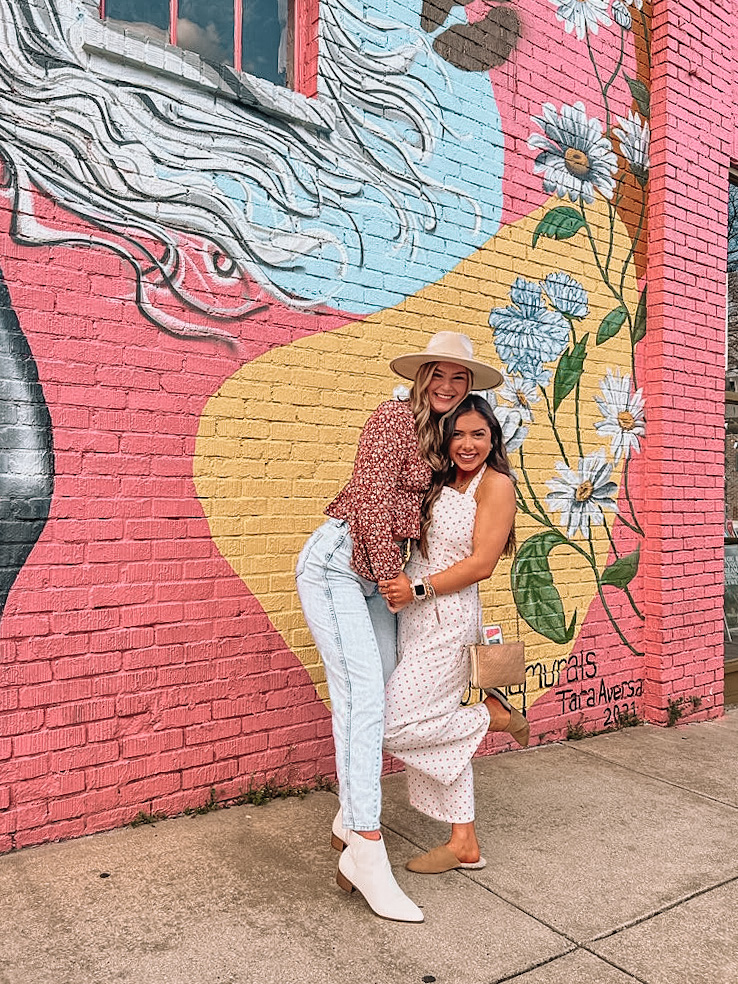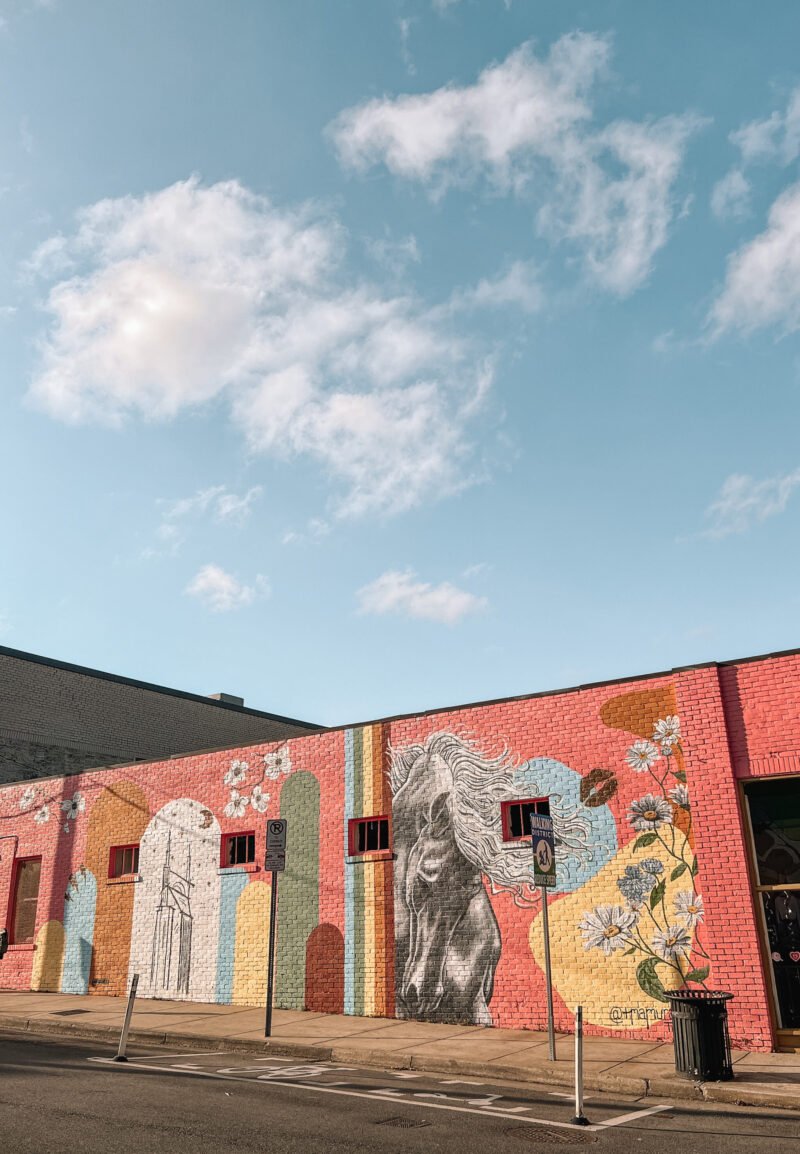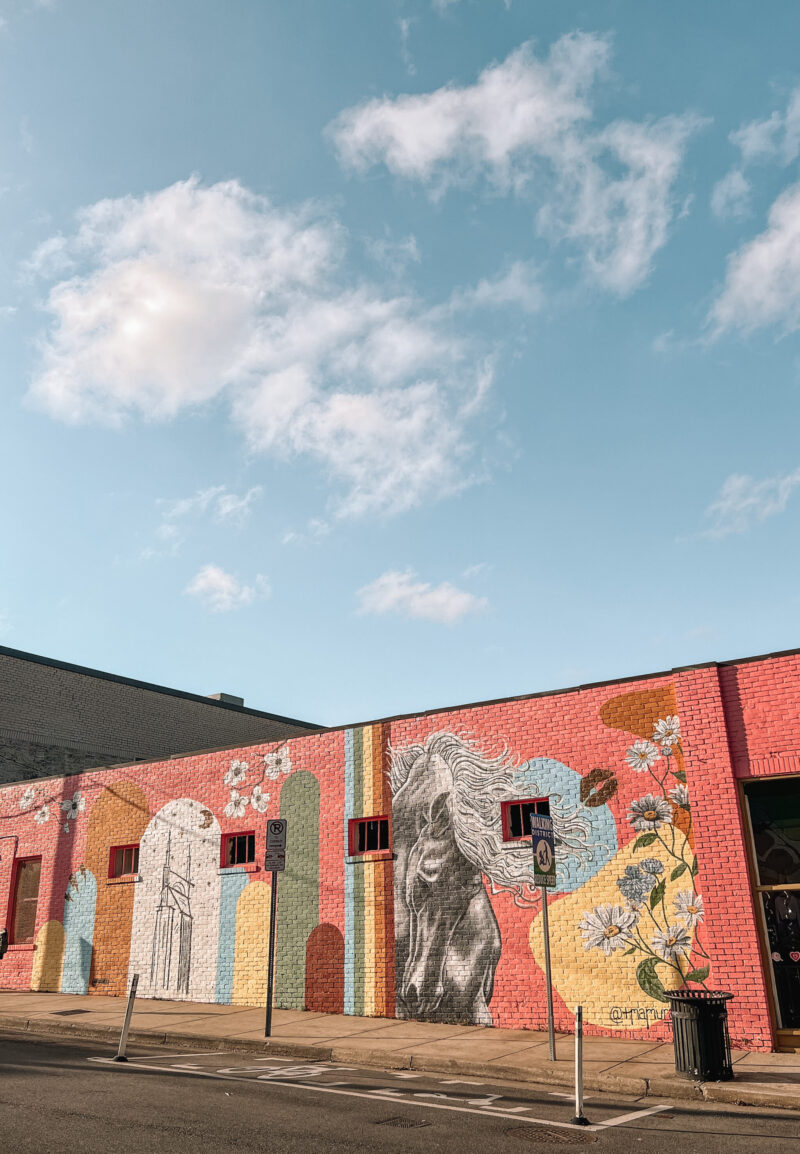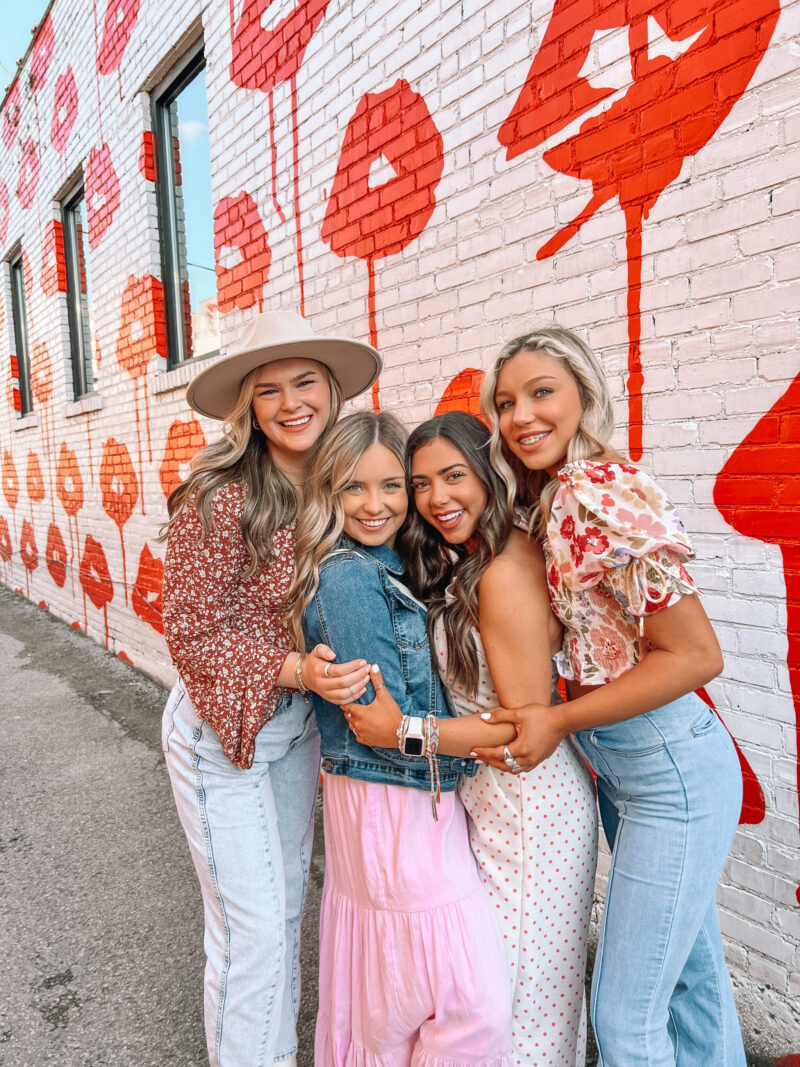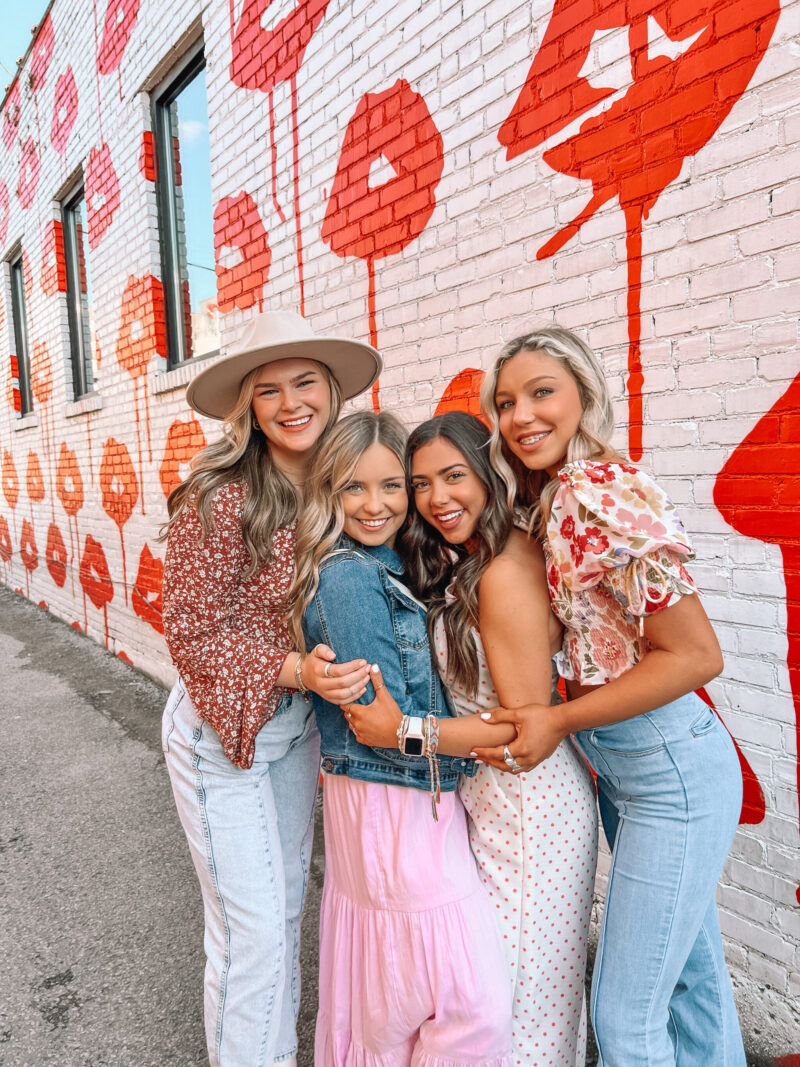 1704 21st Avenue South, Nashville, TN 37212
 1704 21st Ave S, Nashville, TN 37212
Lastly, we headed to
Hampton Social
for all of the cuteness. We had really late dinner reservations so the girls went ride scooters all over downtown and scouted out Broadway. They said that this was the highlight of the trip. My friend and I decided to go chill on the rooftop of the
Hampton Social.
It was fun. If you have a larger party, you will want to book seating on the rooftop.
Reservations are a must in Nashville so I highly suggested creating an itinerary and booking all of the hot spots in advance. By the way, the pizza was phenomenal.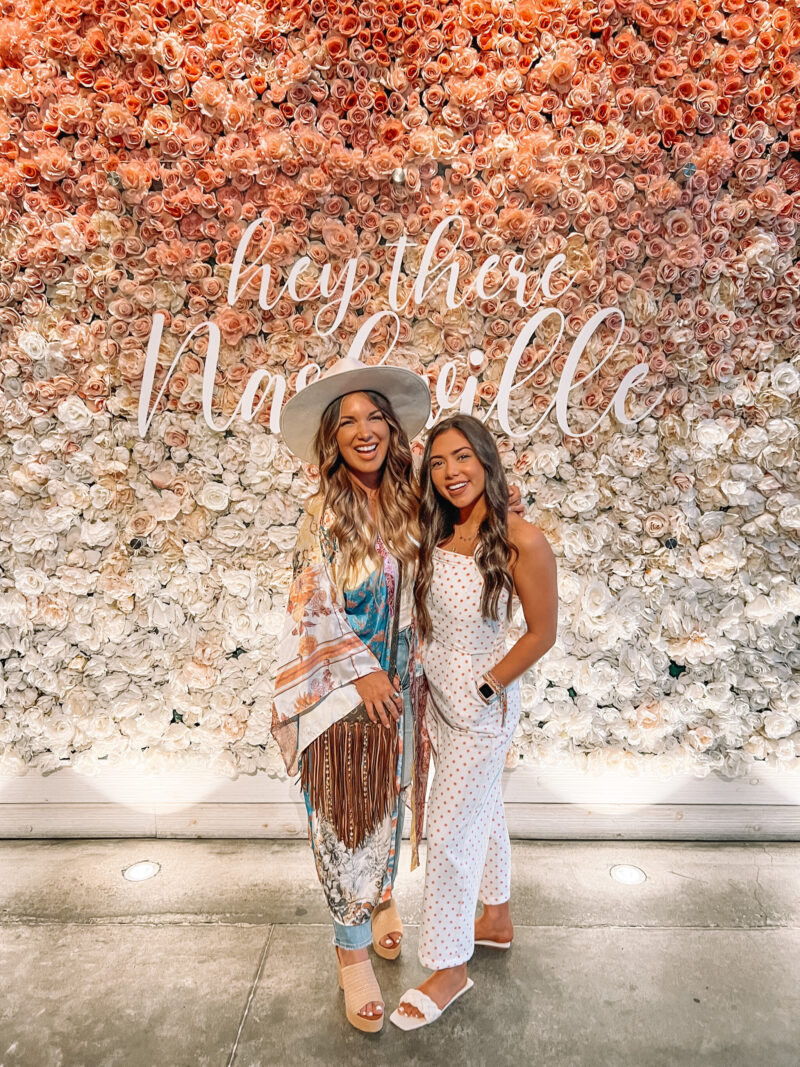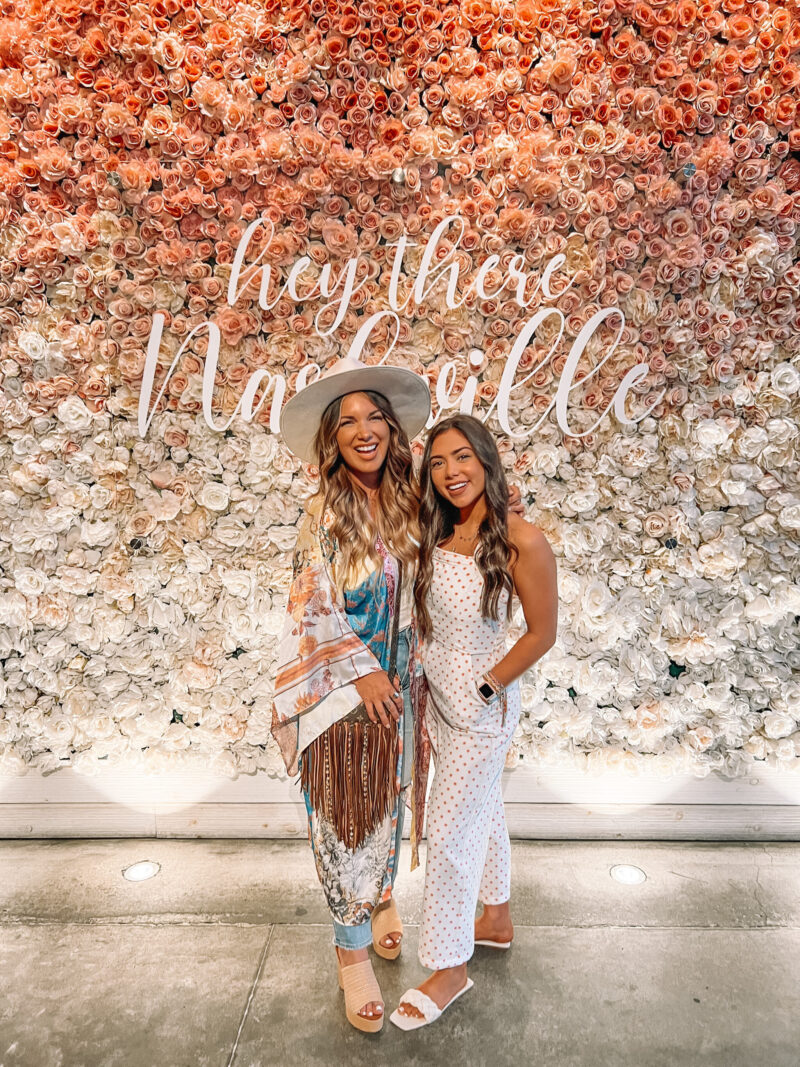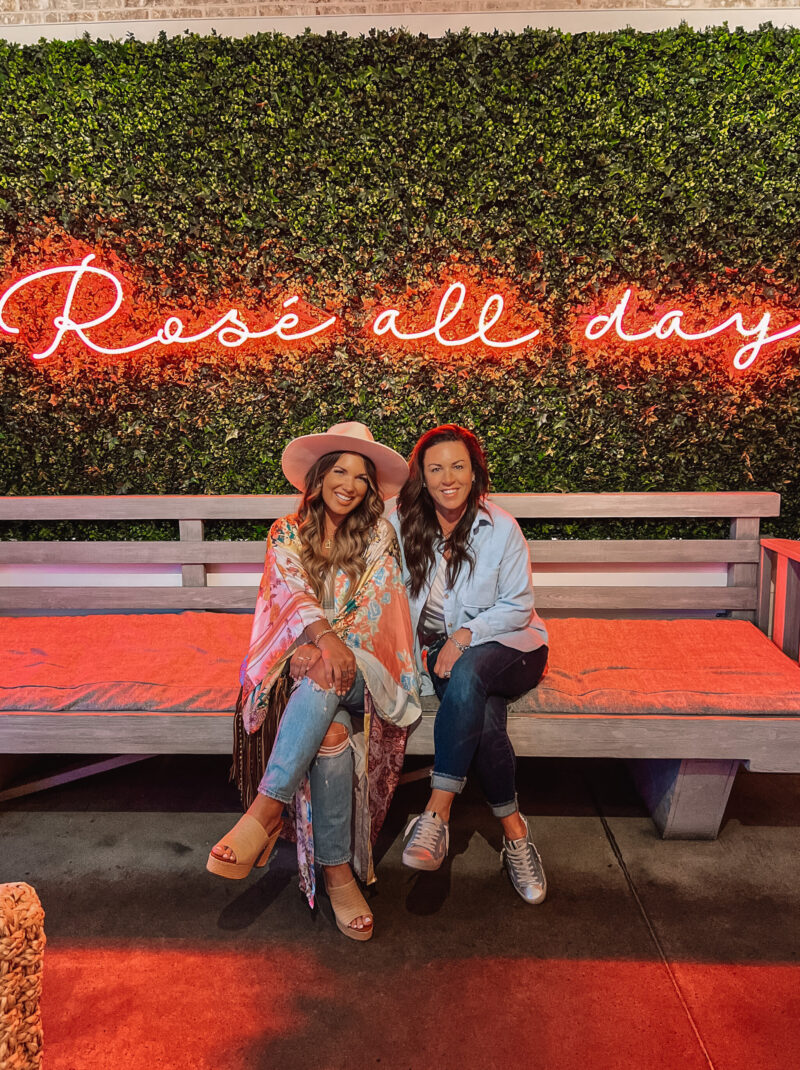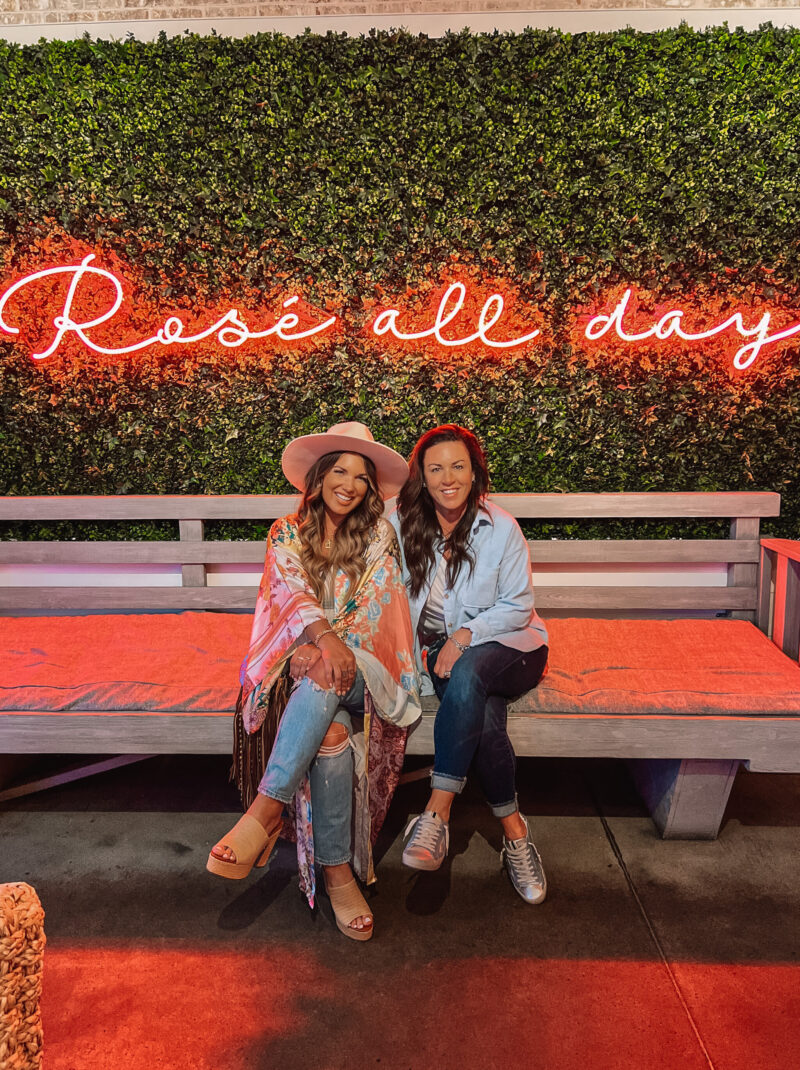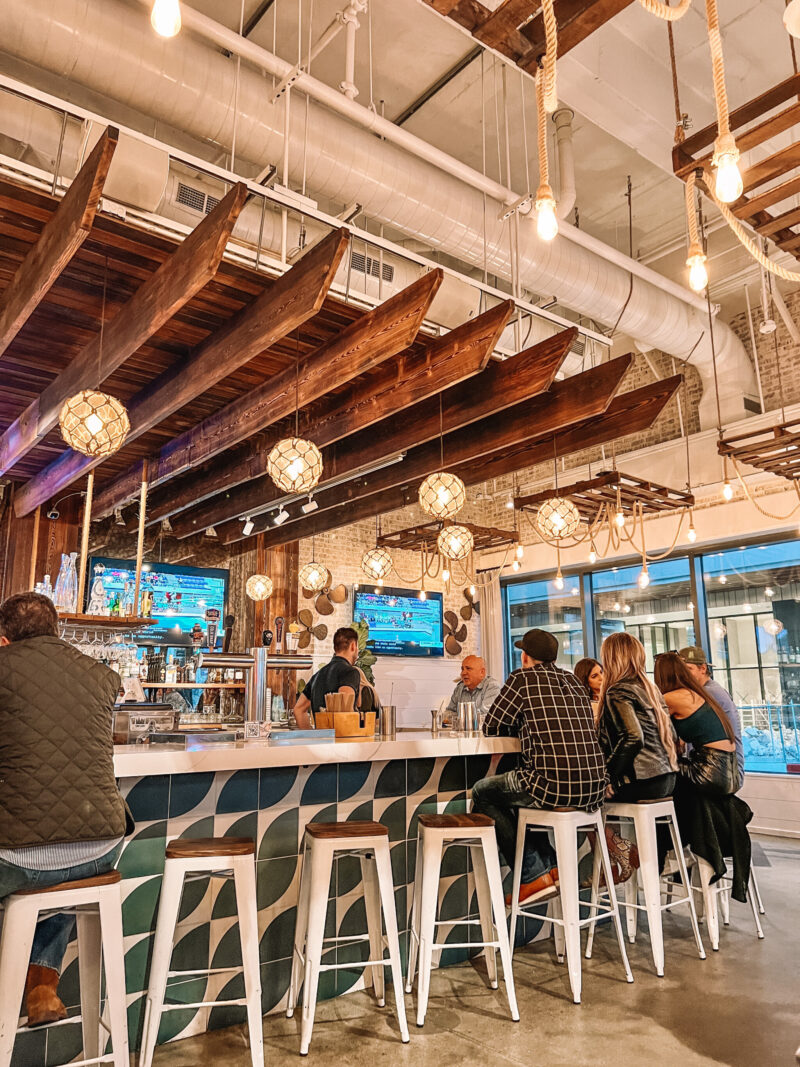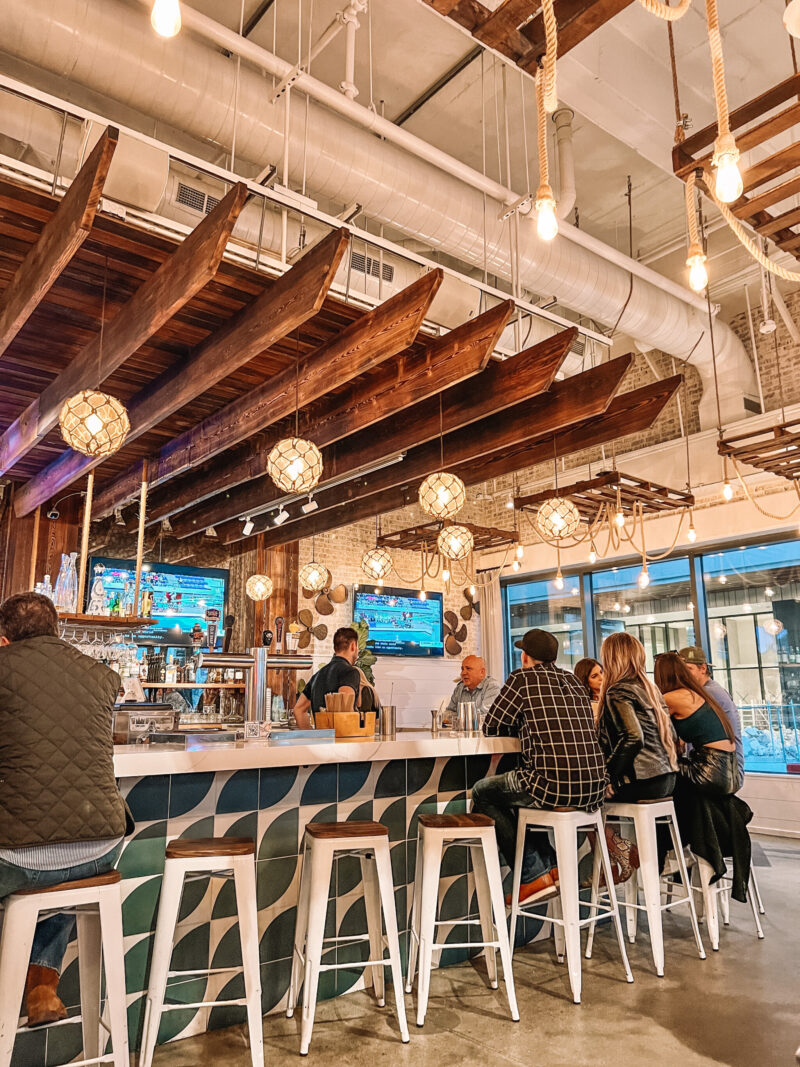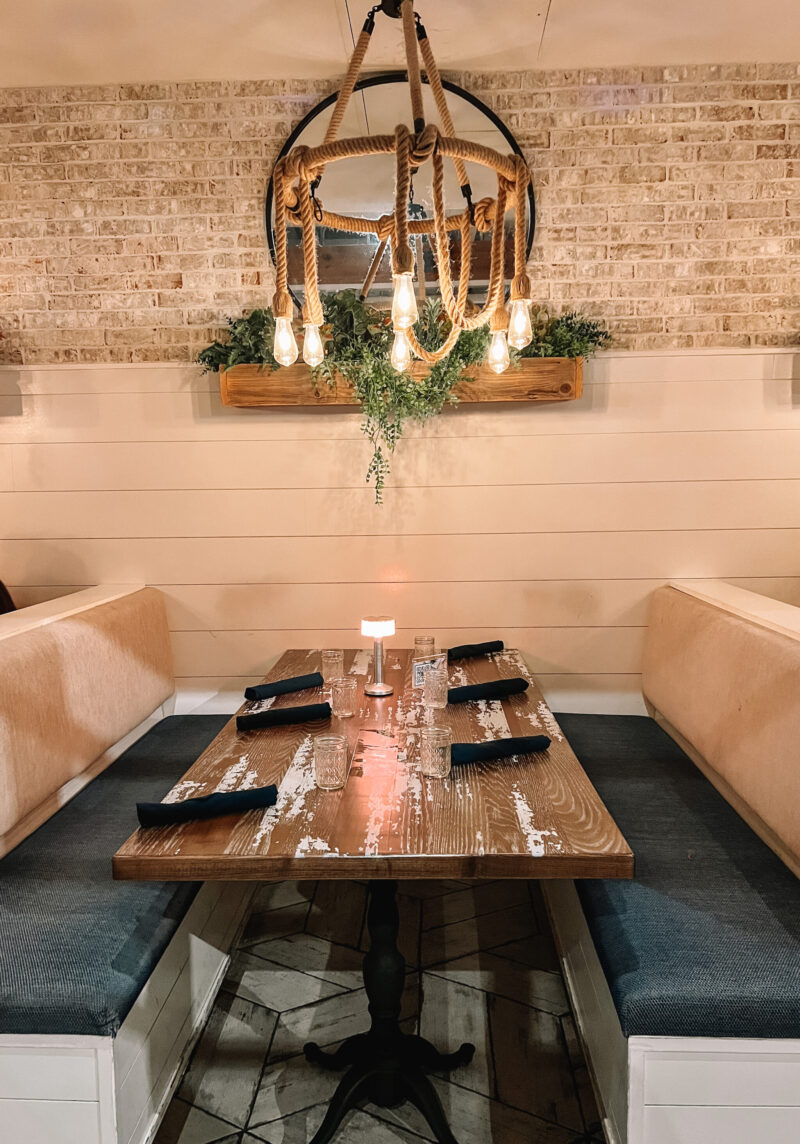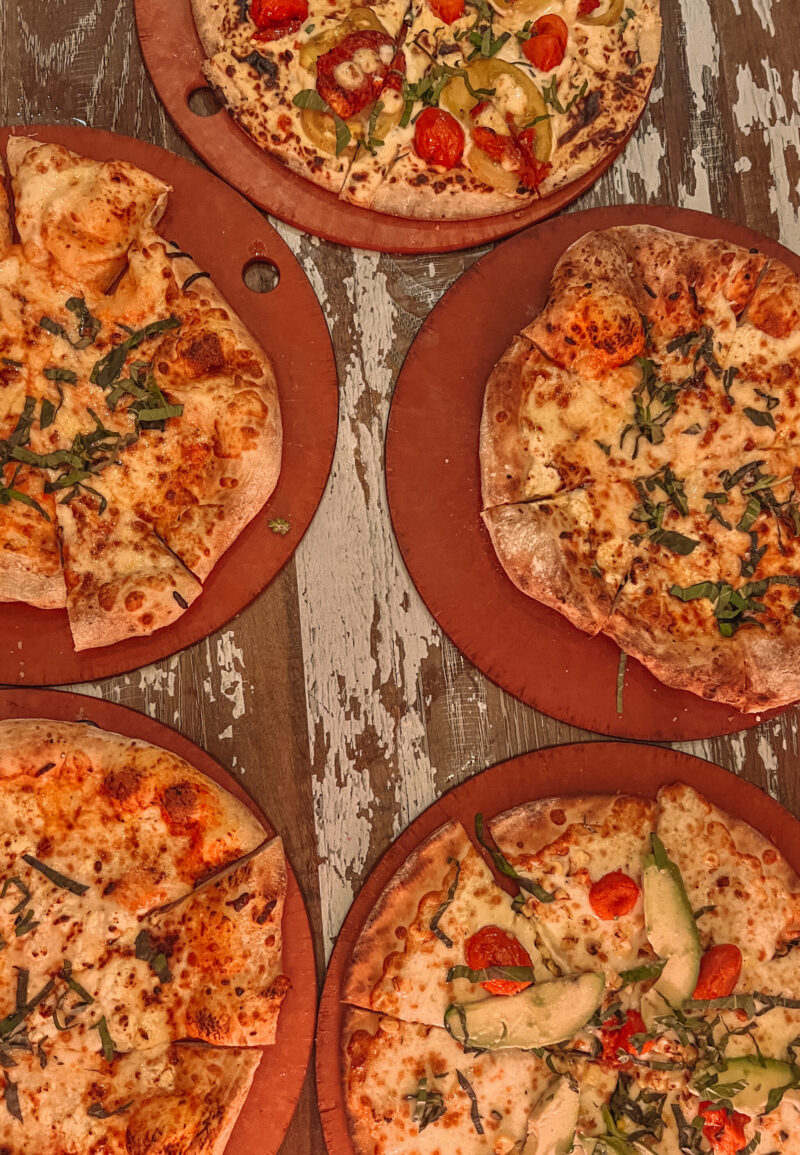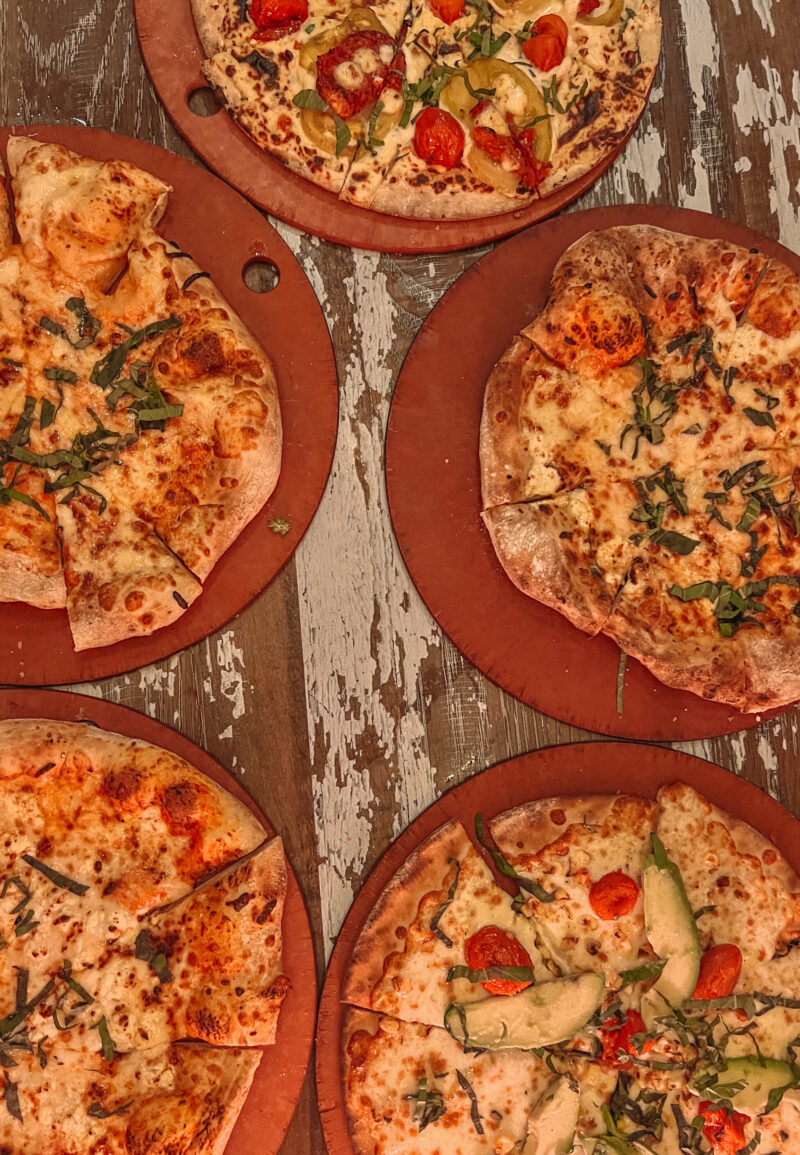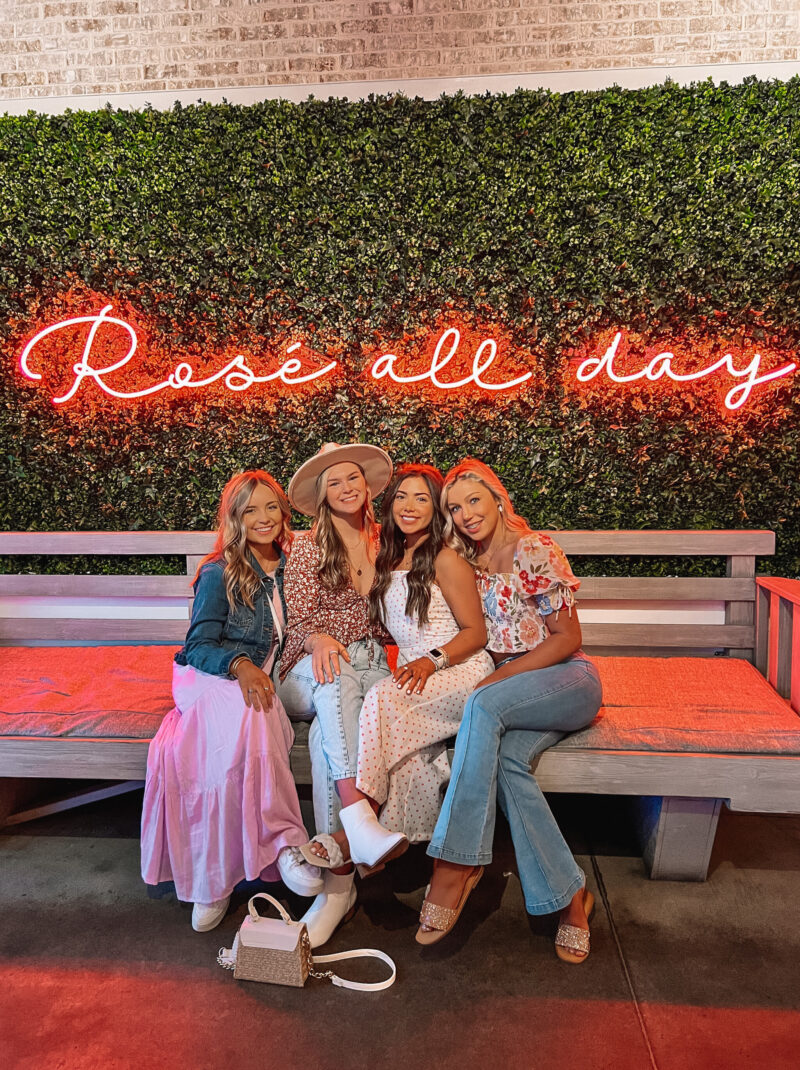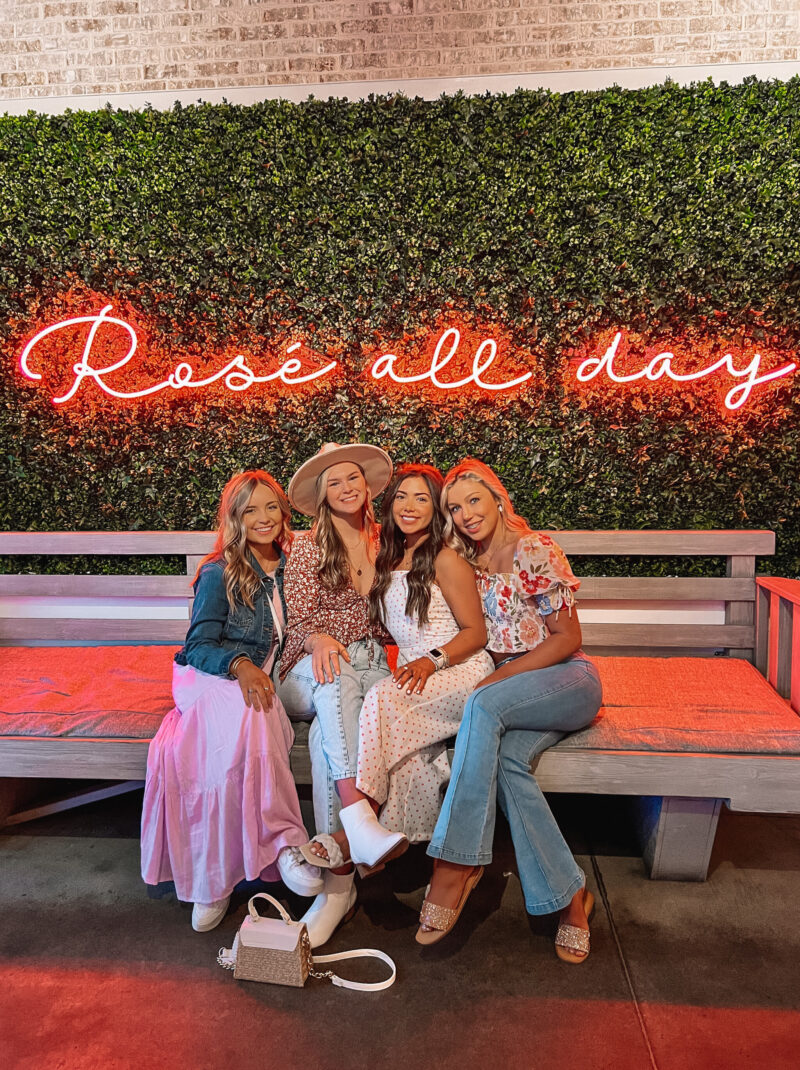 201 1st Ave S., Nashville, TN 37201
.
If the girls would have been 21 years old, we would have headed to Broadway to listen to music after dinner.
Day 2:
We opted out of going to breakfast, and we headed straight to White Limozeen at The Graduate Hotel for 10:30am since it opened up at 10am on weekends. It doesn't open until 3pm during the week. Again, make reservations if you want to eat lunch or dinner. We just took pictures and chilled. We did get coffee downstairs in the the lobby at The Graduate Hotel. It is so cute and fun.
.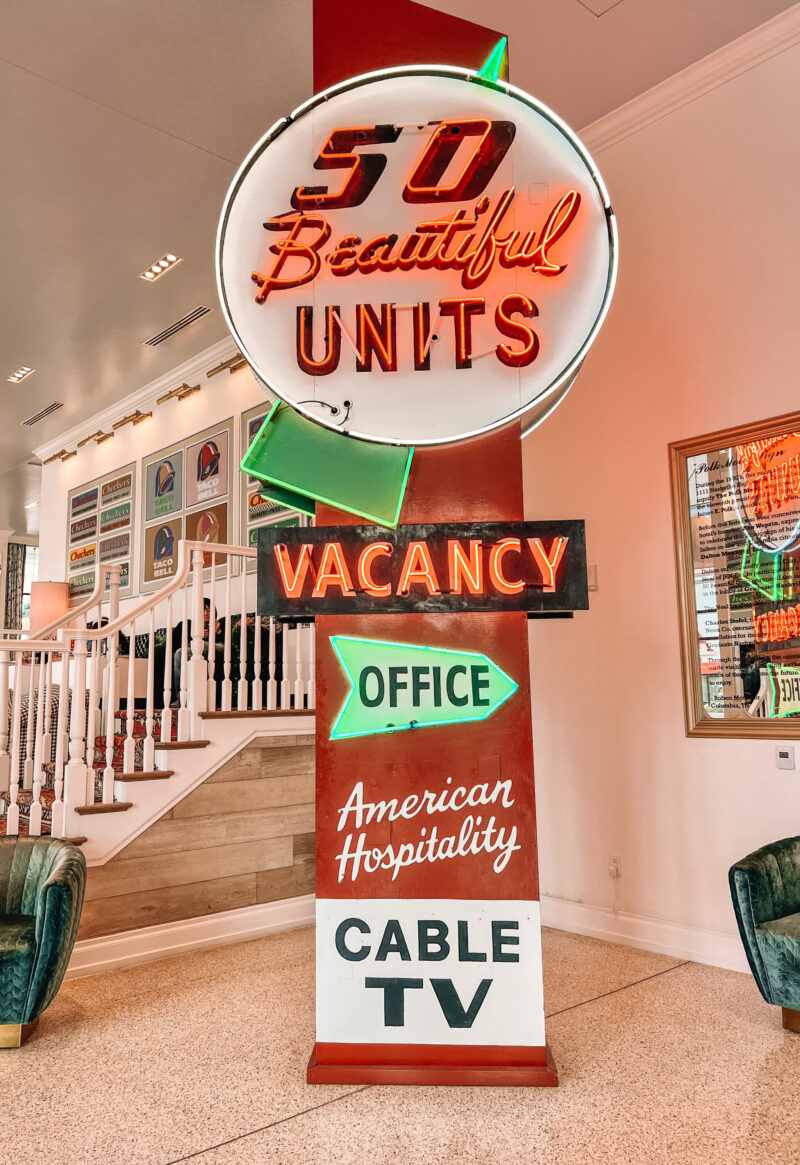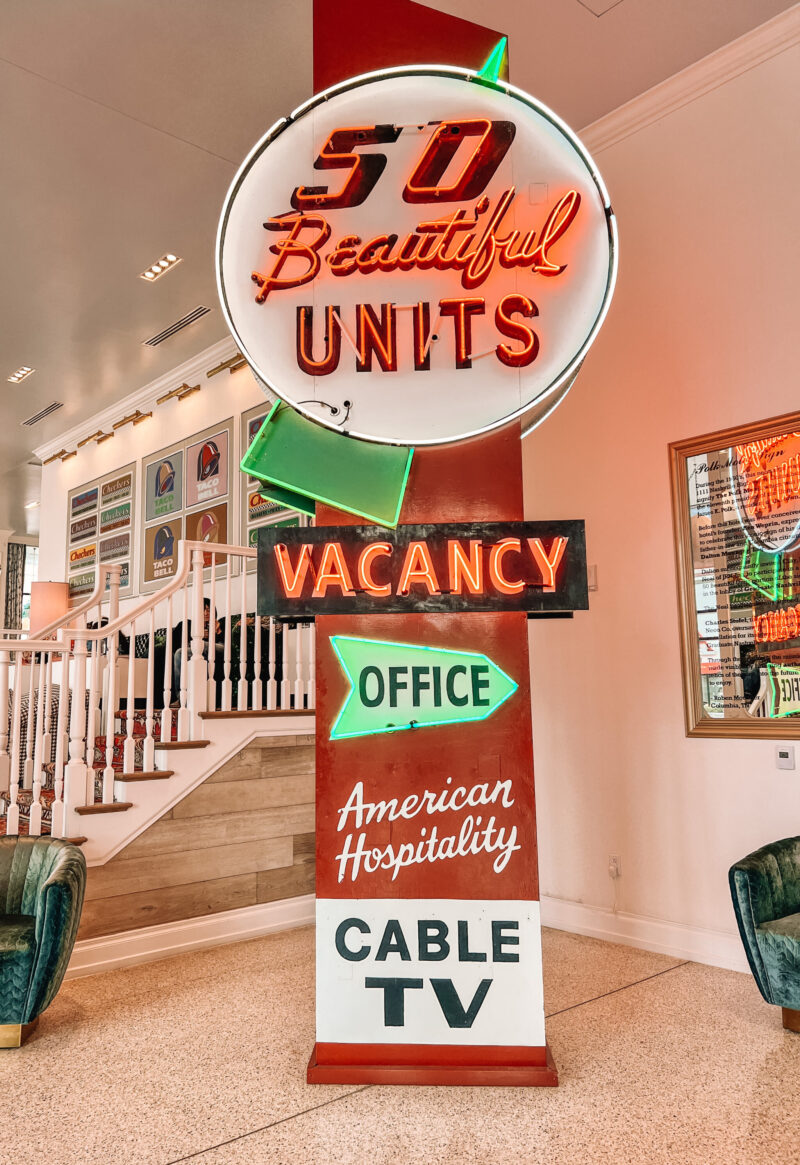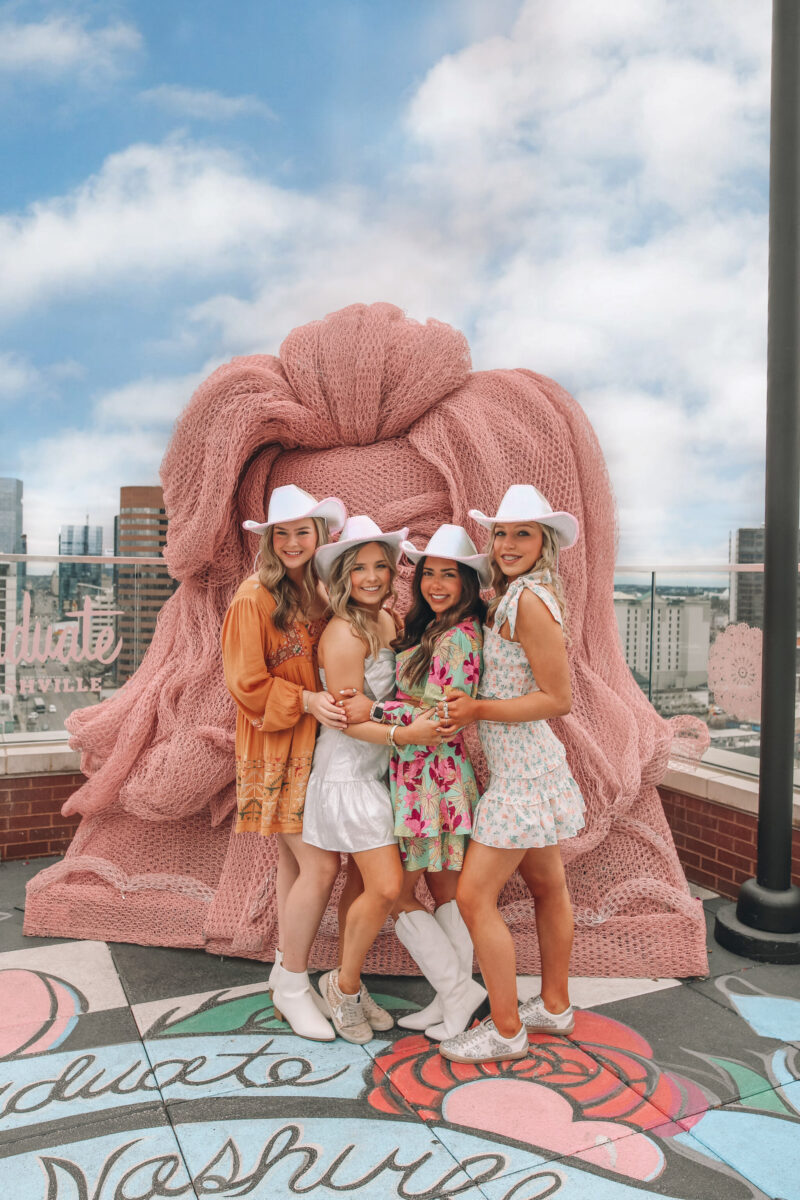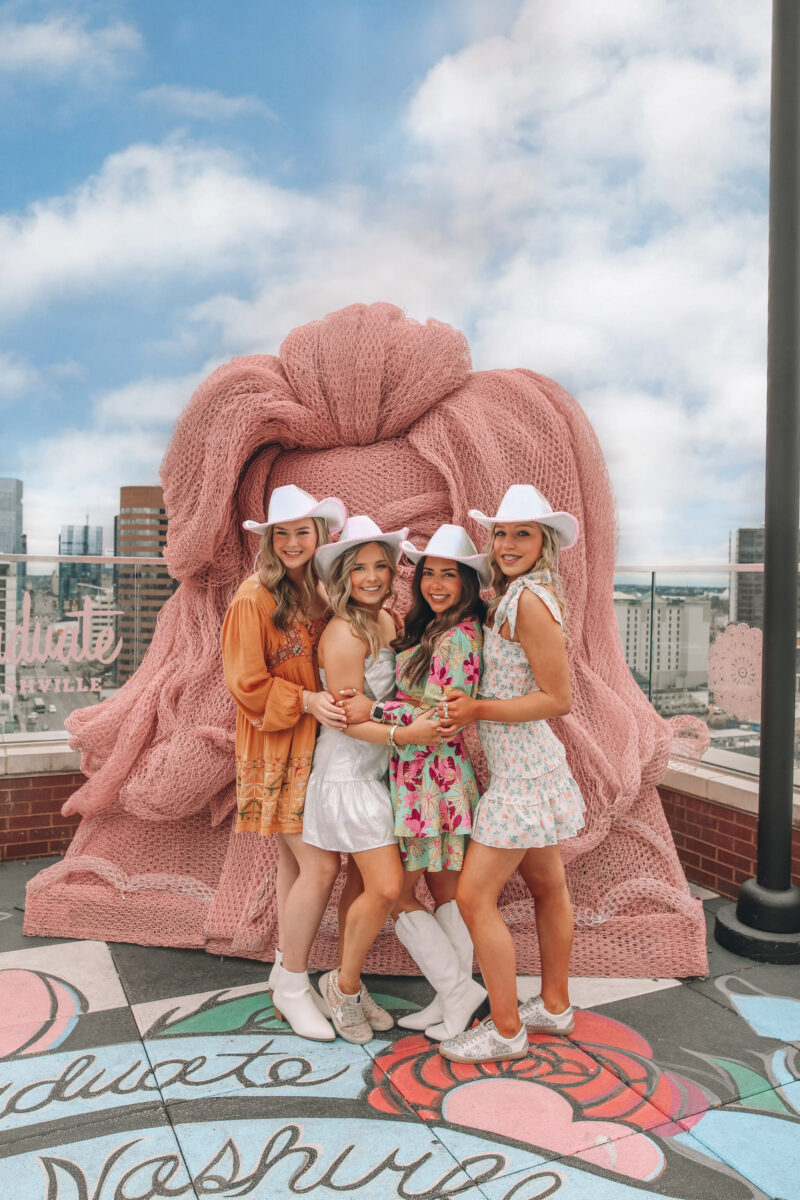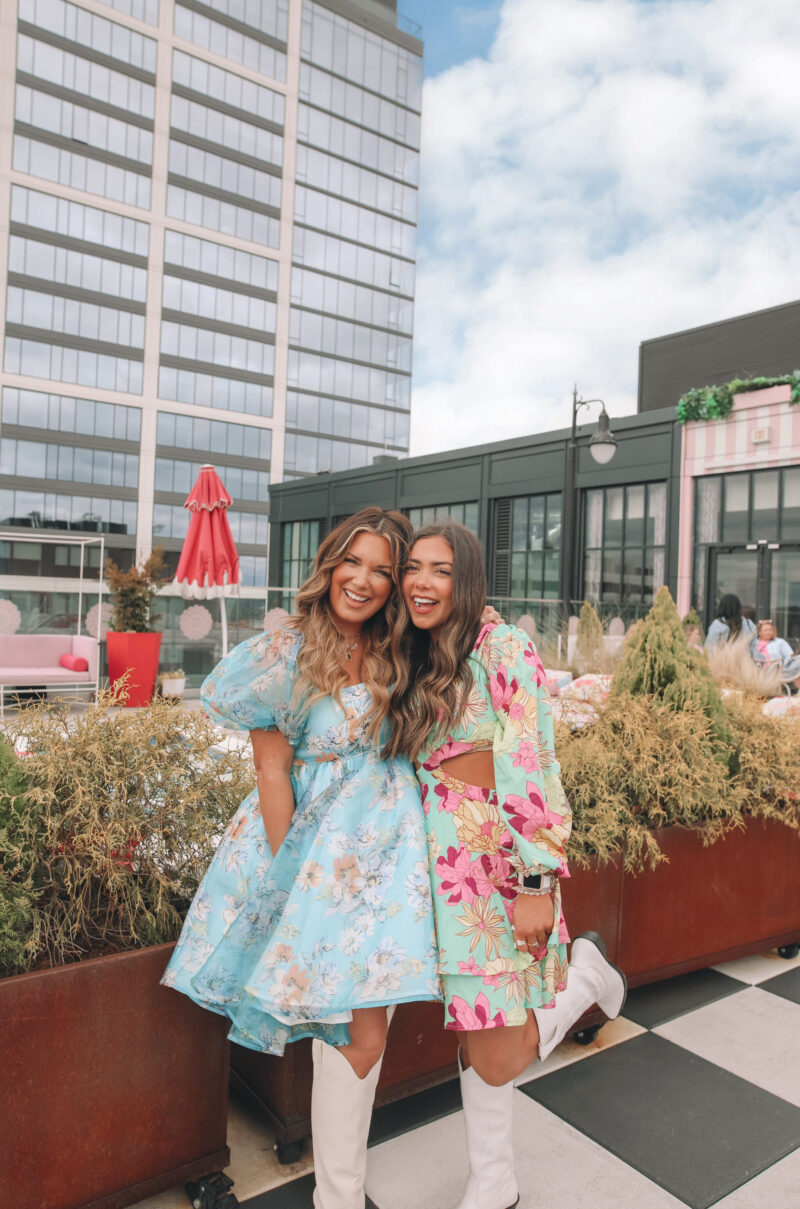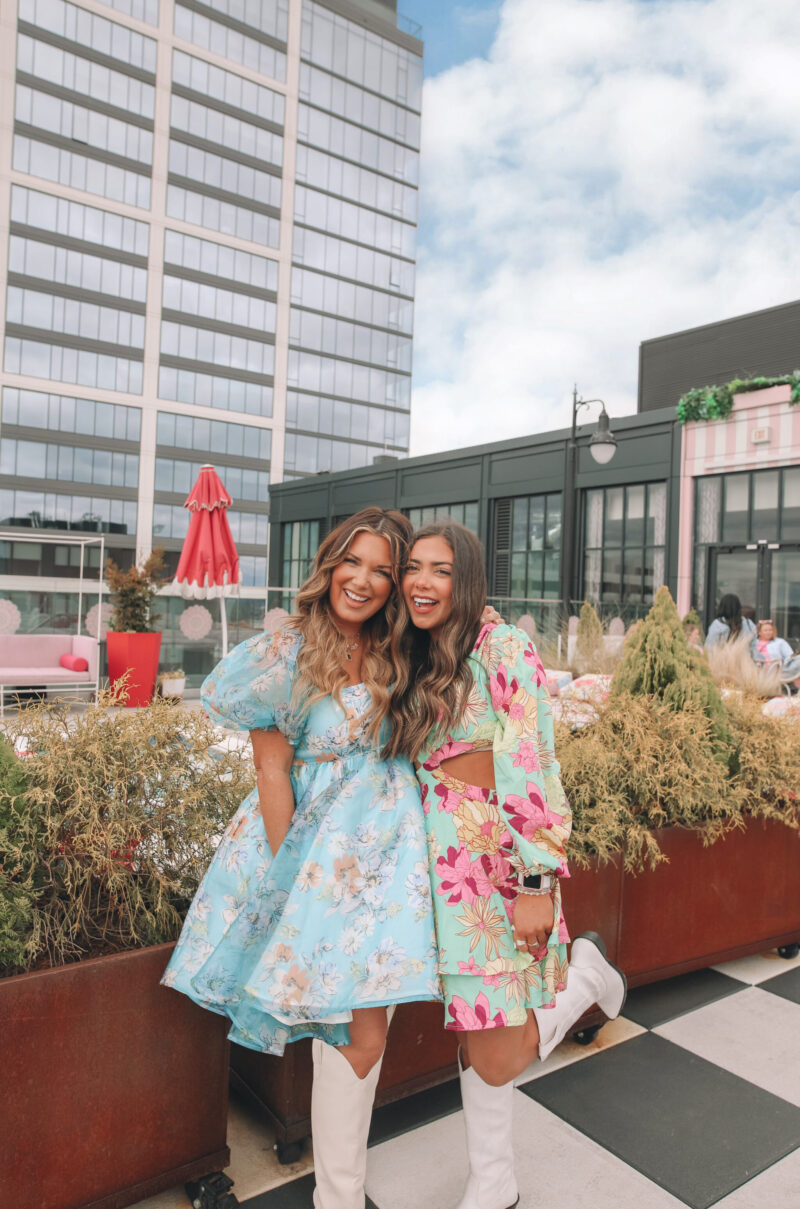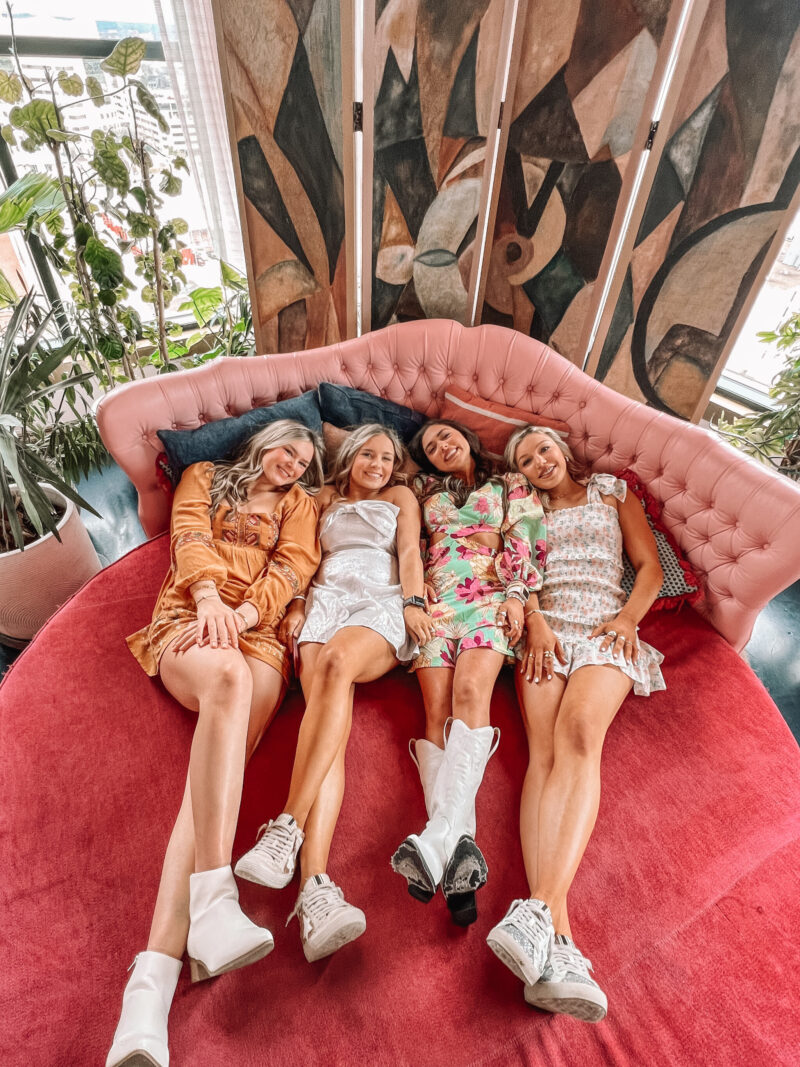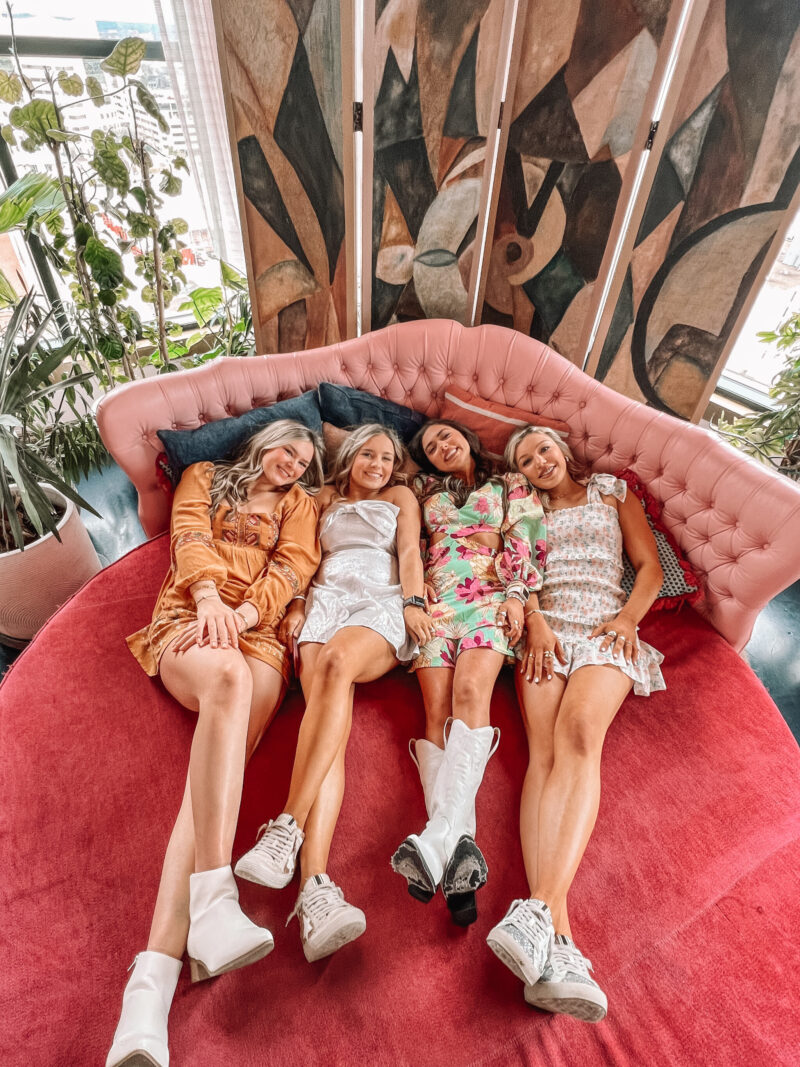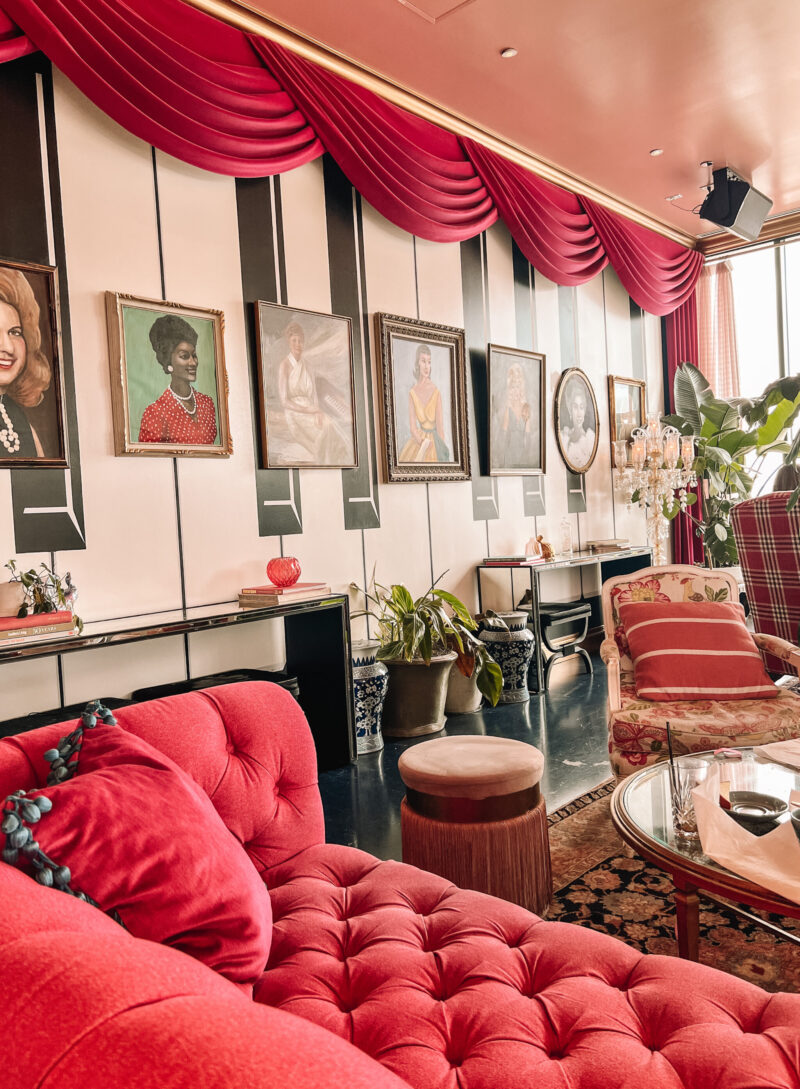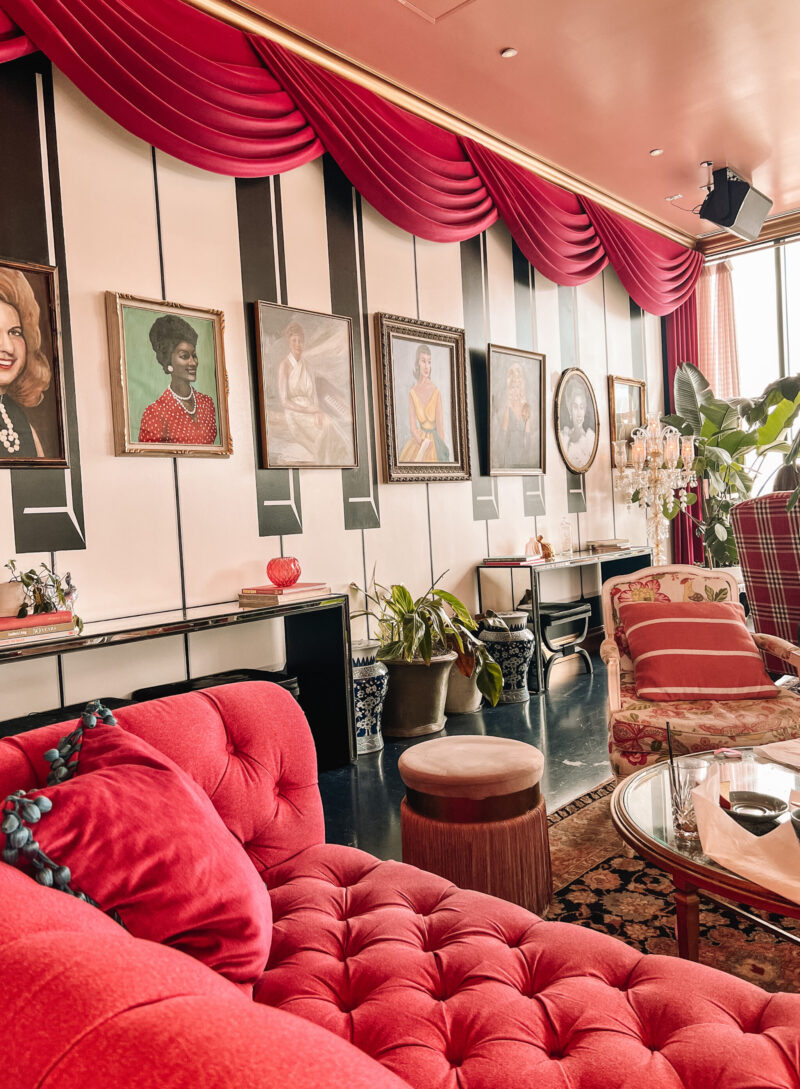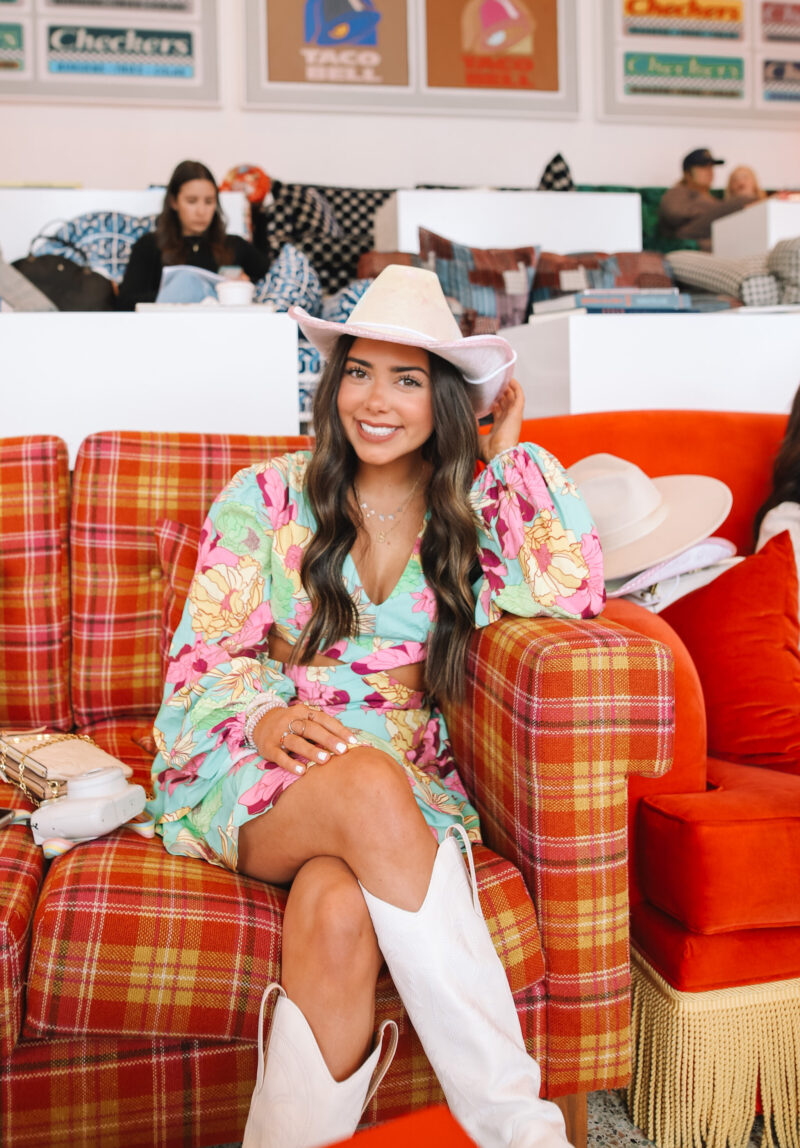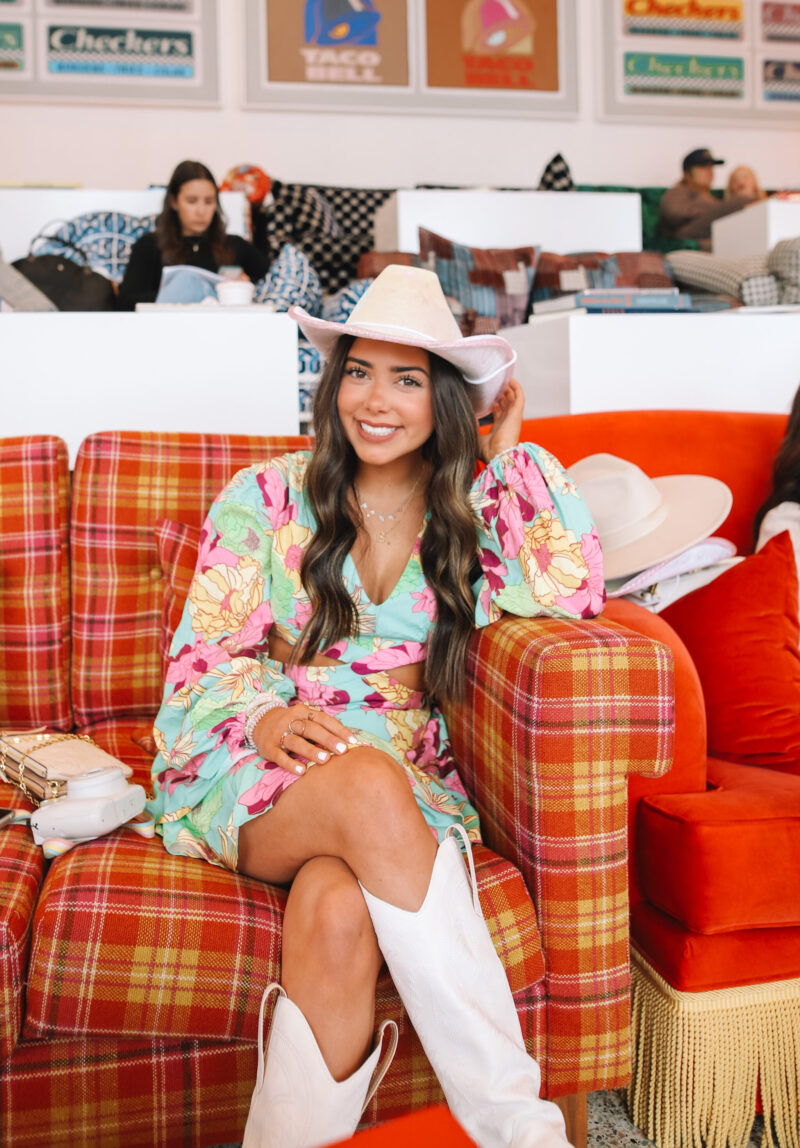 101 20th Ave N, Nashville, TN 37203
We headed back to downtown to Broadway to listen to country music. We paid to park at Hard Rock Cafe for the day. It was reasonable. Our favorite music and venue was
Honky Tonk Central
.  It is three stories of performance space, and they have some good food. We ordered the best chili cheese foot longs! No joke!! The performers on all three levels were awesome. I loved the location of it too.
We also visited Miranda Lambert's Casa Rosa Cantina which was super cute and lively. Jason Aldean's Kitchen + Rooftop Bar was another hot spot along with Acme Feed & Seed which has a great rooftop with a great view. They serve great food too. We couldn't get into Tootsie's because the girls were not 21 years old, but that was another hot spot + so packed.
If you have time, go to Printers Alley which is a historic spot. Printers Alley use to be home to the printing and publishing industry. It is now a cozy street + filled with some great, lively spots. AND, the alley is a cool shot with all of the signs.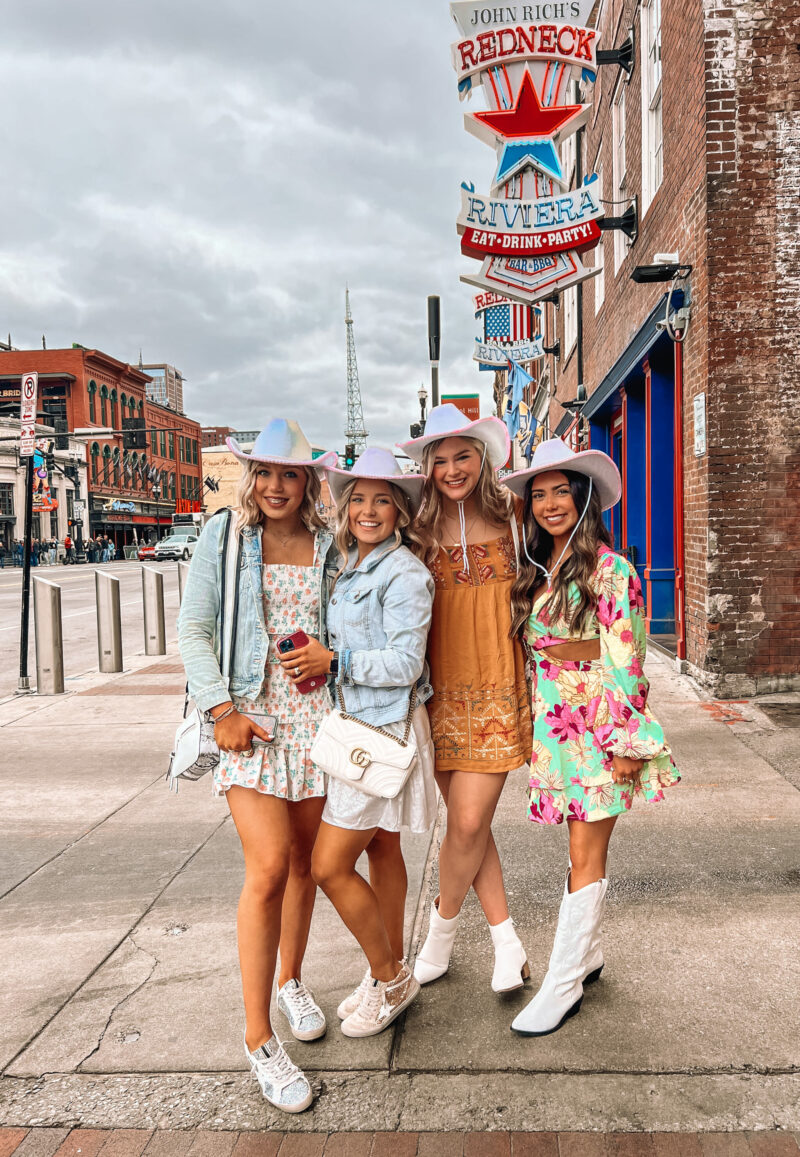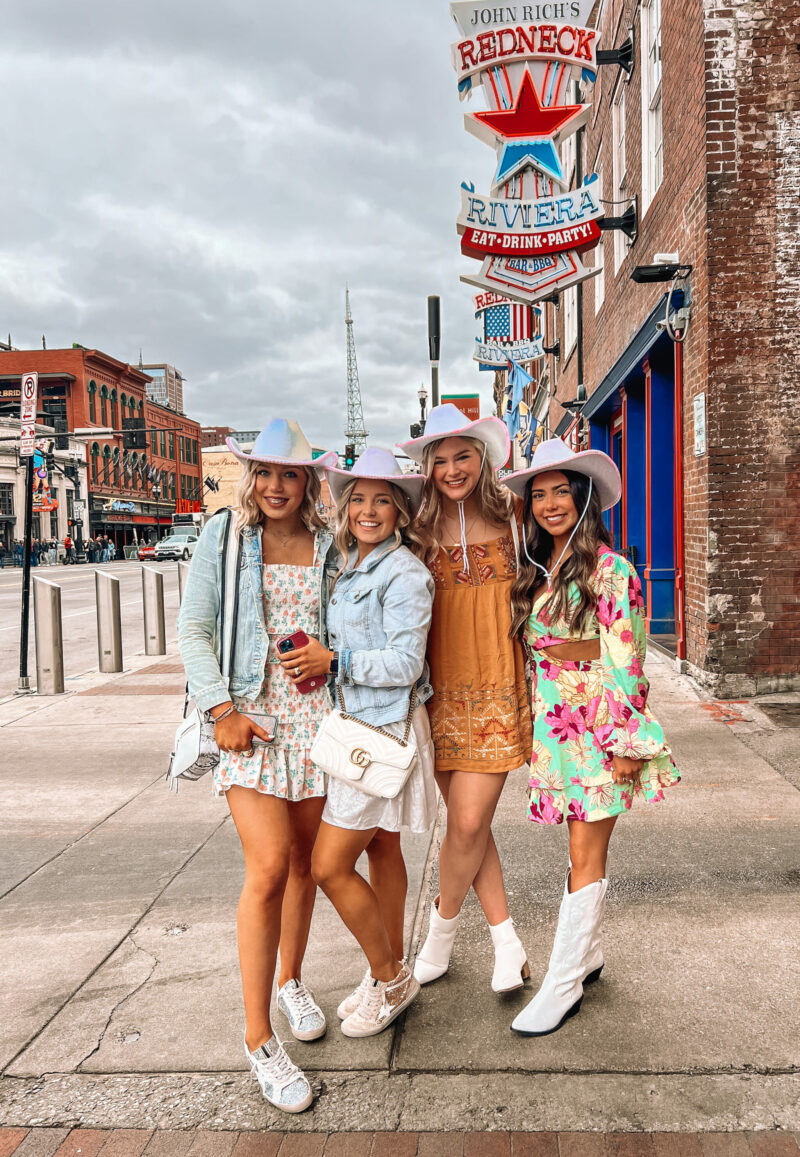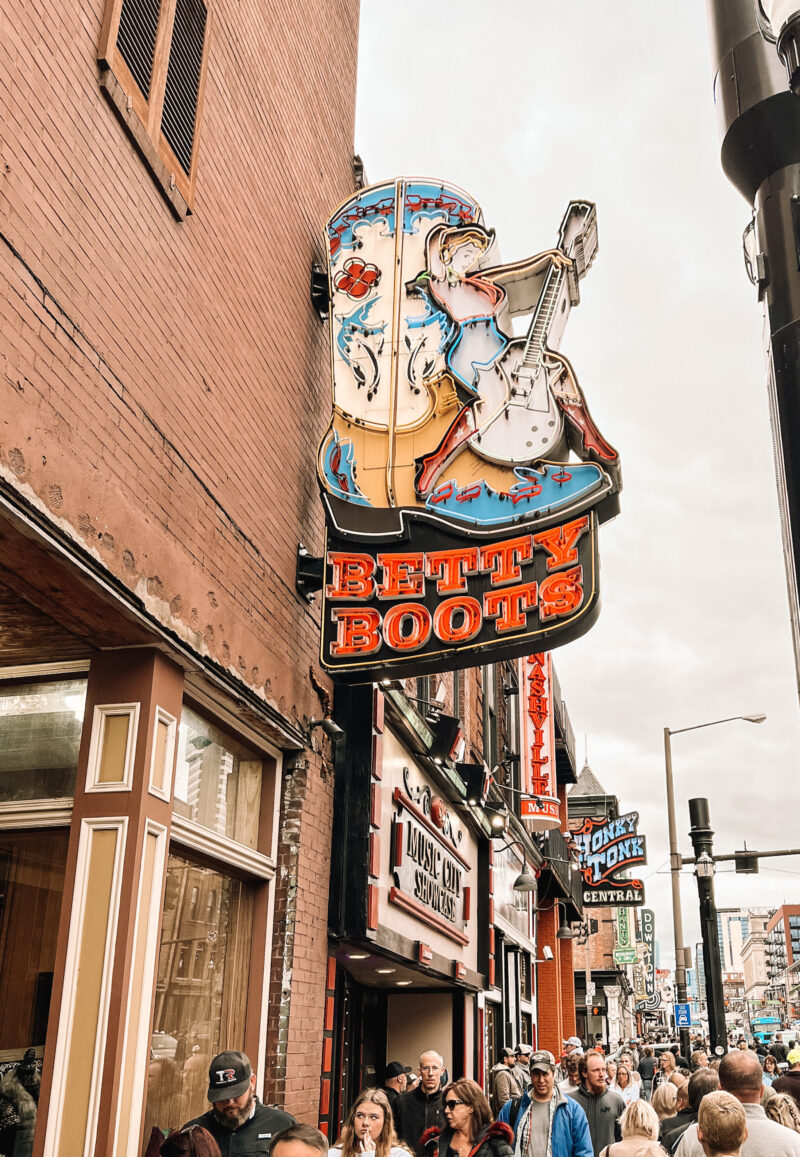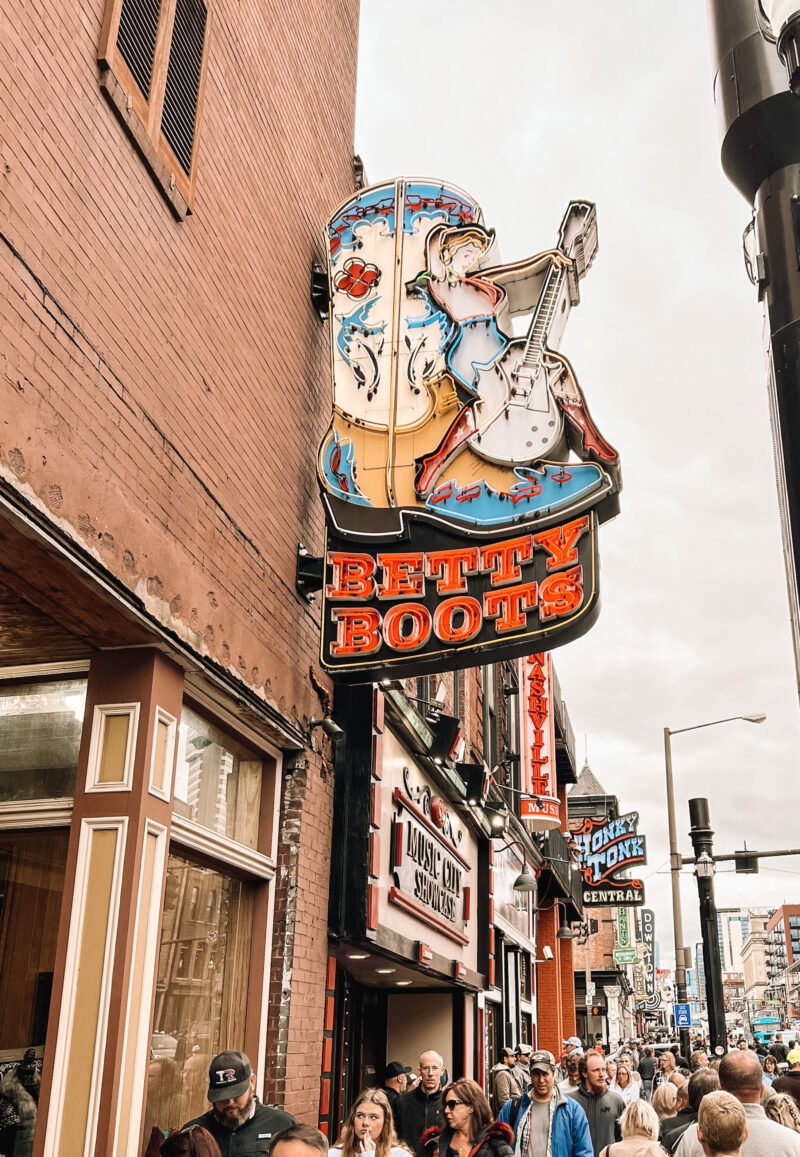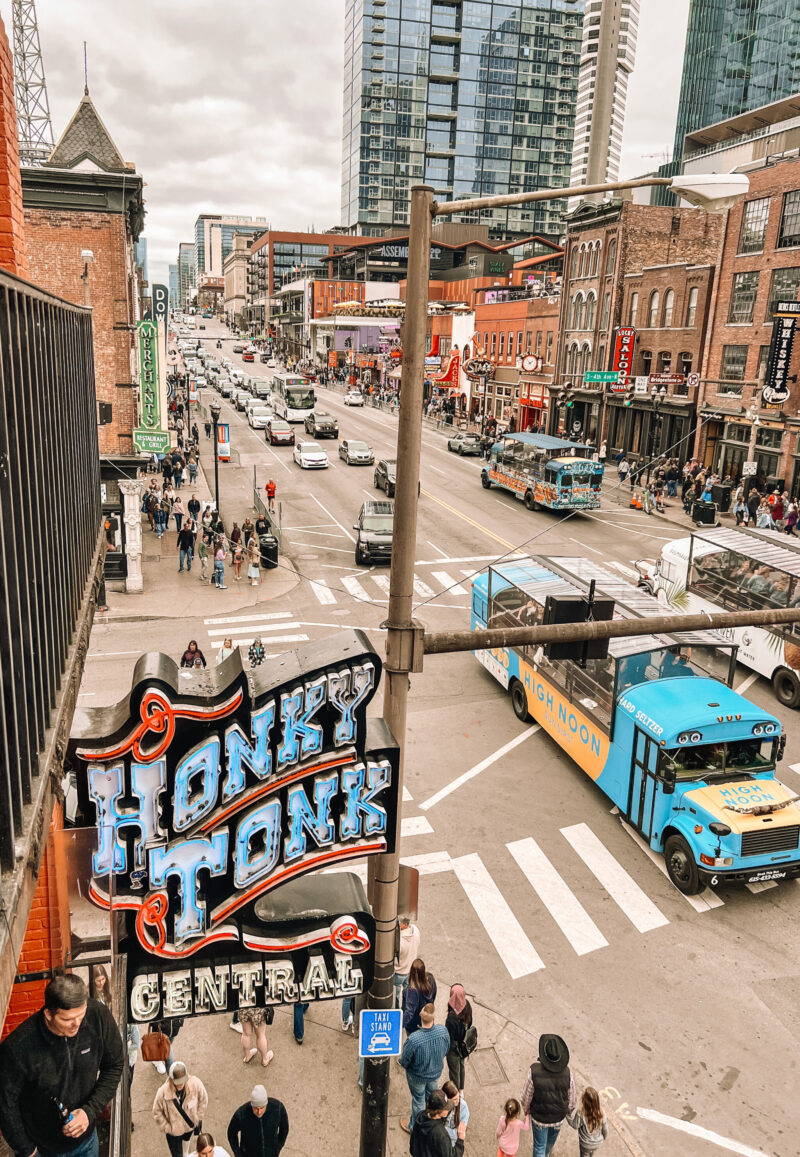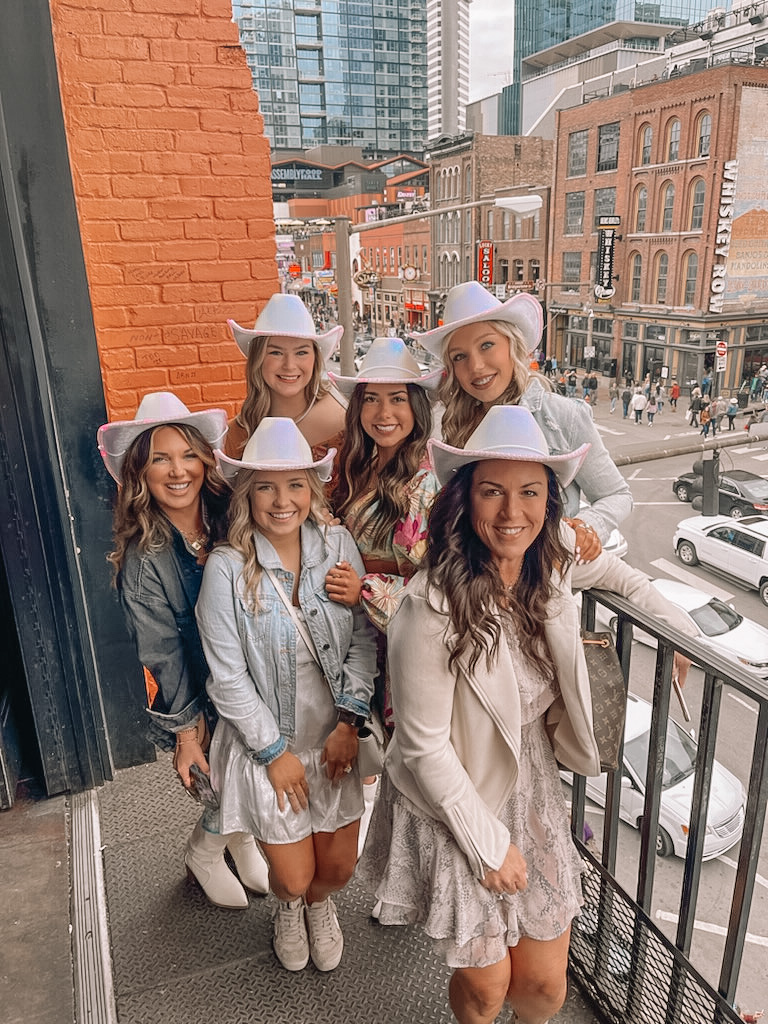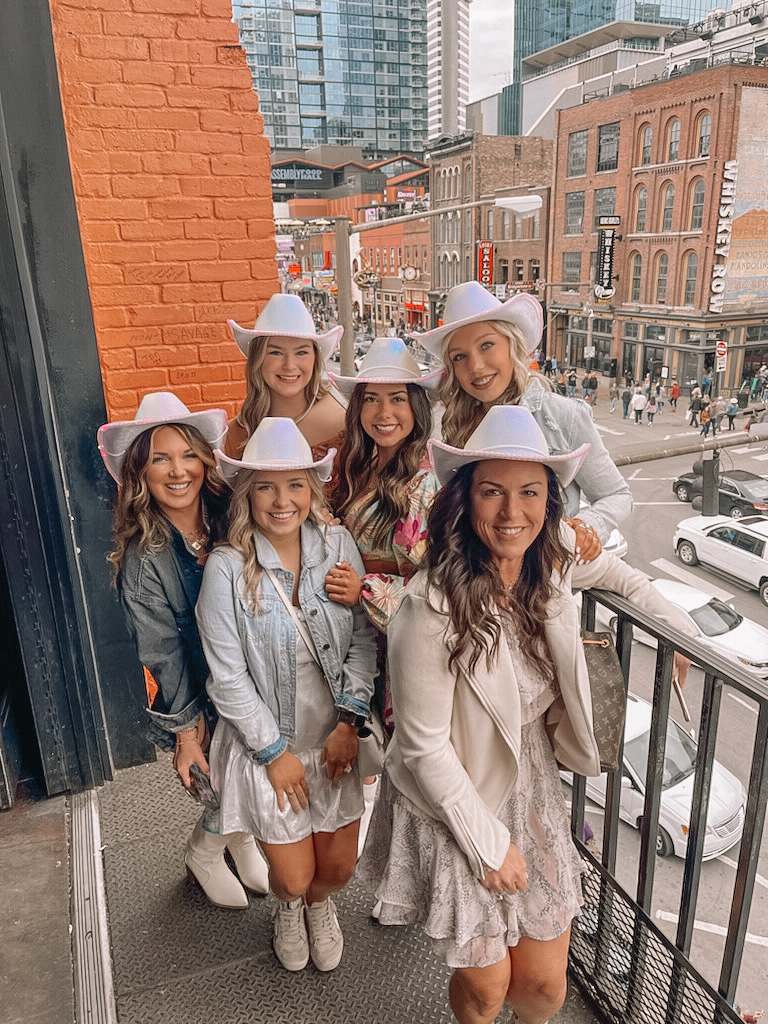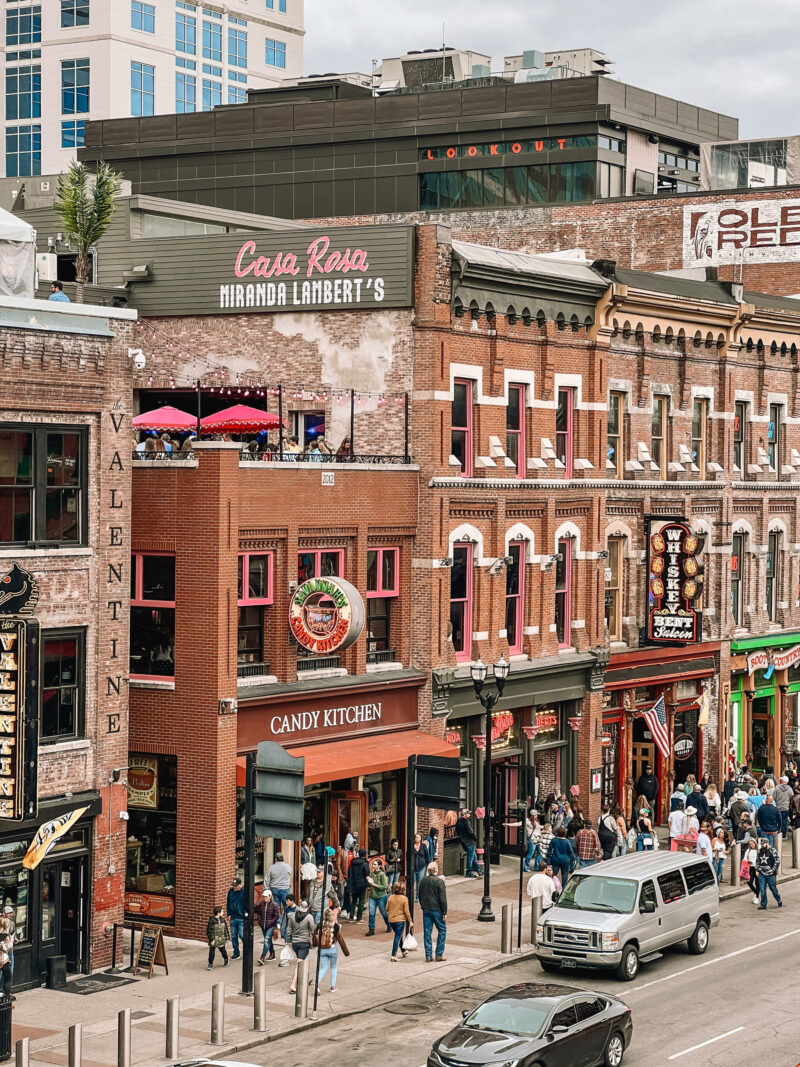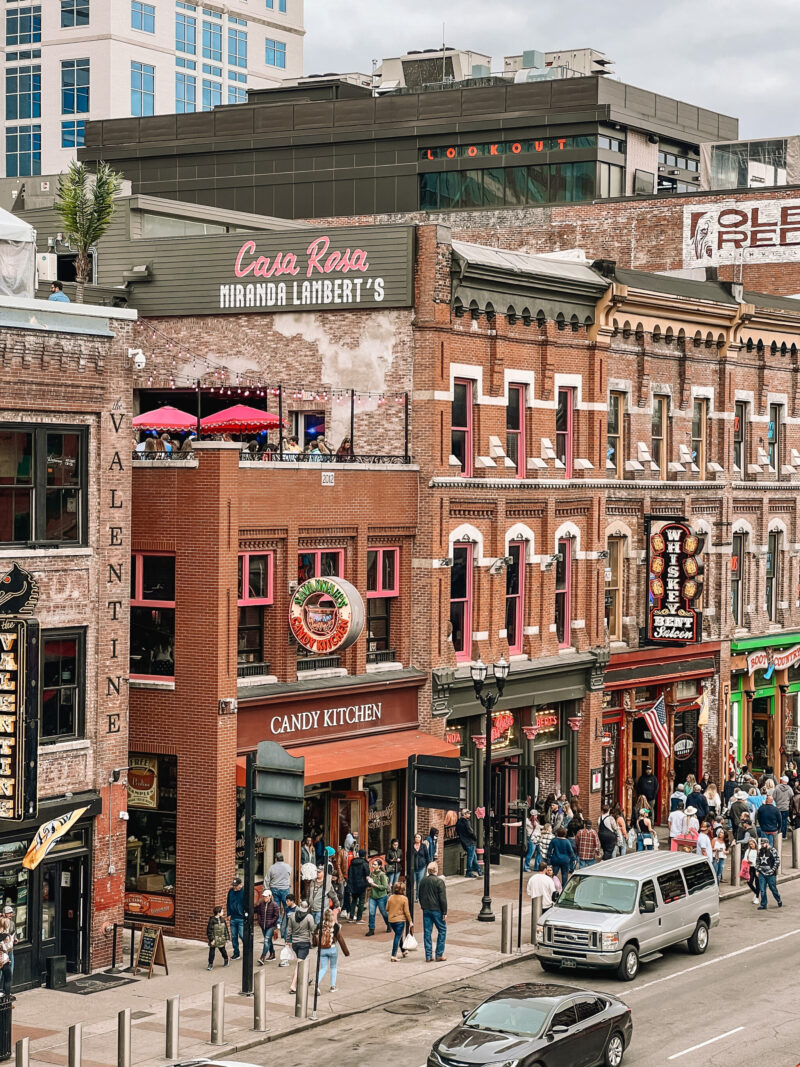 .
100 Broadway, Nashville, TN 37201
After 6-8 hours of music + fun, we headed to the Gulch to check out the murals + shops. We had to visit Jessie James Decker's boutique, Kittenish. It has the cutest flower wall in it. The girls did buy some cute key chains. Loved the whole vibe. They have so many wall murals in the Gulch. We just walked around + checked out all of the shops. We did make a pit stop at Uncommon James. The girls found all kind of goodies on crazy sale.
.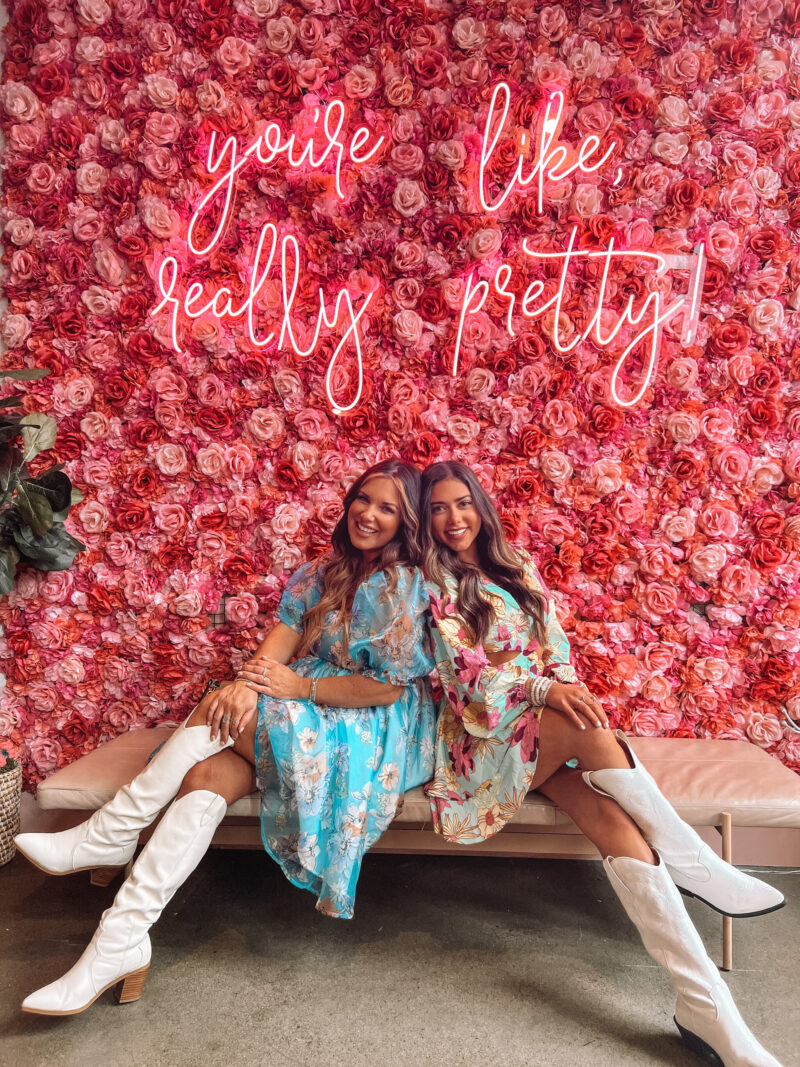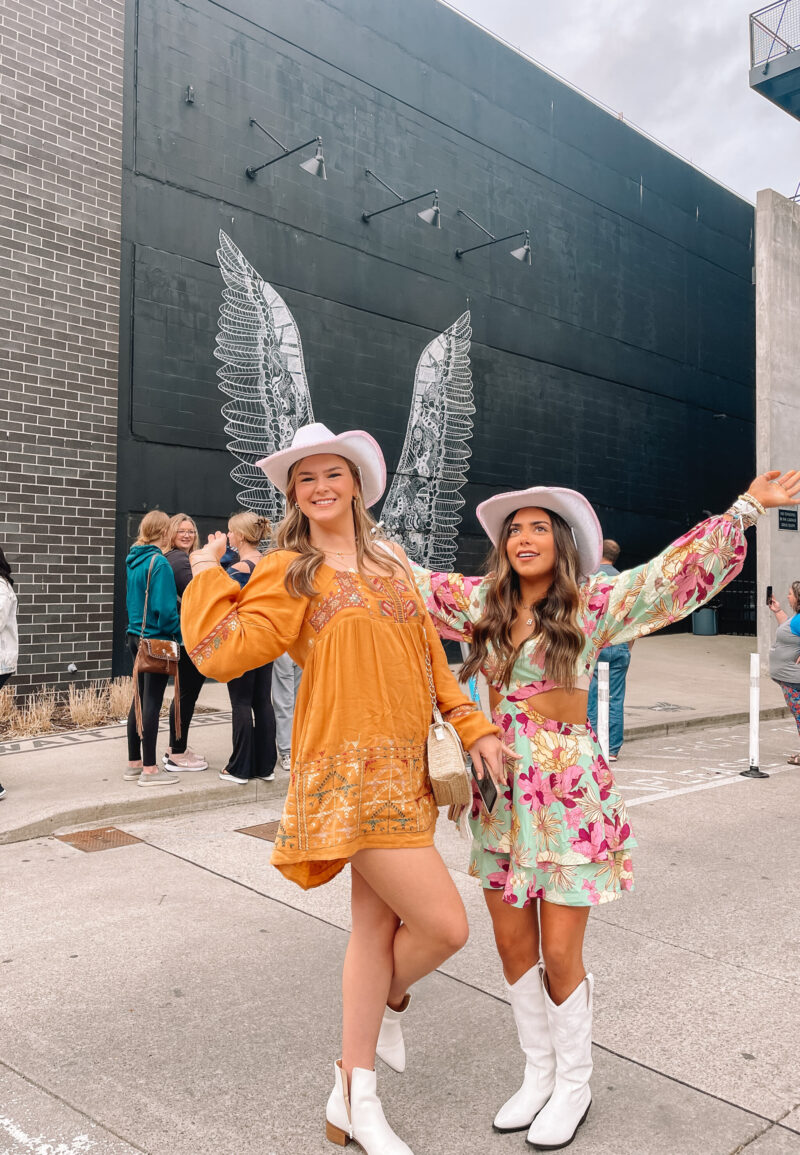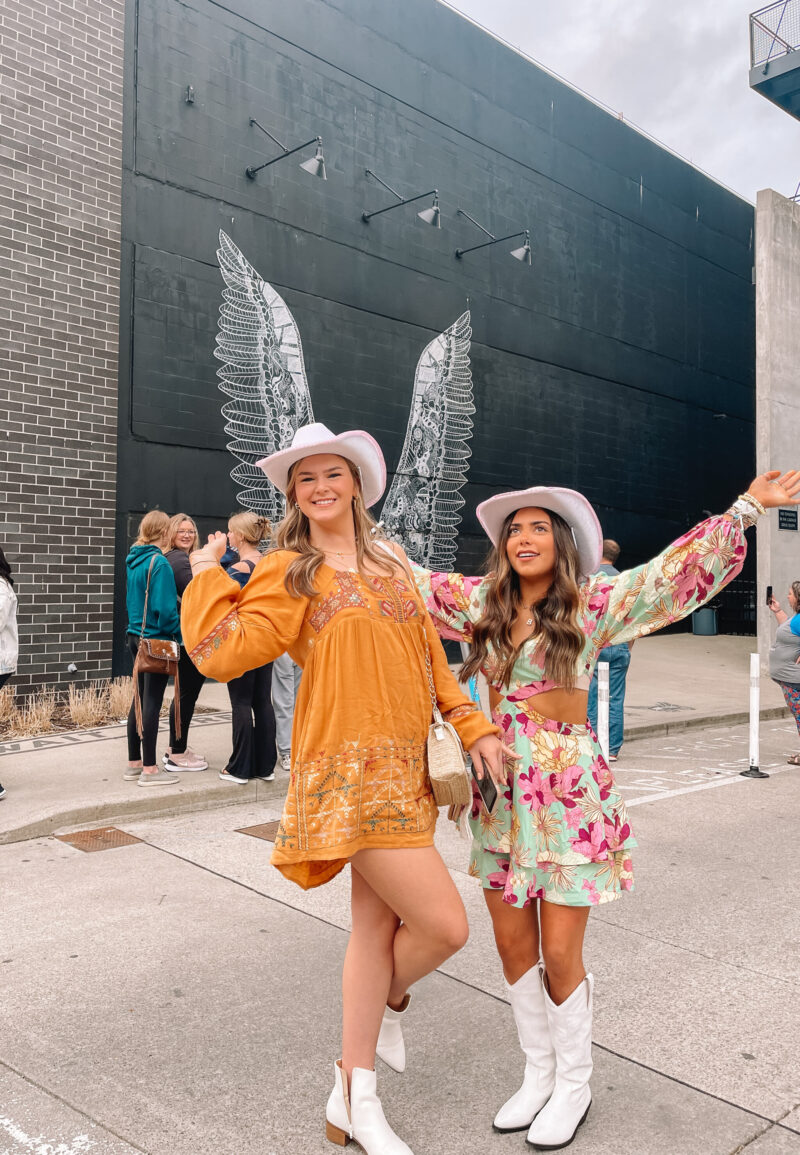 The Wings
                         302 11th Ave S, Nashville, TN 37203
304 11th Ave S, Nashville, TN 37203
601 9th Ave S, Nashville, TN 37203
After all of that, we headed back to the airbnb to change for the late birthday dinner at
Liberty Common
. Again, dinner reservations are a must. I did hear that this is a great brunch spot too. It's located right next door to the Hampton Social. We parked in the same parking garage. This restaurant is so Instagram worthy. My pictures don't even do it justice. By the way, the filet was very yummy. We all enjoyed our meal.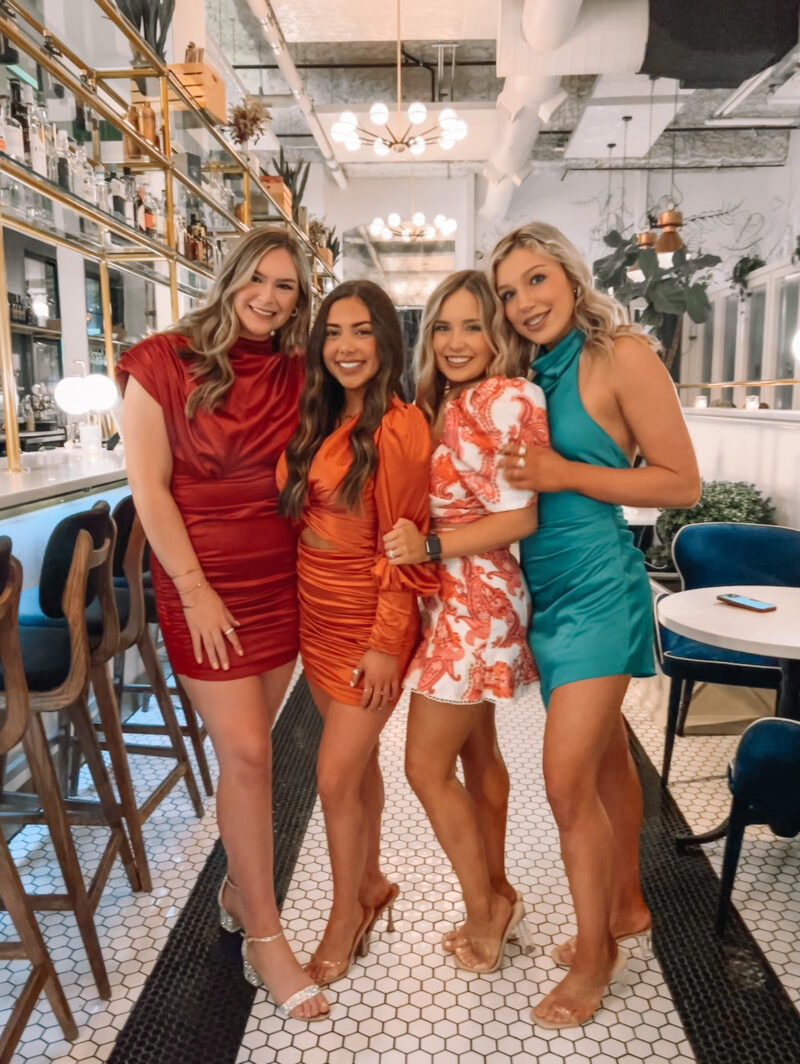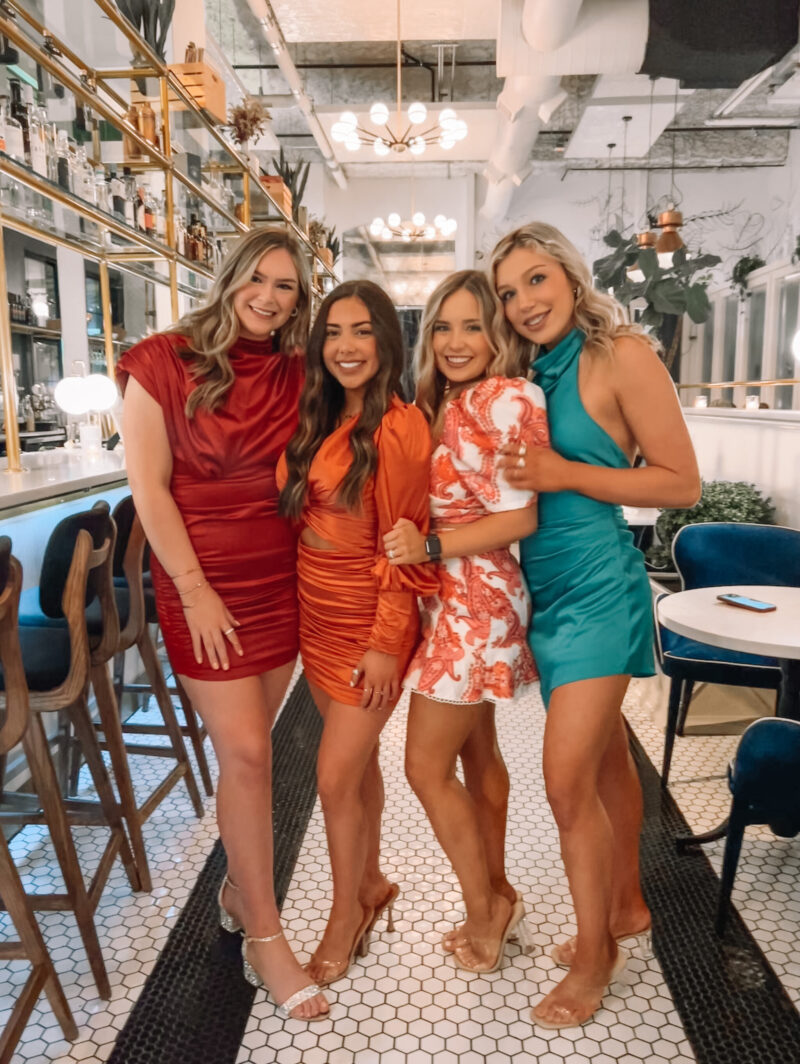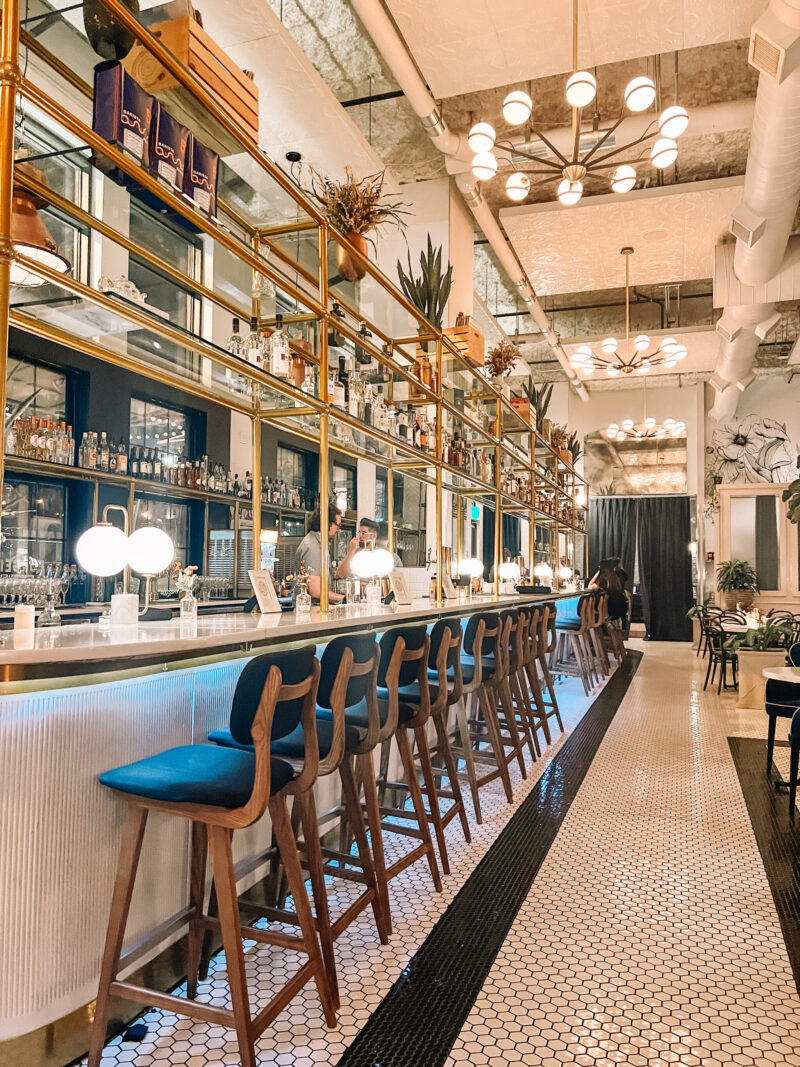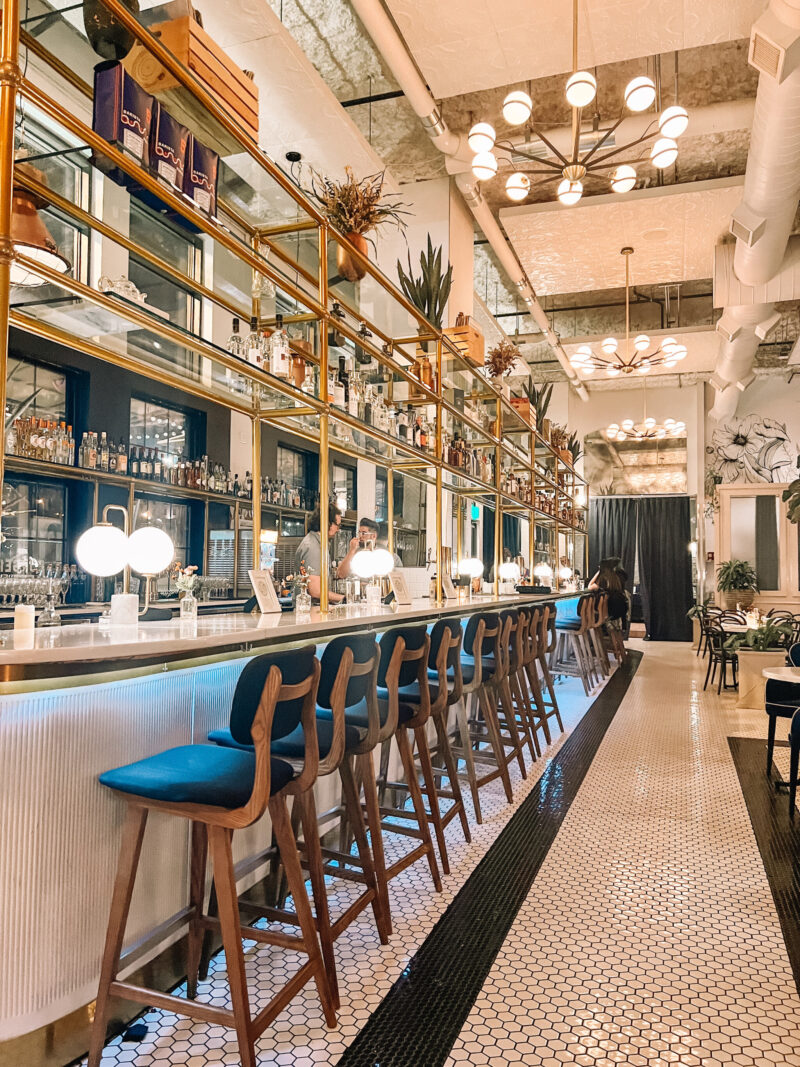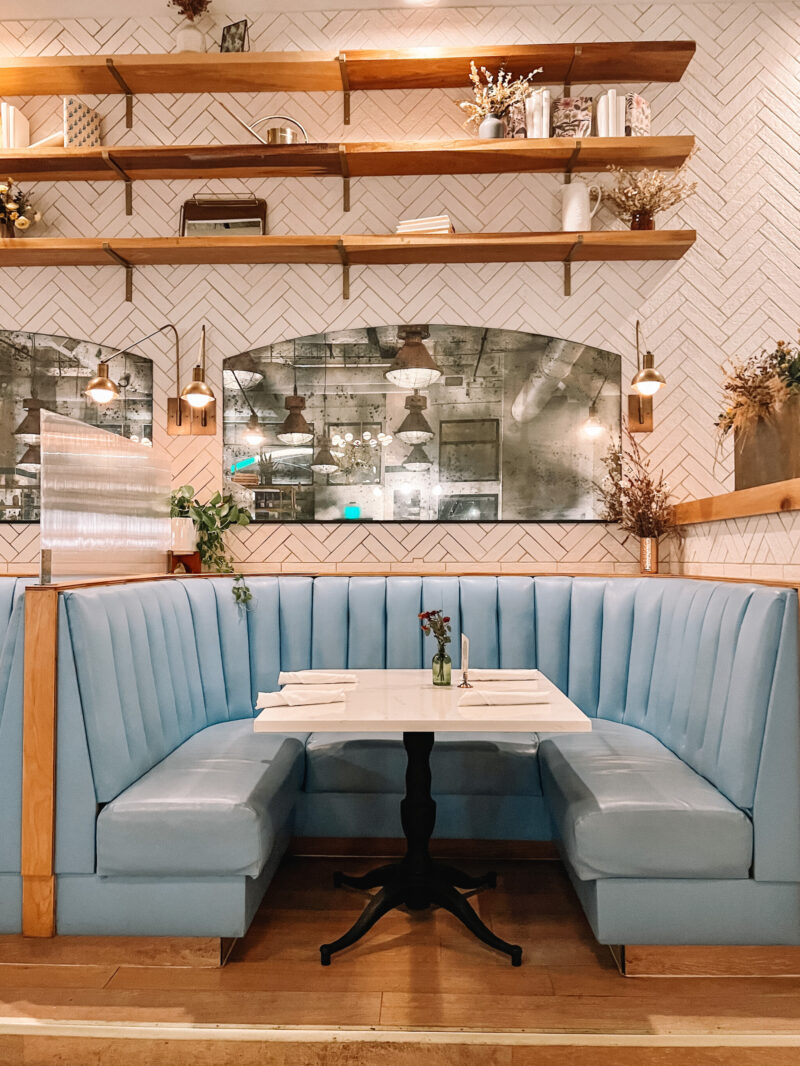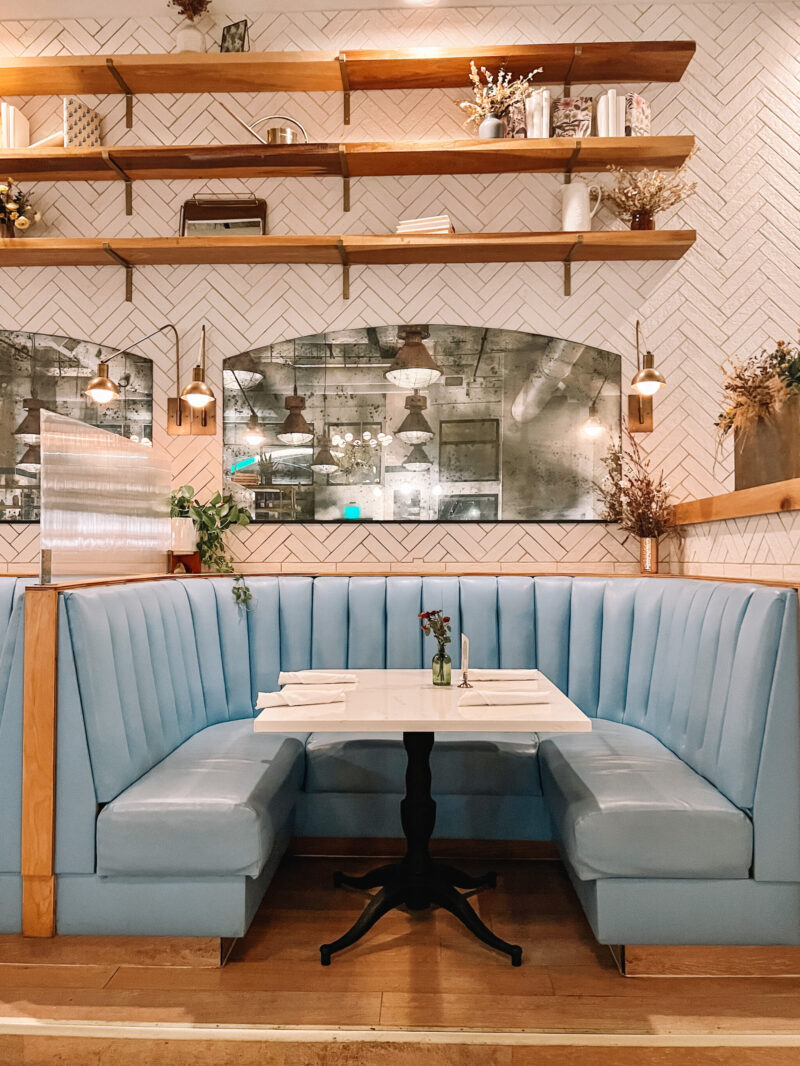 207 1st Ave S, Nashville, TN 37201
Day 3:
We packed up and headed to brunch at
Cafe Roze
in East Nashville. It didn't disappoint. The ham toast was insanely delicious. The waffles and berries were yummy too. Reservations are must here too.
After brunch, we headed to visit some cute shops in East Nashville. Here is the list of our favorites that are all located in the same shopping center:
Whiskey Water Boutique
, Apple & Oak, and HiFi Cookies.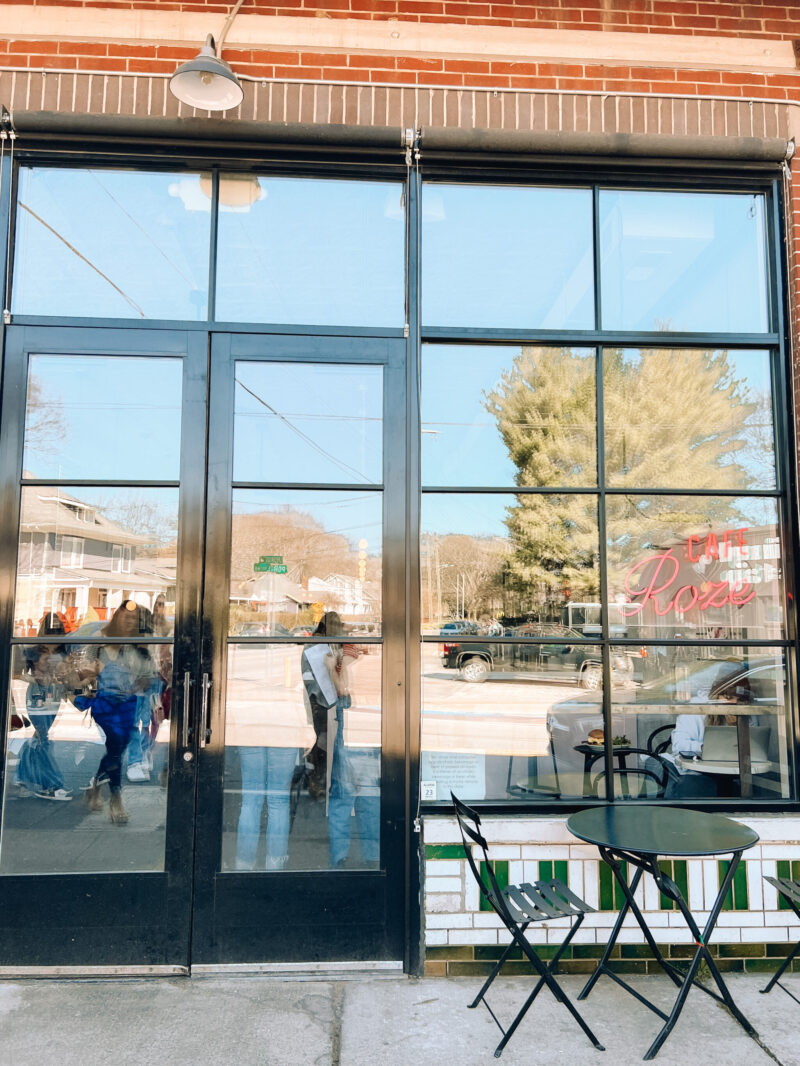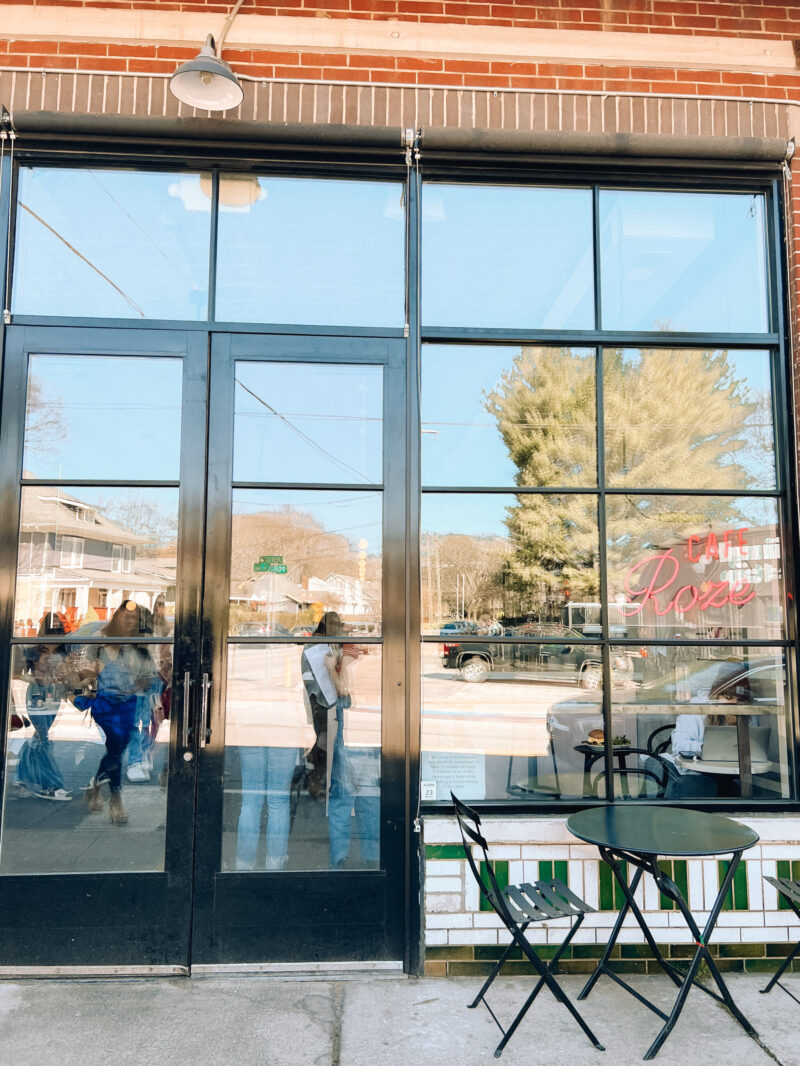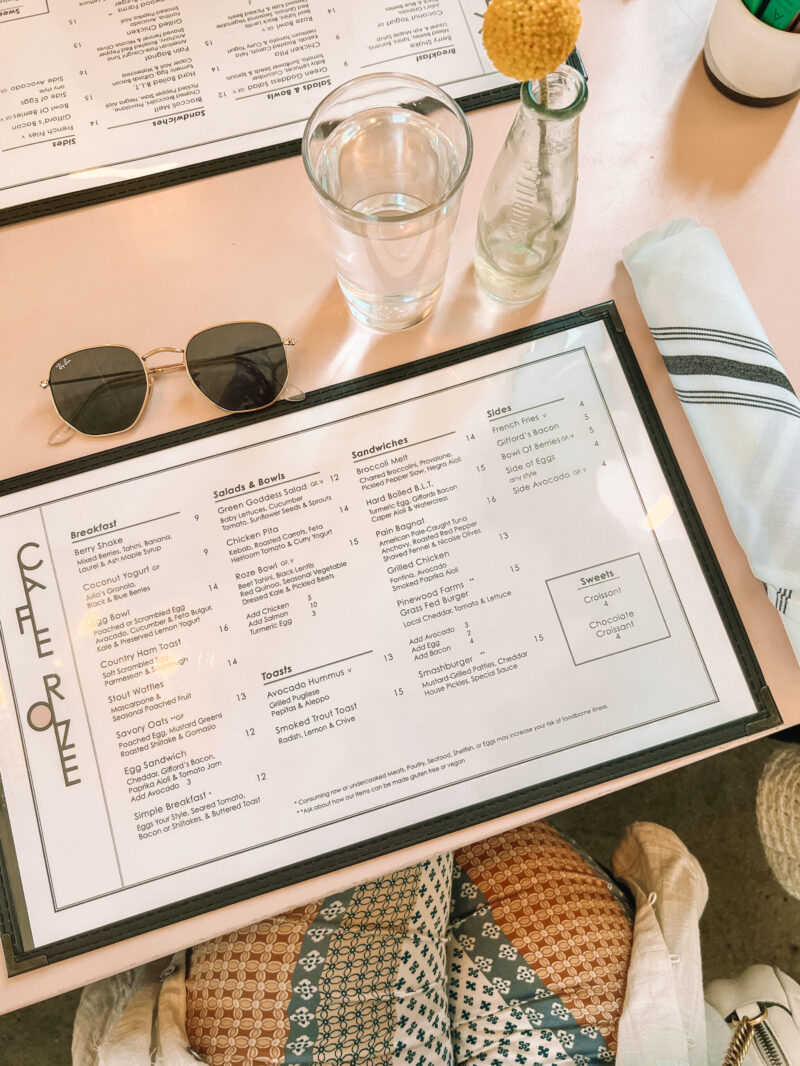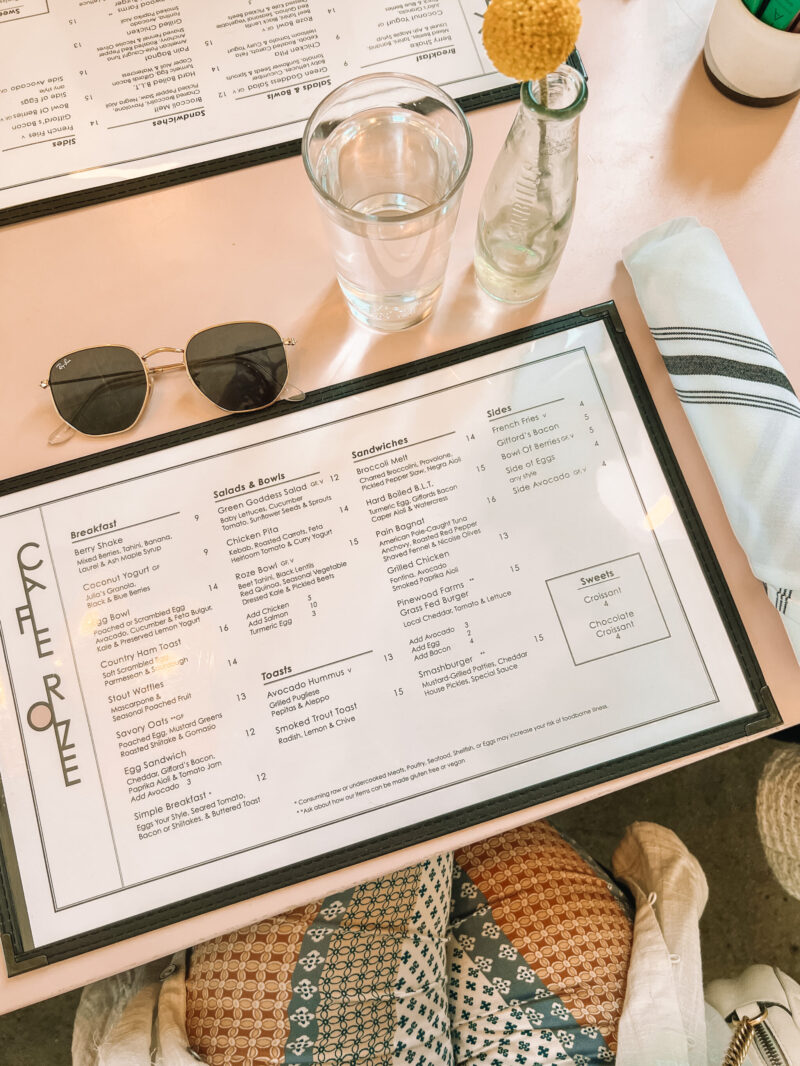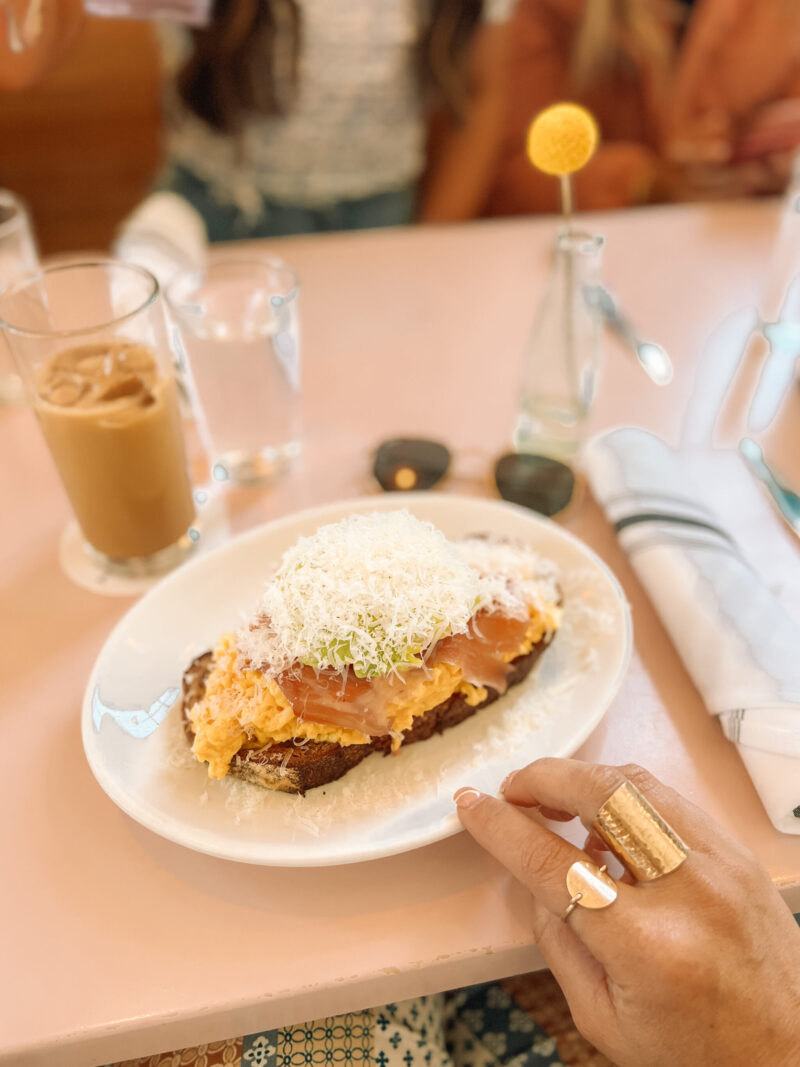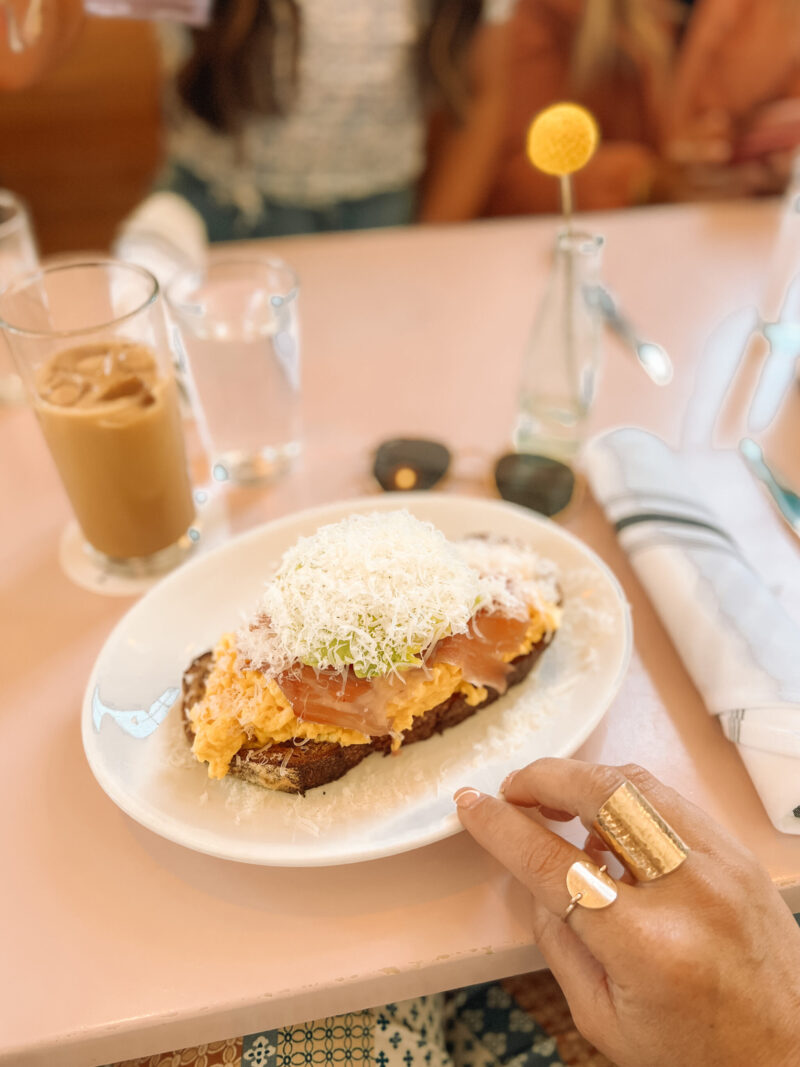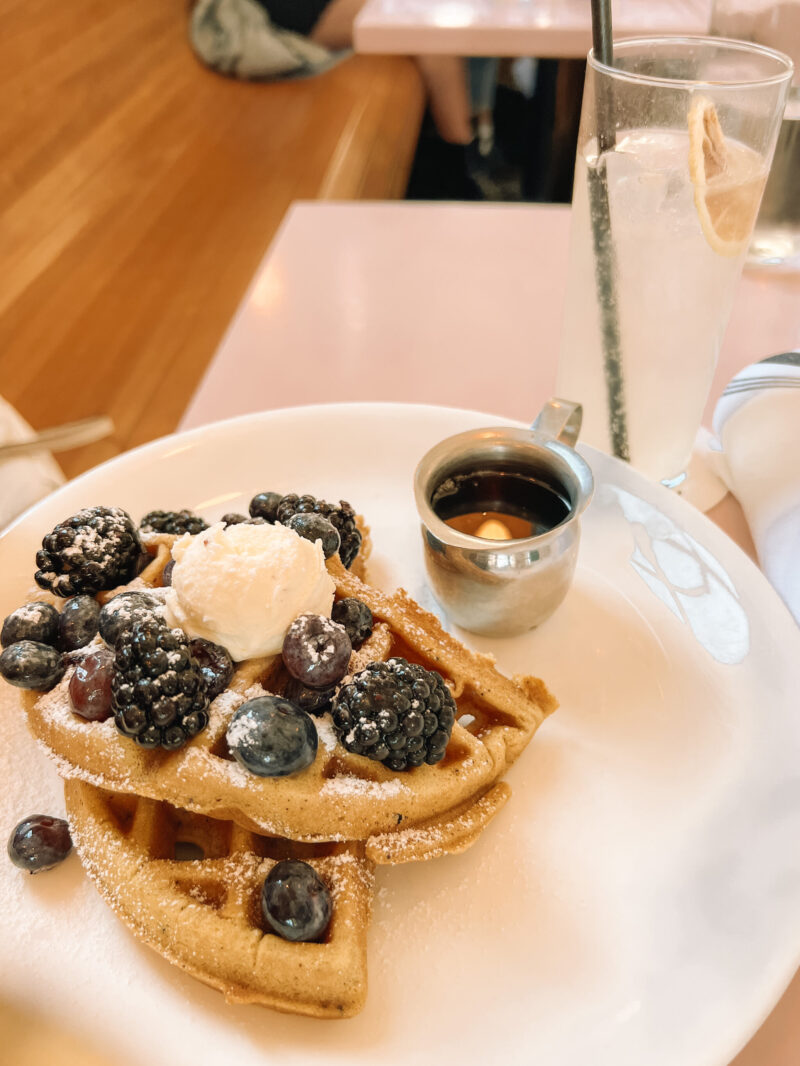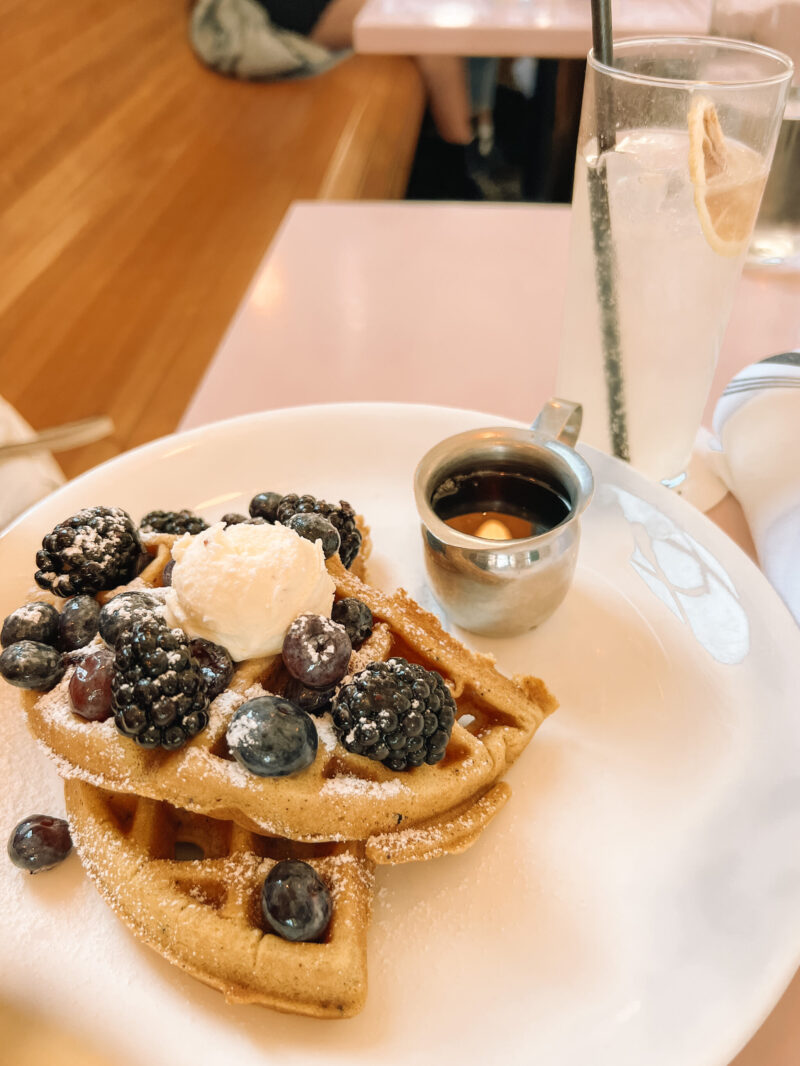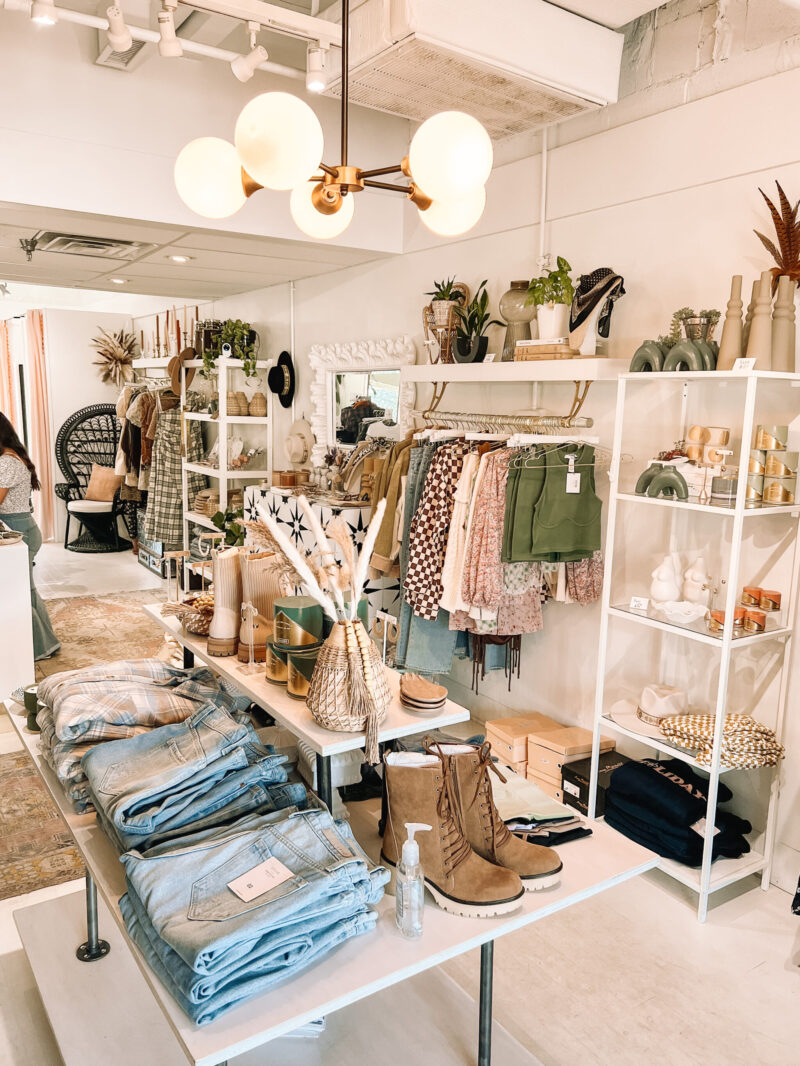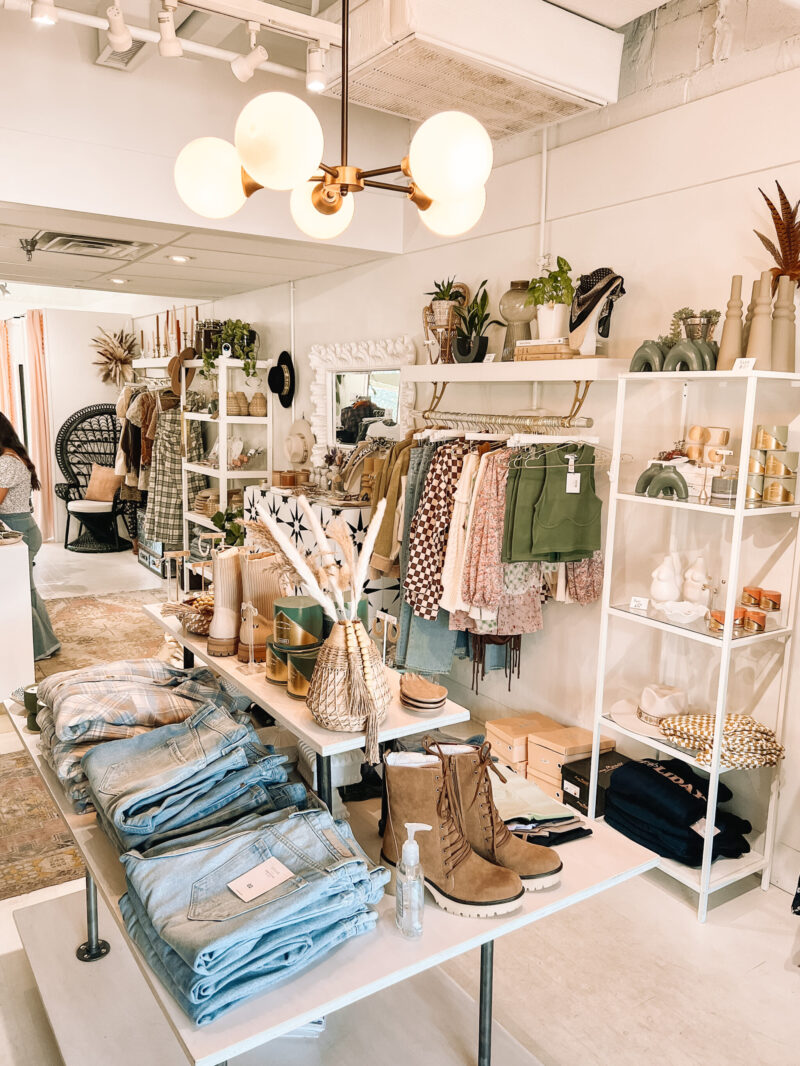 .
                1115 Porter Rd, Nashville, TN 37206
     737 Porter Rd, Nashville, TN 37206
Our last stop before heading back home was at 5th + Broadway. We could have spent entire day here.
It is huge. It is filled with shops, photo spots, and restaurants. It is like a mall but way cooler. I love their seasonal flower installations.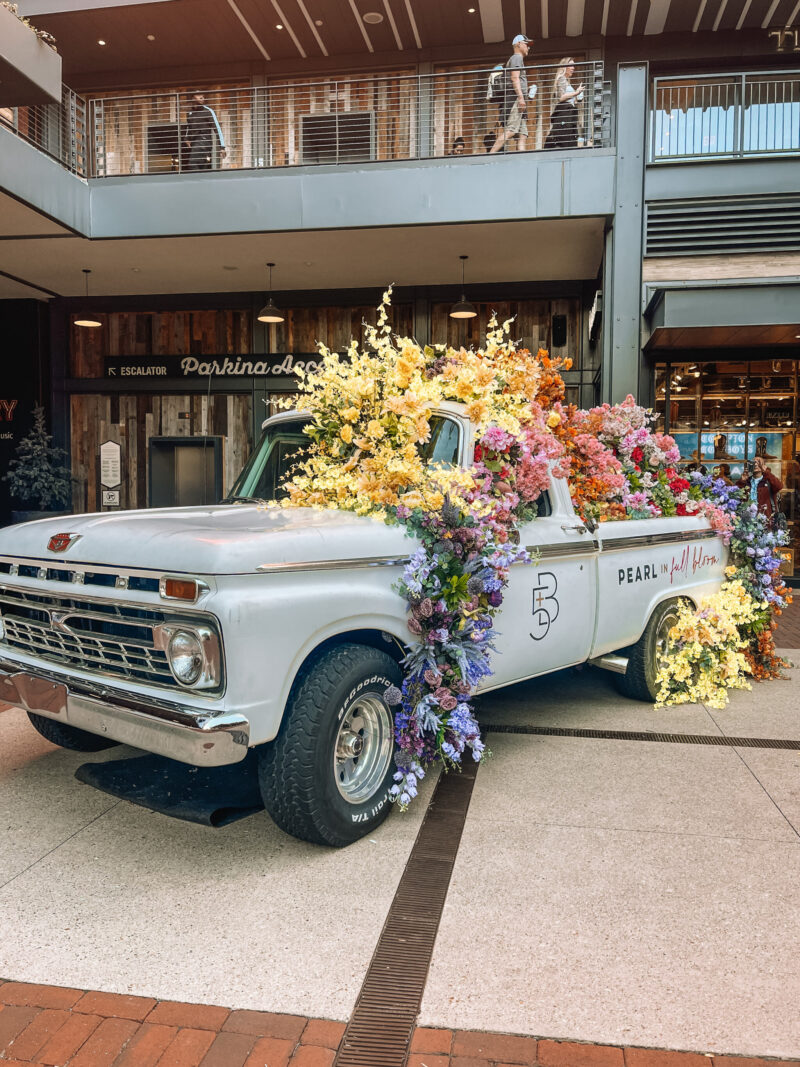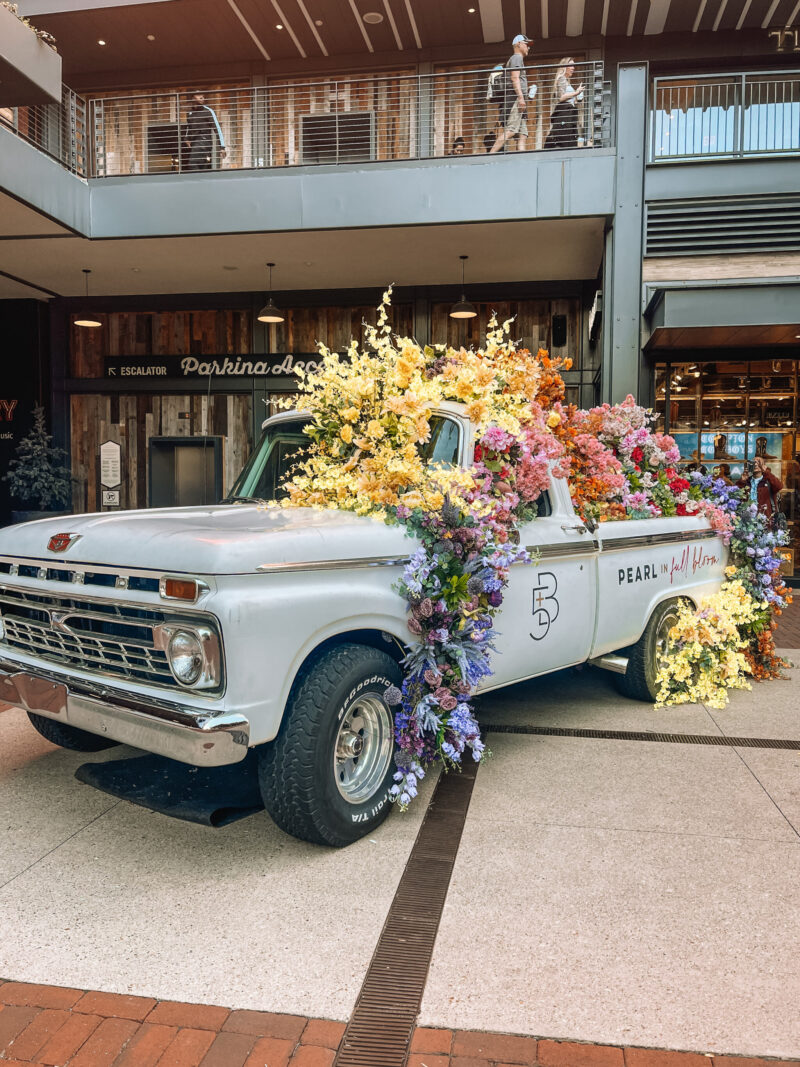 Other food spots & restaurants~
Murals~
"Love Y'all" Wall:  2020 Lindell Ave, Nashville, TN 37203
"Life Can Be Sweet": 1512 8th Ave S, Nashville, TN 37203 at Baked on 8th
Floral wall: 5036 Broadway Pl, Nashville, TN 37203 at 5th + Broadway
That is it for now!! I'll update this periodically with more favorites!! Make sure to pin + save for later!!