It is that time again!! I'm ready for all of the fall decor and the fall weather. We will have to wait a little longer for the cooler weather in Louisiana. But, y'all, Target is full of candy corn, wreaths, pumpkins, and more. The seasonal aisles are filled with so much cuteness that it is hard to choose which items had to come home with me. I did snag a bunch of the checkered, small pumpkins, but I had to buy the straw and cream pumpkins online. Our Target didn't have any in stock. And, I love them all.
.


.
They have two styles of wreaths that I really like, but I haven't committed to either just yet. I did purchase some more brass candlesticks to add to the mantle. They come in a pack of three and a great price. And, throw pillows are always an easy way to add a pop of seasonal fun to the living room. Linking some pretty ones below.
.



.
Can't wait to share a final look of my house once it all arrives.
.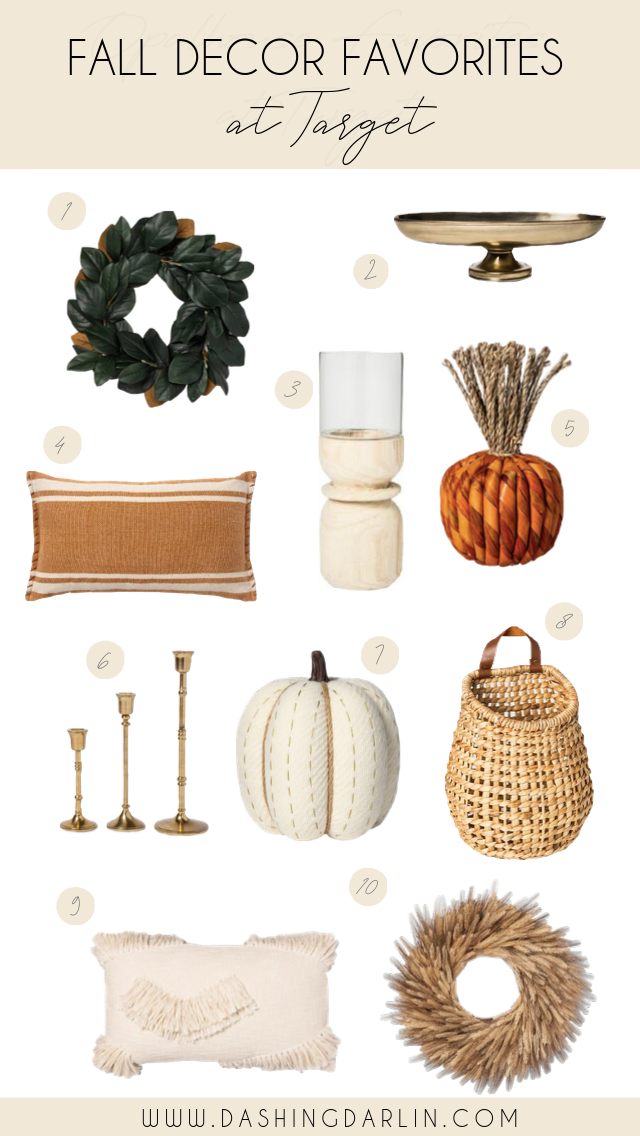 .
1} Magnolia Leaves Wreath Green – Threshold
2} blong Brass Footed Bowl Gold – Threshold
3} Candle Holder Large – Hurricane Glass – Threshold
4} Woven Stripe Oversize Lumbar Throw Pillow with Whipstitch Trim – Threshold
5} Water Hyacinth Pumpkin Orange – Opalhouse
6} 3pc Taper Candle Holder Set Gold – Threshold
7} Knit White Pumpkin Halloween Decoration Large – Spritz
8} Hanging Water Hyacinth Basket with Leather Handle Natural – Threshold
9} Textured Fringe Oversize Lumbar Throw Pillow Cream – Opalhouse
10} Dried Wheat Wreath Natural – Smith & Hawken
 .
.