There are many reasons why I love the basic button down shirt and so many reasons why I despise them too. Let me share the two main reasons why I dislike them: they aren't flattering, and the buttons will pop open unannounced if you have boobs. Does this only happen to me at the most awkward moments?!?! Gosh, it is so embarrassing. But, the good far outweighs the bad when it comes to styling a basic button down shirt.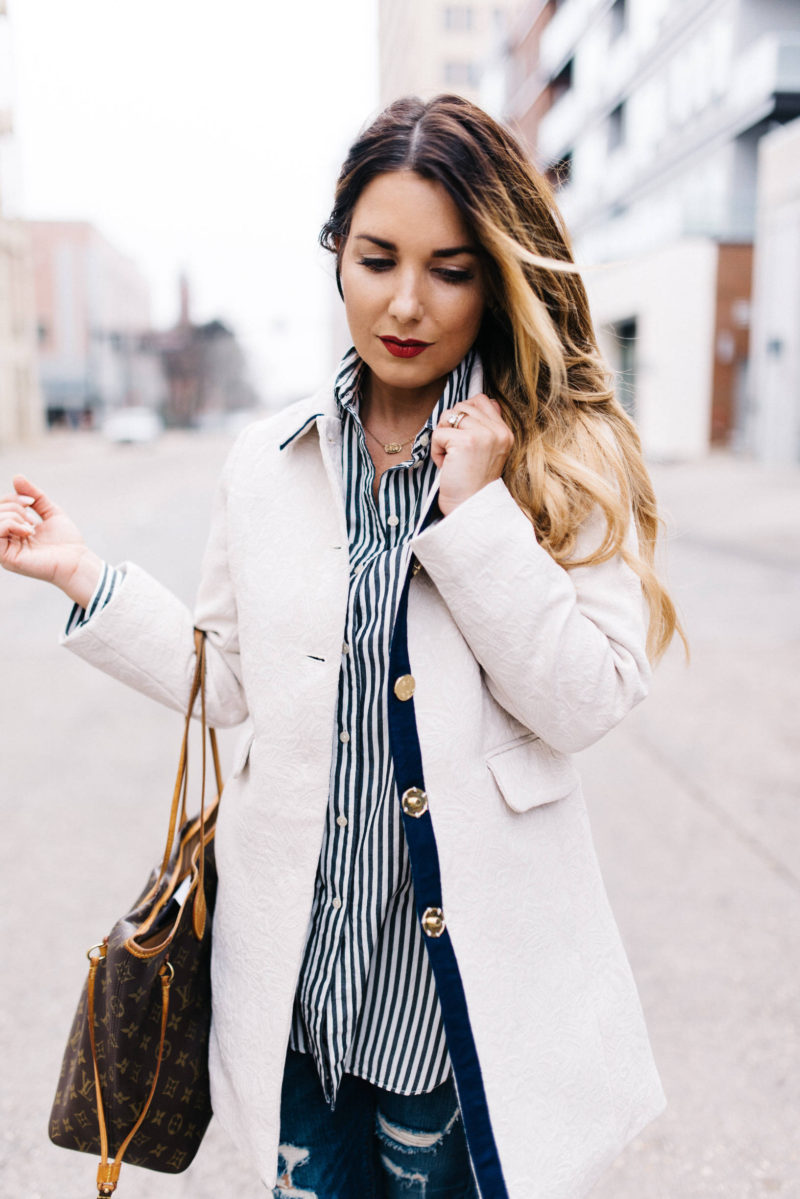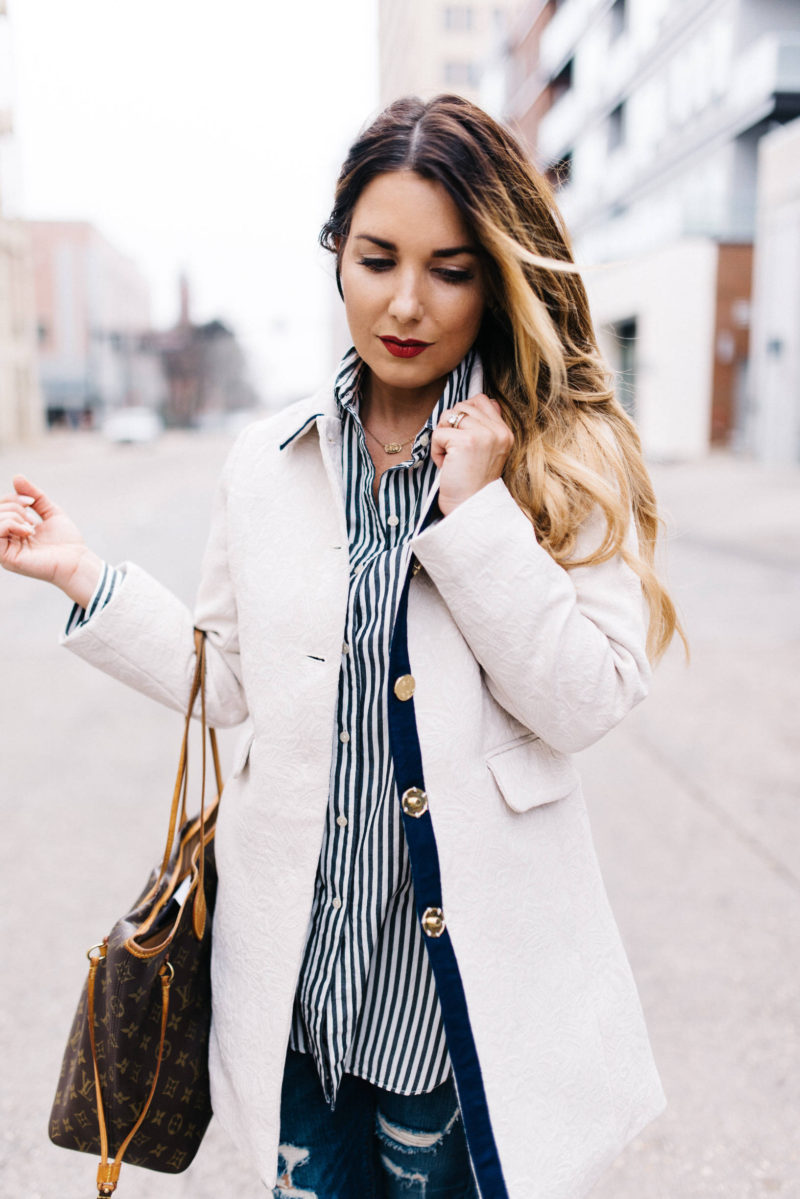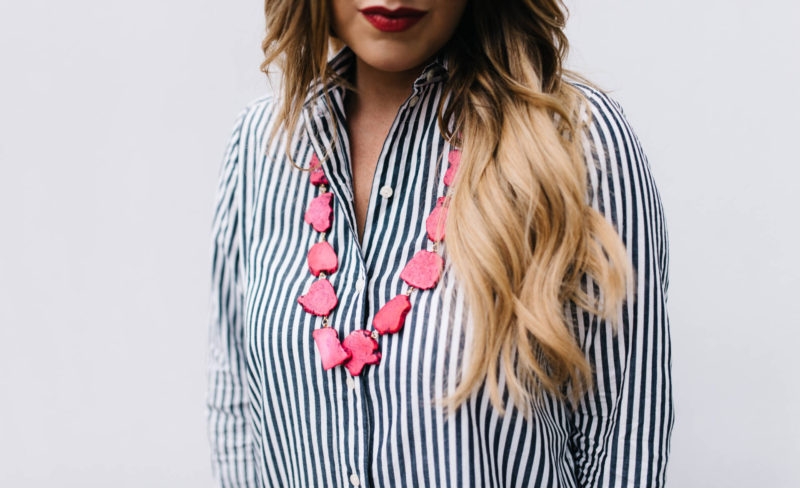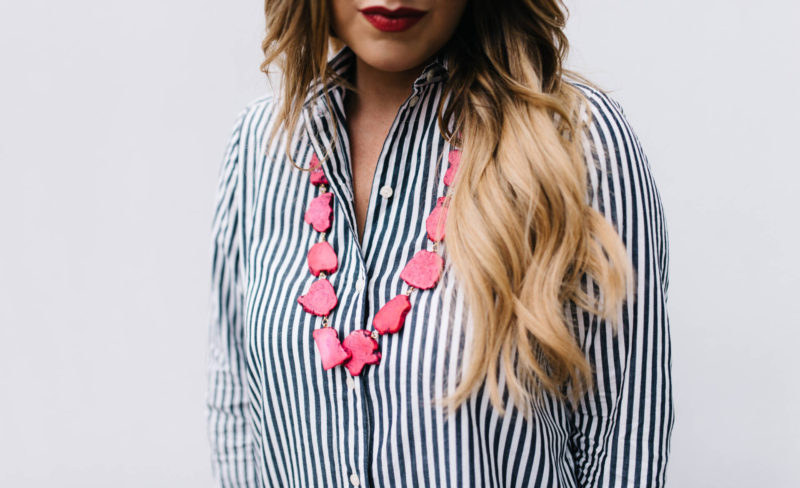 So, let me move onto the one positive reason why I love button down shirts. That reason is that you can rock them multiple ways no matter what your style may be. They aren't just for the preps.
3 ways to style a basic button down:
layer it with a jacket like this one designed by Reese Witherspoon (this particular jacket is part of her spring launch for her Draper James lifestyle brand), layer it with a sweater, layer it with a statement necklace like this pink Rivulet from Purple Peridot
shop my outfit

shop my accessories


One of my kids arrived home from school today and was so excited to let us know something positive that they did. The gist of the story is that they told a classmate that the seat work wouldn't be as difficult as they were making it out to be if they would just stop whining and stop being negative. That friend didn't like the challenge, but guess what, they didn't whine or utter another negative word.
"A positive attitude may not solve every problem, BUT it makes solving any problem a more pleasant experience."
There is this old skit from Mad TV that is called Stop It. It is hilarious, but it carries so much truth. We may need a few people around us that tells us "STOP IT". Just think, we would definitely have more energy, more friendships, and  most importantly, we would have the opportunity to mark other's lives with our words of life and encouragement.
"Words could never adequately convey the incredible impact of our ATTITUDES toward life. I am convinced that life is 10% what happens to us and 90% how we respond to it."

So, the moral of this story is that we can't control the things that happen to us, but we can control we respond to it… stay positive. Enough pep talk for today. Just remember that anyone can rock a button down shirt.
Shop my outfit

Shop my accessories